Career in Event Management
Event Management in its basic sense means managing events/projects. There is of course a lot involved in this like planning the event, coordinating, identifying the target audience, work out the concepts for the event and a lot more.
Every wonder what goes into making an event successful? Surely all we know is that we attended the event, we knew where to find the food, the water, the deserts, but stop and think for a second. Where did all of that come from? We're so occupied with enjoying the event that we never think of these details. A lot goes into making an event a success but at the end of it all, it is satisfying.
Event Management is a high paying job that revolves around people coordinating various tasks, be it the most tedious or the most banal. As a course it involves studying facets like planning, coordinating, identifying the target audience of a product before its launch etc. Event Management graduates are trained in the following aspects:
Site surveying & design
Client service
Budget drafting
Procurement &Scheduling
Risk management
Top Colleges
Event management is a multi-billion dollar industry, growing rapidly, with conferences, meetings, trade shows and social events hosted on a daily basis all over the world. Given the tens of millions of events that take place worldwide annually, it offers a range of both part-time and full-time opportunities. Even with the recent economic slowdown there has been no change in this field. The route to a success in this industry is not related to your academic background. However, there are a few colleges that offer this course at the undergraduate level. Here are the top colleges at a glance.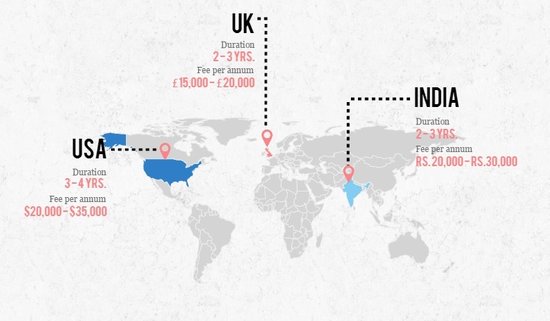 INDIA
National Institute of Event Management& Development, Mumbai | National Academy of Event Management& Development, Ahmadabad | Indian Institute of Learning and Advanced Development, Haryana
UK
University of Hertfordshire |The University of Northampton | University of Glamorgan (Prifysgol Morgannwg) | University of Plymouth
USA
University of California, Berkeley | Stanford University | Harvard University | Massachusetts Institute of Technology| University of Nevada, Las Vegas | University of Central Florida
Career Prospects
The Event Management industry comprises of events ranging from a simple breakfast meeting for corporate to managing the Olympics. The Event Management industry is constantly on the move. The numbers of talent-hunt competitions, fashion shows, academic functions, music concerts, exhibitions, and religious gatherings have shot up in the recent times.
You could work in the following domains:
Conference management companies
Large corporate organisations
Local government bodies
Not-for-profit organisations
Sporting organisations
Universities
Jobs & Salary
Here are some of the organisations you could work with as an Event Manager:
ADA Event Management group
Core Management Consultants
Wizcraft
Cox and King
DNA Entertainment Networks Pvt.Ltd
Entrepreneurship is also a good option for these professionals. You could pick and choose the events that interest you, the people who you want to work with the place that you want to conduct the event at. But before you dive into the career, you should take up a job in an Event Management company or a media house that exclusively handles Event Management activities. Once you feel you have garnered ample experience you could start your own Event Management organisation or work as a freelancer.
The salary depends on the event, the larger the event, the bigger the paycheck. As event managers, there isn't a set amount that they make from each event.
Pros & Cons
Pros:
Immense scope of making money
Growth prospects are faster than in other industries
Frequent opportunities to travel
Cons:
Long hours of work, sometimes through the weekends
Stressful
Too many responsibilities to shoulder
Next Career
Wedding Planner
Who doesn't like attending weddings – the glitz and glamour, expensive clothes and jewellery, music and food! Wedding memories are so full of fun and drama. But are you someone who volunteers and enjoys organising events at weddings as much as attending them?
International Educational Gateway Pvt. Ltd. © 2020
.
All Rights Reserved
.
Univariety