Career in Automotive Engineering
Automotive engineering is a branch of engineering which deals with designing, manufacturing and operating automobiles. This also includes working on their mechanical, electrical, electronic, software and safety aspects. It is a segment of vehicle engineering which deals with motorcycles, busses,etc.
Automobiles! From cars to trucks to the amazing Harley Davidson, this is a thing of interest to many. Automotive engineering takes things to another level. It analyses questions like: How can we teach cars to drive themselves? How would we get around on the surface of Mars? Etc.
There are mainly three types of automotive engineers:

Design Engineers: They are responsible for the design aspect of a vehicle. Simply put, they make the vehicle look good. Design engineers primarily work toward developing the visual appearance of a vehicle and also are involved in the concept design. A familiarity with the intricate details of the hydraulic, electrical, and mechanical systems inside a vehicle is a must.

Development Engineers: They work toward improving efficiency of existing vehicles and developing new ones. Among other things they organize tasks like automobile level testing, its validation and certification. They mainly research and find solutions to engineering problems.
Production Engineers: Their responsibilities include making sure the process of manufacture goes smoothly. This means that they are involved in the design, development, implementation, operation, maintenance, and control of all processes in the manufacture of vehicles.
Note: We can also inform that Automobile Engineering can be pursued in Bachelors or may be directly in Masters.
Top Colleges
Automotive engineering is an exciting field that combines creativity with scientific principles. There are many colleges across the world that imparts quality education in this course. Following are some of the top colleges in India and popular study destinations abroad: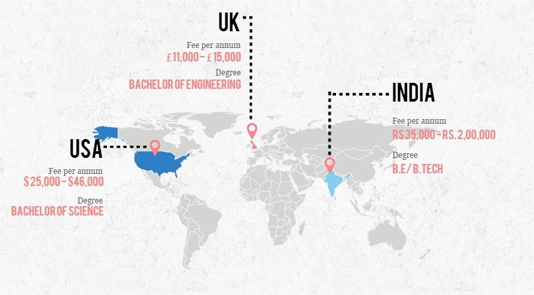 USA
California Institute of Technology | Princeton University | University of Pennsylvania | Stanford University
UK
University of Bath | University of Glasgow | Newcastle University | University of Birmingham
INDIA
IIT Kanpur | Christ University | Vellore Institute of Technology | BITS Pilani
Automotive Engineering in India
Universities and colleges in India offer BE, B.Tech courses in automotive engineering. You can also do a diploma but very few institutions offer such programs. To take up automotive engineering as a profession:

•
Career starts in class 12 (Subjects: Physics, Chemistry and Mathematics)
•
Entrance examinations will be conducted at national and state level (e.g. IITJEE,
BITSAT
etc.)
Career Prospects
Automotive engineering requires creativity. They are visionaries and are employed mainly on their ability to think outside the box. Their work often includes bringing new products to the market, problem solving and project management. Their main duty is to design, test and develop vehicles.
Automotive engineers are primarily trained to:

Design new vehicles or revise existing ones
Research and develop in finding solutions to engineering problems
Plan and design new vehicles.

Besides this, automotive engineers are also involved in testing vehicles. This includes checking the break system, interaction with the ABS (anti-lock braking system), automobile weight, handling, transmission, other safety measures etc. They develop new test procedures for the vehicles, using both conventional and innovative methods.
Because of the overall increase in the number of vehicles, the demand for qualified and skilled automotive engineers has also increased in recent times. Automotive engineers can find the best jobs in automotive manufacturing industries. You can also find work in service stations, private transport companies and defense services.
There are plenty of job opportunities both in India as well as in foreign countries including the Middle East where the pay scale is good.
Jobs & Salary
As an automotive engineer, you could choose to be:
Engineering Technicians
Safety Engineering
Emissions Research
NVH ( Noise, Vibration and Harshness) Engineers
Performance Engineer
Vehicle Dynamics Controller
Operations Research
Designing
Many automotive engineers choose to join the defense services, due to constant need for vehicles that can trek even the toughest surfaces on the planet. Alternatively, you can work as a lecturer or professor in engineering colleges/universities in India and abroad. For those who have the desire to study further, they can pursue M. Tech and PhD programmes. By doing so, you can become a researcher or scientist and further help in the development of the field.
Companies that hire automotive engineers:
Suzuki
PSA Peugeot-Citroen
Skoda
Volkswagen
General Motors
In India, automotive engineering graduates are hired as Senior Production Engineers, Quality Engineers, Mechanical Design Engineers, Driver Instrumentation Engineers etc. in the following automotive manufacturing companies:
TELCO
L & T
Ashok Leyland
Mahindra & Mahindra
Bajaj Auto
A bright future in the automotive engineering is a guarantee. There are plenty of employment opportunities for qualified individuals in this constantly developing flied.
An automotive engineer gets paid at par with other engineers. A fresh graduate in automotive engineering usually gets a low starting monthly salary. However, students from well-known technological institutions like IITs, NITs, and BITS get a much higher pay package. The remuneration increases with increase in experience and expertise regardless of where you have studied.
Pros & Cons
Pros & Cons
The automotive industry has grown since the end of the Second World War. Vehicles have now become a necessity in the modern world. Naturally, the automobile industry has come up in a big way.
Pros:
This is a very stable career
In time you can also open your own auto body/mod shop
There is a reasonable earning potential
Cons:
Constant improvement is expected
The job can sometimes be stressful because of long work hours
Working Conditions may not always be good
Next Career
Electrical Engineering
Electrical engineering –as the name itself suggests- is a branch of engineering that is all about making and operating electronic devices. Basically, it studies uses and applications of electricity, electro-magnetism and electronics, right from pocket calculators to the present generations.
International Educational Gateway Pvt. Ltd. © 2020
.
All Rights Reserved
.
Univariety