Career in Business Management
Business management, as a career, deals with managing and overlooking all the major aspects of a business. Basically, it's all about how a business is run, right from the lowest level to the highest level.
Ever thought how does Burger King manage to sell 2.4 billion burgers a day? Or how did Apple managed to sell more than 590 million iPhones from 2007 to 2014 worldwide? The answer is: business management. They worked on a business strategy which was remarkable in all aspects and that took them to great heights.
Today, we see that the world is seeing a rapid growth in business. Every day, new companies are emerging on the global horizon and more business activities are being undertaken. Thanks to the technology, business has become faster and vaster. This rapid expansion also means that these businesses are in need of experts and professionals who can handle its fast pacing and rapid growth.
As a course, Business Management teaches essential skills and relevant knowledge required to run and manage businesses and to understand the economy. During your course of study, you will be trained in subjects such as Marketing, Economics, Operations and Project Management, Human resource, Financial Management, Organisational Behaviour, Strategic Management, International Business, Management Information System, Business and Corporate Law and Accountancy.
Apart from the above mentioned academic subjects you will also be trained to enhance your soft skills, personality, presentation and public speaking skills.
Top Colleges
Business Management is one of the most preferred courses students choose for under graduation. The following are some of the best colleges for Business Management in India and other popular study destinations across the world.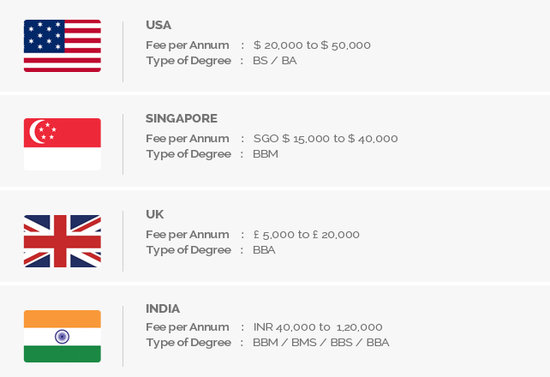 USA
University of Pennsylvania
|
Massachusetts Institute of Technology
|
University of California Berkeley
|
New York University
SINGAPORE
NUS Singapore
|
Nanyang Business School – Nanyang Technological University (NTU)
|
Singapore Institute of Management
|
JCU Singapore
UK
University of Oxford | University of Warwick | University of Bath | City University London
INDIA
Christ University, Bangalore |Wilson College, Mumbai | Symbiosis Centre for Management Studies, Pune |Madras Christian College, Chennai
Business Management in India
There are 4 courses which can be pursued in the business management stream in India. They are:

BBM (Bachelors in Business Management)
BMS (Bachelor of Management Studies)
BBS (Bachelor of Business Studies)
BBA (Bachelor of Business Administration)
Generally, all top BBA colleges in India offer a full time 3 year course.
Most of the government colleges require students to clear the common entrance examination. Many private colleges (like Amity University) require the candidates to sit for their separate entrance examinations.
Career Prospects
Business Management is among those careers which are not restricted by international boundaries. A career in business management will take you to different countries. Completing the course abroad will open further opportunities in major companies and international business organisations. Also, universities all over the world offer remarkable campus placements.
As a business management graduate, you will get opportunities to work in top notch MNCs. If your family has a business of its own, you can build upon it and take it higher.
The possible careers after completion of your course in business management would include:
Jobs & Salary
A bachelor's degree in business management prepares you mainly for entry-level supervisory roles within various industries. As a business management graduate you get to work in fields such as:
•
Advertising & Marketing
As a business management graduate, you might mainly endeavour entrepreneurial opportunities but again there are huge opportunities in private sector companies as well. Here are some of the eminent brands you might get associated with:
•
Tata group of Companies
Business Management is a profession where returns are quite high. Corporate firms pay very high salaries to competent managers who can independently run a team, a process or a department.
Pros & Cons
Pros:
You get direct industrial exposure through the internship programme that is a mandatory part of the course. This way, you will have real time experience of the work you will do on an everyday basis
This course helps you to strengthen your business intuitions and also develops your entrepreneurial skills
You are trained in all aspects of handling a business, from the lowest to the highest level
Cons:
The responsibilities assigned to you could be really challenging and critical as you will reside in the decision making circle.
Management in corporate world could be really taxing and one might be required to slog for hours as and when required.
Too much of stress, anxiety and long hours of work can cause severe health hazards
Confused about which career to take?
Know which career is best for you?
Next Career
Company Secretaryship
A Company Secretary is an official representative of the company whose main job is to communicate between shareholders, owners and directors and carry out the decided policies while ensuring that the company is running as per the laws and regulations. It's one of the most senior and important posts
International Educational Gateway Pvt. Ltd. © 2019
.
All Rights Reserved
.
Univariety