Career in Fine Arts
Fine art is a type of visual art that depicts ideas or thoughts of the artist, usually portrayed with an aesthetic beauty. Although it's one of the oldest professions and has been around for thousands of years, career options in fine arts have diversified with time and new fields have emerged.
The world of arts is definitely beautiful. It takes you away to a dimension where anything is possible depending on how elaborate your imagination can get. In this day and age art has taken up many forms and as such people taking up fine arts are trained on many skills like: painting, sculpting, calligraphy, conceptual art, photography and many others.

The term is still often used outside of the arts to represent perfection achieved in a particular skill. For example, one could metaphorically say that "Messi has taken football to the level of a fine art."
Top Colleges
We have come up with a comprehensive table which lists the top colleges offering this course. This table will help you to understand important factors like the duration and fees for each country at a glance.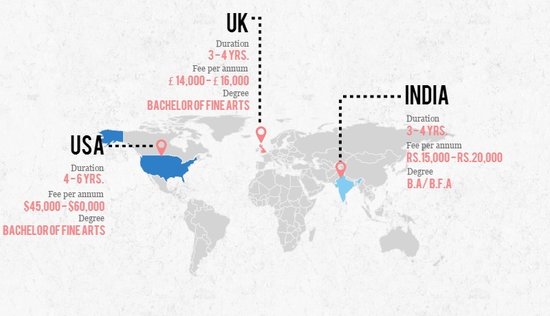 INDIA
Sir JJ School of Applied Arts | Visva Bharati University | Rabindra Bharati University | College of Art – University of Delhi | Jamia Milla Islamia
USA
California Institute of the Arts | Maryland Institute College of Art | Art Central College of Design | Arizona State University
UK
Career Prospects
Career Prospects
Once you have finished with a degree in Fine arts, there are many opportunities for work available both locally and internationally. You could associate with art galleries, where artists present their work. If you are a really talented artist, your art might even feature at international art exhibitions. There are many opportunities available for amateur artists as well. You can work as an illustrator, a sculptor, a painter or a photographer.
Jobs & Salary
There are many job prospects for someone who has completed a course in fine arts. Over the recent years with so many animated movies released, and with the dawn of new age comic book heroes, there are immense opportunities for painters, sculptors and illustrators. A fine arts graduate can work as:
Painter
Sculptor
Illustrator
Photographer
Calligrapher
Lapidartist
These are just some of the jobs a fine arts graduate can have.
Organisations employ fine arts graduates in either permanent or temporary capacities. Comic book companies, publication houses and art galleries are just few examples of organisations offering permanent positions. Companies which offer work to fine arts graduates in temporary positions range from huge multi-national organisations to small organisations, as illustrators, or calligraphers. These companies offer work to fine arts graduates on contract basis for product releases or to address consumers.
Some of the organisations which hire fine arts graduates are:
The New York Times, USA
Alankritha art galleries, India
Srishti Art Gallery, India
DC Comics
Marvel Comics
Apart from working for companies, painters, sculptors and photographers have generally been known to work freelance. 10 years back, the internet wasn't as developed and far reaching as it is right now. This gives the freelancers a better opportunity to spread and showcase their work on various websites. , many fine arts graduates like cartoonists, sculptors, illustrators and photographers now leverage the power of the web. Also, there are many artists who have opened up their own art galleries, where they hold art exhibitions and auctions.
Although if you choose to go into illustration, calligraphy or print making there are many organisations which give you work. Magazines, Newspapers, Media houses all hire cartoonists, calligraphists and photographers. Even for people who specialise in something like 'lapidary', who is an artisan who forms stones and gemstones into decorative items.
Hence, you can either choose to work in a regular job, or run your own organisation as an entrepreneur, with a career in fine arts.
A career in fine arts can help you flout the rules around earning money. Depending on the quality of your art, you could be paid a fortune for a single piece of art. Many artists hold exhibitions where their art works sell on a per item basis; hence it is tough to accurately predict the remuneration for a painter. Edward Munch's masterpiece Scream is the world's most expensive, it is valued at 630 crore. As insane as it may seem this is the kind of money one can earn, if his art is received well and appreciated.
As an illustrator or a cartoonist you would be settling into a regular yearly salary structure like normal.
Pros & Cons
Pros:
Creative work
Freelance
Fame
Cult following
Money (Once you are recognised)
Cons:
Money (Initially low)
Can cause controversy
Time consuming work
Confused about which career to take?
Know which career is best for you?
Next Career
Acting and Modelling
Acting and Modelling is a career that revolves around telling stories through movies and films. Actors and actresses are given specific roles to play in the movie they have been hired for. Actors an actresses also work in theatres and operas. Acting involves stunts, speech, singing, dance etc.
Recommended For You
International Educational Gateway Pvt. Ltd. © 2019
.
All Rights Reserved
.
Univariety