Career in Computer Engineering
Computer engineering students learn how to develop hardware and software systems for computers, communication systems and other devices. Computer engineers are also suited for robotics research.
February 15th, 1946 was the birth of the first computer which weighed almost 50 tons! A lot of development has taken place since then and computer engineers have played a major role in this regard. Computer engineers are essentially a combination of electrical engineers and computer science graduates. Computer engineering involves designing computers and their individual components. It also includes technical but interesting work like developing applications and designing its network and integrating its software and hardware.
While studying this course, students would be taught how to write software codes, design different types of circuit boards and operating systems etc.
Top Colleges
Computer engineering is one of the most popular streams in engineering. There are many colleges in India and abroad that offer this course. Following are the top colleges and other details related to them for computer engineering: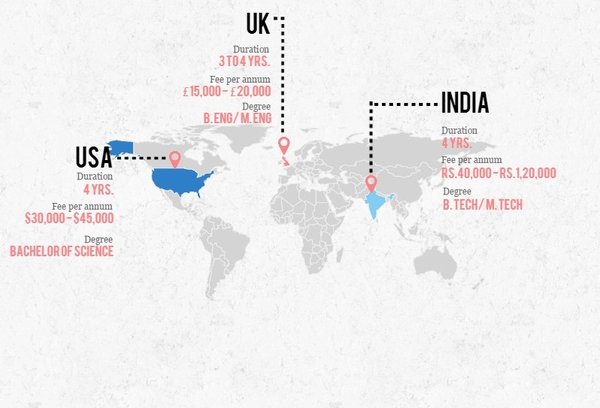 USA
Massachusetts Institute of Technology | Harvard University | Stanford University | University of California, Berkeley (UCB)
UK
University of Cambridge | University of Oxford | Imperial College London | University of Edinburgh
INDIA
IIT – Mumbai, Delhi, Kanpur, Kharagpur, Chennai | Birla Institute of Technology and Science, Pilani | National Institute of Technology, Trichy | National Institute of Technology, Surathkal
Computer Engineering in India
India produces the most number of software engineers in the world after USA. The best computer engineering colleges in India include most of the Indian Institute of Technologies (IITs) which offer 4 years full time Computer Engineering courses, admission to which is through the JEE main and advanced exams. Besides the government colleges, many private institutes also offer computer engineering courses and the fee for such courses is from Rs. 50,000 to Rs. 2,00,000 per annum.
Career Prospects
A competent computer engineer can secure work in any environment where computers play a role in the operation of the business. Because a computer engineer has an extensive understanding of electronic devices such as microprocessors, local and wide area networks, and even supercomputers that form the basis for worldwide communications, the career paths are wide and varied.
The career path for a computer engineer is wide and varied. Their understanding on microprocessors, local and wide area networks and computers that form the basis for worldwide communications (supercomputers) give them this advantage.
Computer engineers are employed in almost every industry be it the government sector, education or consulting. Computer engineers can find work in:
Telecommunications
Transportation
Manufacturing
Financial sector
Computer manufacturers
Chemical companies
Defence contractors
A computer engineer's work is related to the latest tech. So, if you're constantly going on about the latest gizmos and would love to know how they work, this field is the best for you! If you're a fan of robots and may one day like to have an "Optimus Prime" of your own, then again, this field is best for you. This course would help you gain various skills e.g. working with electrical systems like motors, communications, and sensors. After completion of the course you would get a chance to work on the advances in digital television and photography, virtual meeting technology, intelligent highways and new technologies for cars, phones, space vehicles etc. Computer engineers are equally successful in large multinational firms and small startups.
Jobs & Salary
According to the U.S. Bureau of Labour Statistics, computer engineers hold about 79,000 jobs in USA which represents 5.3% of the 1.5 million jobs held by engineers. According to NASSCOM, the IT–BPO sector in India aggregated revenues of US$88.1 billion in the last financial year.
Following are some of the top companies which hire computer engineers:
Sun Microsystems
IBM
Texas Instruments
Toshiba
Verizon
Yahoo
Boeing
Honeywell
Merrill Lynch & Co
UPS
Some of the other international brands which hire computer engineers are Apple Computers, AT&T, Cisco Systems, Dell, Fujitsu Siemens Computers, Google, Hewlett-Packard, Intel, Microsoft and Motorola.

Computer engineers have the option of moving into hardware or software positions, or blending the two. They typically have the highest starting salaries amongst all engineering. Entry-level salaries vary based on the area of expertise, education level, accountability for projects, and the geographic location, size, and industry of the employer. The average starting salaries for computer engineers in USA is $50,000 per annum. In India, a fresher in this field will have a starting salary of Rs. 10,000 – 25,000.
Pros & Cons
With constantly developing technology, computer engineers are required to keep up with the changing times. With their focus on improvement, they can develop better products which integrate latest advancements in computer technology. They work on the design, planning, development, testing, and even the supervision of manufacturing of computer hardware -- including everything from chips to device controllers. Interesting right?

Following are some advantages of being a computer engineer:
Great pay
The work is innovative and challenging
You constantly learn new things

Following are some of the disadvantages:
Work is repetitive at times
It is an intellectually challenging work
Long hours of work
Confused about which career to take?
Know which career is best for you?
Next Career
Marine Engineering
A marine engineer is a professional who holds responsibility for the operation and maintenance of all mechanical and electrical components of sea vessels. Marine engineering as a branch of study refers to the engineering of ships, oil rigs, boats and any other watercraft.
International Educational Gateway Pvt. Ltd. © 2019
.
All Rights Reserved
.
Univariety