Career in Pilot
A pilot is a professional who is responsible for flying planes, helicopters or rockets. Pilots undergo extensive aviation training before they are entrusted with actual flying. A career as a pilot is not only one of the most adventurous career one can imagine,it is one of the most well paid jobs.
What can be more adventurous than flying? That too to different locations around the world, in gigantic aeroplanes with powerful engines! A career as a pilot makes this all possible, and this comes with a well-paid salary too!
A career as a pilot is one of the most exciting and adventurous careers imaginable. Pilots undergo extensive education and rigorous training about different aspects of flying and aviation. There are basically two types of pilots, commercial pilots and army or navy pilots. Commercial pilots fly commercial airlines, cargo planes etc. while army and navy pilots fly fighter jets, warplanes and gunship helicopters.
Commercial Pilot courses are integrated and detailed. Students have both on-ground lessons and flying lessons. In other words, they have theory as well as practical lessons. which involve both ground and flying lessons i.e. theory and practical. Theory subjects include Navigation, Meteorology, Regulations and Technical while flying lessons include various manoeuvres and cross country flights.
A commercial pilot license (CPL) is a qualification that permits the holder to act as the pilot in command of a single pilot aircraft, or as co-pilot of a multi-pilot aircraft and be paid for his/her work. Different types of commercial pilot certificates or licenses are issued for the major categories of aircraft including airplanes, helicopters, gyroplanes, balloons and airships.
The different stages of flight training are:
Student Pilot License – Allows initial flight training with a flight instructor on board.
First Solo – The trainee is made the sole pilot at the controls of the aircraft with no flight instructor on board. The trainee should make 3 successful take-offs and landings to clear this stage.
Private Pilot – The trainee is allowed to carry passengers and cargo on board, but without any monetary compensation.
Instrument Rating (IR) – The trainee learns to fly into clouds and low visibility conditions like fog.
Commercial Pilot – At this stage, the pilot is allowed to carry passengers and cargo onboard along with monetary compensation.
Multi Engine Rating – This rating is obtained upon completion of training on an aircraft with more than one engine.
Flight Instructor Rating – This rating allows privileges to act as flight instructor and impart training to other pilots. This also a good way to build flight hours.
Type Rating – This rating is required to fly an aircraft heavier than 5700 kg or 1200 lb.
Airline Transport Pilot – The highest rating for any pilot in commercial aviation, which allows him/her to be a captain of an airline.
Apart from being adventurous, piloting is also a serious business. Not only does it require considerable skill, it carries considerable charm, prestige, responsibility and risk. Flight training includes training of various manoeuvres like stalls, slow flight, steep turns, various types of take-off and landing techniques, emergency procedures, tracking and intercepting courses, fuel calculations, weight and balance calculations, abnormal attitudes of flight etc.
Top Colleges
The job of a commercial pilot is the most glamorous and exciting job in aviation. It attracts many youngsters as it provides opportunity to travel around the globe. However, the job of a commercial pilot makes him/her responsible for the aircraft he/she flies and the lives of passengers. The initial training is for 8 to 12 months depending on various factors like the country and the flight school chosen for the purpose of training.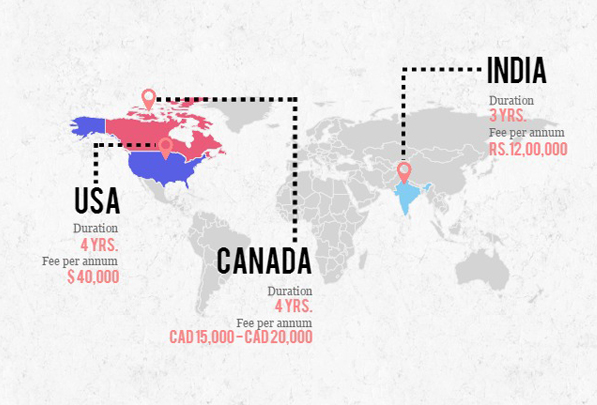 USA
Academy of Aviation, Farmingdale | Coast Flight Training- Montgomery Field- San Diego
CANADA
The Ottawa Aviation services Inc., | Selkirk College, Ottawa
INDIA
Bombay Flying Club | National Flying Training Institute (NFTI)
A 12th grade with Mathematics and Physics and a 50% aggregate is the basic requirement to apply for a flight course. There is also a series of medical tests to be cleared before starting the course. Some flight schools may require a higher percentage, and some airlines may require a 3 or 4 year degree.
Piloting is serious business. While it certainly carries considerable charm, adventure and prestige, it also involves responsibility and risk. Flight training includes training of various manoeuvres like stalls, slow flight, steep turns, various types of take-off and landing techniques, emergency procedures, tracking and intercepting courses, fuel calculations, weight and balance calculations, abnormal attitudes of flight etc.
Career Prospects
Flying an airplane is great. Getting paid to do that is even greater. During the course of the same day, you could be 'brunching' in Frankfurt, 'lunching' at Atlanta and dining in Texas. With the introduction of new low cost airlines, the aviation industry has gained a new momentum worldwide. An airline could initially hire you as a Trainee First Officer and then after a period of 6 months promote you as the first officer. After gaining airline experience, the airline would promote you to a captain after a period of 3-5 years.
The demand for skilled, qualified pilots is ever present throughout the world. As governments plan to widen the air services network, the demand for this profession continues to grow. The employment opportunities in this profession are available in the government and private airlines (domestic & international), cargo planes, charter planes, private planes.
Jobs & Salary
As a commercial pilot with the right number of flying hours, the opportunities are immense. Besides flying a commercial airline, you could opt to fly for a cargo company such as Blue Dart, take up corporate/business flying or work as a flight instructor at flying clubs, or flight school.
The different airlines in India include:
Jet Airways, with JetKonnect as its subsidiary
Indigo Airlines
SpiceJet
Air India
GoAir
As a commercial pilot, you will invariably make tons of money. It's the time that is scarce. In fact, on one occasion the following conversation was recorded during the flight.
| Position | Compensation per month (INR) |
| --- | --- |
| Trainee First Officer | 75,000-90,000 |
| First Officer | 1,20,000-1,60,000 lacs |
| Senior First Officer | 2,00,000-2,50,000 lacs |
| Captain | 3,00,000-4,50,000 lacs |
Commercial Pilots get attractive remuneration and incentives. The starting monthly salary of a commercial pilot ranges from Rs. 40,000 to Rs. 150,000 per month depending on the airline and experience. The earning includes special benefits in form of contributory provident fund, gratuity and medical facilities. They are also entitled to a range of benefits and allowances in addition to housing, medical and out- station allowances, as well as free or concessional air passages for their immediate family and dependants. Pay scales of commercial pilots in the public sector organisations depend on the grade level of the positions. Earning is even higher in private international airlines.
There is also an extra pay per every extra monthly hour. Allowances include housing, transportation, family education, medical, dental, life insurance etc.
Pros & Cons
When we think of a pilot, we think of a smart individual dressed in an impeccable uniform ushered straight through the airport terminal into the cockpit of an aircraft. The cabin crew is usually so mesmerized by the charismatic persona of the pilot that they fail to notice the poor passengers.
Following are some of the advantages of being a commercial pilot:
If you like to travel, this job is perfect for you. You will get to travel the world.
The pay is excellent.
People are likely to look at you in awe.
You only have to work 20 days in a month.
A famous quote of George Bernard Shaw says "Both optimists and pessimists contribute to the society. The optimist invents the aeroplane, the pessimist the parachute." Following are some of the downsides of being a commercial pilot:
The work hours are erratic.
Family and personal life may have to be compromised.
The job can tax both your mind and body.
Confused about which career to take?
Know which career is best for you?
Next Career
Accountancy (ACCA)
ACCA is the Association of Chartered Certified Accountants. Accountants with ACCA are recognised globally, opening up more opportunities internationally. It is a profession where the returns are quite high, be it public, private sector or a self run business.
International Educational Gateway Pvt. Ltd. © 2019
.
All Rights Reserved
.
Univariety