Career in Banking & Insurance
Banking is defined as the business of dealing in money while insurance is the protection against possible loss. Actuary sciences, auditing, financial counselling, claims examination and policy processing are some fields that come under this.
Banking is one of the most popular professions of choice amongst students. Though it is a common perception that only commerce students apply for banking jobs, it has been seen that banking officers are from various streams of education including Arts, Science and others. Since the advent of online banking, computer science graduates also can opt for banking jobs.

Insurance is a financial contract that binds individuals to responsibilities commonly known as a policy. The person who acquires insurance coverage is called the policy holder or insured and the person who sells the policy is the insurer.

There are specialised banking and finance related courses which are offered by various universities across the world. Students who do enrol for banking and insurance courses are trained on basic concepts of banking and insurance including Principles of Management, Micro Economics, Financial Accounting, and Business laws amongst others.
Top Colleges
Banking and insurance courses are taught in most countries as part of the MBA, BBA or Associate diplomas/degrees. However, you can also find universities and institutes in different countries, who have specialised diploma courses on banking.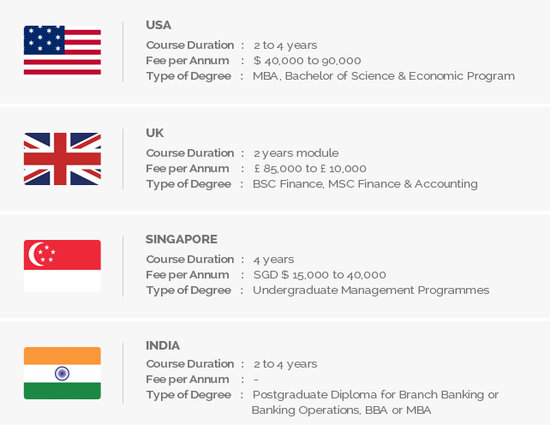 USA
New York University | University of Pennsylvania | University of Chicago | Stanford University
UK
University of Strathclyde | Durham University | University of Bath | Aston University
SINGAPORE
NUS Singapore | Management Development Institute of Singapore | Singapore Institute of Management | JCU Singapore
INDIA
Indian Institute of Banking and Finance | Symbiosis School of Banking Management | Institute of Public Enterprise | Amity University
Banking and insurance in India:
In India, there are no banking courses at the undergraduate level, which specifically offer banking and insurance as core subjects. There are many exams held to employ people at banks. The placement to a bank depends on the score in the PO exam, which is conducted by most of the banks today. Even privately owned international banks conduct their own exams to filter and shortlist prospective employees, based on their scores and their attitude.
Career Prospects
Once you have completed a course in banking and insurance, there will be a multitude of banking jobs at your disposal. There are various nationalised and private banks which offer lucrative career opportunities in the banking sector. Usually these banks hire thousands every year.
Some of the profiles where qualified banking professionals are hired include:
Investment Banking Analyst
Insurance claims adjuster
Credit Analyst
Insurance investigator
Equity Manager
Internationally, there are many job openings in the banking and insurance sector since the demand for bankers, insurance investigators, investment banking analysts, and credit analysts has increased. Also, if teaching appeals to you, you can opt to coach students and prepare them for clearing the bank PO exams, and help them understand the nuances of derivatives trading, investment banking, etc.
Jobs & Salary
A career in banking and insurance would mean opportunities to work in companies like:
State bank of India
HSBC
Bank of America
Bajaj Allianz
Metlife
Apart from these big name players there are other government banks and insurance firms that can offer you good opportunities. Besides a monthly salary, bankers and insurance professionals enjoy many benefits and perks.
Pros & Cons
There are some obvious advantages and disadvantages of having a career in banking and insurance. While many consider banking and insurance jobs to be comfortable, others do not like the frequent relocation which is an integral part of the job.
Pros:
Job Security( with nationalised banks)
Prestige, status and perks
Fixed job times with maximum holidays sanctioned
Cons:
Monotonous and time bound work
Stress leading to health hazards
Longer hours during times of audit
Confused about which career to take?
Know which career is best for you?
Next Career
Actuarial Science
Actuarial Science trains students about various aspects of insurance risks and financial management of Insurance Companies. The most prominent of these industries include insurance, investment and financial planning & management companies.
International Educational Gateway Pvt. Ltd. © 2019
.
All Rights Reserved
.
Univariety