Career in Mechanical Engineering
Mechanical engineering involves the design and manufacture of mechanical systems. To accomplish this, it uses the principles of engineering, physics and materials science.
Mechanical engineering has had a very interesting history and is one of the oldest and broadest engineering disciplines. From the invention of the first steam engine to the bullet trains we see now, mechanical engineering as a field has seen tremendous growth. This growth has also affected the way students are being trained. Unlike older times where getting self trained was the norm, colleges throughout the world have engineering labs where theory is learnt practically.

Following are some of the subjects covered as a part of their training:
Statics and dynamics
Strength of materials and solid mechanics
Instrumentation and measurement
Electronics
Thermodynamics, heat transfer, energy conversion, and HVAC
Top Colleges
Practice makes perfect. Mechanical engineering students need practical problem solving experience to constantly improve their skills. Hence, in the US, it's common for mechanical engineering students to complete one or more internships while studying, though this is not typically mandated by the university. To be eligible to study mechanical engineering in any country of your interest, you must have a minimum of 50% marks and should have Physics, Chemistry and Mathematics as compulsory subjects in your class 12 exams. The fee for engineering education all over the world is slightly on the higher side when compared to other professional courses. Degrees in Mechanical Engineering are offered worldwide.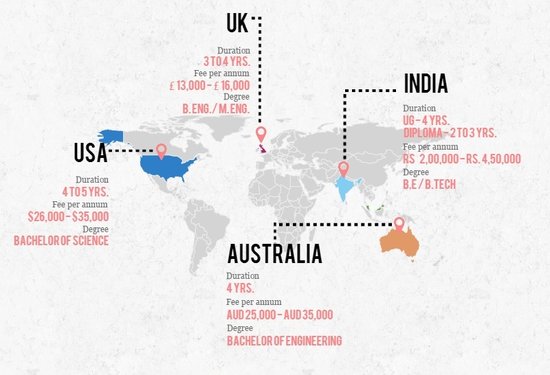 USA
Massachusetts Institute of Technology | Stanford University | California Institute of Technology | Georgia Institute of Technology | Cornell University
UK
University Of Warwick |University Of Leicester | University Of Exeter |University Of Nottingham | Loughborough University
AUSTRALIA
University of Melbourne | University of New South Wales |University of Sydney | University of Queensland |University of Adelaide
INDIA
Indian Institutes of Technology (IITs) at Bombay | Delhi | Madras | Kanpur | Delhi Technological University (Formerly known as DCE) | Indian Institute of Technology, BHU, Varanasi (IIT BHU)
Career Prospects
Making machines are almost a dream to every child. The Need for speed game series for example is way more than fast cars. It has a lot to do with the mechanical details of the vehicle. Mechanical engineering is equally as fun. Being the broadest of the engineering fields, jobs offered to skilled mechanical engineers are in plenty and unending. Industries like automobiles, space research, bio-mechanical, aeronautical etc. are constantly looking for mechanical engineers.
In broad terms, a mechanical engineer can be hired under the following segments:
Research and Development (R&D): Engineers who conduct research and then plan for new machines and their constituent parts.
​Design: Professionals whose responsibility is to draft technical drawings, manually or with the aid of computers.
Production: Engineers who supervise the manufacturing of mechanical components and machines.
Analysis and testing: Engineers who analyse and test different types of machines and their parts to ensure that they function flawlessly.
Jobs & Salary
These professionals can find employment both in the government and private sector undertakings. In the government sector, mechanical engineers provide their knowledge to various government run projects in the role of technical experts and consultants. They can also work in private engineering companies that provide technical consultancy to both government and corporate firms.
Following are some of the world famous companies which hire mechanical engineers:
Ford
General Motors
Hyundai
Conoco
BP/Amoc
The starting salary given to a mechanical engineering graduate in USA is around $50,000. Canadian engineers make an average 30 Canadian dollars per hour. In India, mechanical engineering offers a wide variety of career opportunities to job aspirants.
Pros & Cons
Mechanical engineers build almost anything and everything that you can think of; from ships to cars, from pumps to oil drilling machines and from cell phones to computers. You can also build weapons if you want to!
Following are some of the advantages of being a mechanical engineer:
There are umpteen job openings and you will not remain unemployed
Constant involvement in the development of new components, gadgets and machines
Innovative contribution to the new frontiers of science such as nanotechnology, biomedical engineering and environmental sciences
Not hit by recession or global economic meltdown
Some of the disadvantages:
Working conditions can be adverse at times
Deadlines and work pressure can get taxing
Physically strenuous
Confused about which career to take?
Know which career is best for you?
Next Career
Robotics
Robotics is a branch of Engineering that involves the conception, design, manufacture, and operation of robots. It is a combination and overlaps many fields of Engineering including Electronics, Computer Science, Artificial Intelligence, Mechatronics, Nanotechnology and Bio Engineering.
International Educational Gateway Pvt. Ltd. © 2019
.
All Rights Reserved
.
Univariety