Career in Defence
A career in defence makes a person not only disciplined and strong but also opens up many other avenues for growth. Defence personnel are extensively trained in combat, usage of different kinds of weaponry and are equipped to handle the security of anything, from a club to the whole country.
Soldiers, with guns slung on their shoulders, smartly dressed in army uniforms, marching like machine men, heads held high and eyes blazing with unshakable confidence. This is what a career in defence usually surmises. The only difference is: you may be wielding any weapon ranging from an automatic rifle to ballistic missiles, commanding a small group of commandos or leading a squadron of fighter jets in the blazing skies. The main characteristic, however, remains the same: an eye to eye confrontation with enemy forces and challenges that no ordinary man can take up.
A career in defence turns a person into a hero, a literal hero. It all starts when recruits undergo a training course which trains their bodies as well as their minds to face any challenge, combat any threat and overcome any pressure. The training converts a common person into a brave, agile and fearless soldier.
Top Colleges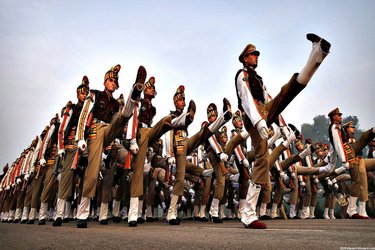 Career in armed forces, India
A career in defence forces entails a huge number of opportunities for those who want to lead adventurous lives. For those who have a strong sense of duty towards the nation, there can be no better option than joining the Indian Army as a career.
In order to pursue a career in defence in India, candidates can enrol in the National Defence Academy located in the scenic outskirts of Pune, Maharashtra. The NDA conducts an entrance test for students of class 12 in May every year. Mathematics and Physics are compulsory subjects if one wants to appear for the test. Every year, 1 lakh students appear for the exam out of which only 350 are selected for training. This speaks of the fact that only the best of the best can find a place at the National Defence Academy.
If a recruit succeeds in passing the gruelling training course and graduates from the National Defence Academy, the soldier is commissioned as an officer in any branch of the Indian armed forces. If it was a technical course which the candidate completed at NDA then they will operate war machinery in aircrafts, ships, tanks or submarines. In case of non-technical courses, the graduate soldiers begin their career as an army officer as they are appointed at the post of first lieutenant in the army or navy and in case of air force, as the flying lieutenant. Depending on their abilities and skills, one can rise in the ranks and become Chief of Staff of Indian armed forces, the highest post for a soldier in the country, seconded only by the President, who is the official commander in chief of all Indian armed forces.
There are a lot of other career opportunities in defence apart from joining the Army, Navy or Air force. For instance, one can become a Para commando or a National Security Guard (NSG) commando. However, recruits for the training of such elite forces are usually picked from regular army units and their training is considered one of the toughest in the world. But that does not mean one cannot aspire for it.
Career in defence, USA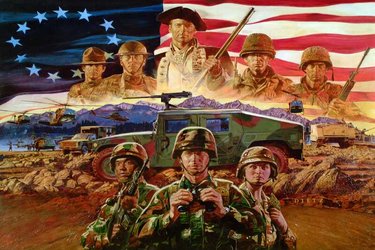 Unlike many other countries, USA allows all of its citizens, including those who are not American by birth but have attained citizenship status, to enlist in its armed forces. Applicants can either join after class 10 as a private (a term used for the most basic and starting rank in the armed forces) or join after college and train as an officer.
The American armed forces are known to be the most technologically advanced force in the entire world.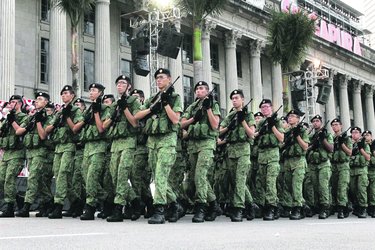 Career in defence, Singapore
The Singaporean defence forces are one of the best trained forces in the world. They are quite advanced in technology and reputed for their efficiency. The rangers of the Singaporean army are equivalent to commandos and well known for their expertise in urban warfare and anti-terrorism operations.
The bottom line
Whichever defence force you aspire to join, it's very essential to know that courage and obedience are the main building blocks for a career in armed forces. Unlike corporate jobs, there is no option of overstepping the chain of command. The first and foremost trait of a soldier is that they are able to take and follow orders, no matter what they are. Discipline is an everyday element if you choose defence as a career option.
Career Prospects
A graduate of NDA is commissioned as an officer in any of the branches of the Armed Forces. If it's a technical course, you will have to work on machines and computer equipment that is used in tanks, aircrafts, ships and submarines. But if your choices are non technical, you get to start off as a first lieutenant in the Army and Navy, and as a Flying Lieutenant in the Air force. Depending on your levels of commitment and sheer skills, you can grow up the hierarchy and also become the chief of staff. It all boils down to how mentally and physically tough you are. The prospects are immense and tough is the life. Discipline is the bedrock and courage is the foundation for you to grow in this career.
Jobs & Salary
If you pass out of the NDA, you will be either working for the Indian Army, Navy or Air force. They are probably the best companies to work in the world. However, unlike corporate or government jobs you do not have a choice of not listening to your boss. Orders are mandatory and have to be followed under every scenario, else you will be punished. So, think over- if you feel you can be an obedient and dutiful officer, go ahead else we recommend you choose an alternative career.
| Designation | Compensation per annum in Rs. |
| --- | --- |
| Lieutenant/Flying Officer | 2,20,000 |
| Captain/Squadron Leader/Lieutenant Commander | 3,25,000 |
| Major/Wing Commander/Commander | 3,75,000 |
| Lieutenant colonel/group captain/Commander | 6,80,000 |
| Colonel/Air Commodore/Commodore | 8,60,000 |
| Major General/Air Vice Marshall/Rear Admiral | 9,80,000 |
| Lieutenant General/Air Marshall/Vice Admiral | 10,50,000 |
| General/Admiral/Air Chief Marshall | 11,80,000 |
Pros & Cons
Pros
Utmost respect. Only the best get selected for training and among them only the bravest survive and become soldiers, something people know and respect.
It opens a whole new world of adventure and thrill and the possibility to serve a cause and advance ahead in ranks.
The government values its soldiers and provides them all kinds of facilities and perks like health cover, subsidised food and transportation.
Cons
It's a life filled with discipline and obedience. The challenges are not just physical but are also mentally taxing.
Once you enlist, train and enter permanent service, there is no turning back as exit policies are very strict.
Soldiers are often posted at dangerous fronts on long stretches and have to remain away from their families for long periods of time.
Confused about which career to take?
Know which career is best for you?
Next Career
Robotics
Robotics is a branch of Engineering that involves the conception, design, manufacture, and operation of robots. It is a combination and overlaps many fields of Engineering including Electronics, Computer Science, Artificial Intelligence, Mechatronics, Nanotechnology and Bio Engineering.
International Educational Gateway Pvt. Ltd. © 2019
.
All Rights Reserved
.
Univariety