Career in Civil Engineering
Civil engineering deals with the design, construction and maintenance of the build environment. This includes roads, bridges, canals, dams and buildings. It is arguably one of the oldest engineering disciplines in history.
Have you ever played "Age of Empires?" In the game, the better your infrastructure, the better your chances of winning. It's a perfect example of what civil engineering is all about. They build the world's infrastructure and in doing so, they shape the future of the nations. Interesting right? Apart from being fun and exciting, there is also a lot of responsibility involved as bad infrastructure can mean loss of life. A civil engineer is responsible for the design of safe structures so that it meets the standard building codes for each place. These structures have to be designed keeping in mind many factors like maintenance, efficiency, and other economic concerns.
Civil engineering is divided into several sub-disciplines such as:
Environmental engineering
Geotechnical engineering
Structural engineering
Transportation engineering
Municipal or urban engineering
A student studying civil engineering is trained in the following:
Surveying a site.
Plotting out designs or plans of structures.
Constructing structures e.g. buildings, bridges, highways, tunnels, dams.
Maintaining or repairing previously built structures.
Top Colleges
Civil Engineering is an indispensable stream of engineering. There are various colleges in India and abroad that impart quality education in this field. Following are some of the best colleges in India and the popular study destinations across the world: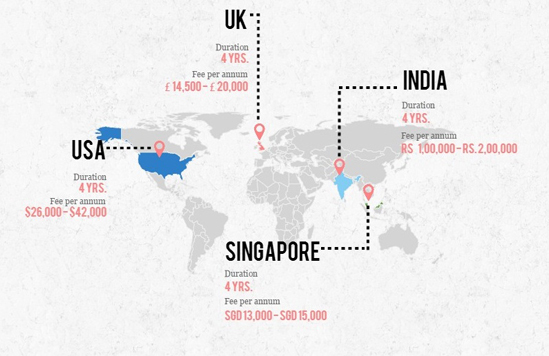 USA
Massachusetts Institute of Technology | University of California, Berkeley (UCB) | Stanford University | University of Illinois at Urbana-Champaign |Carnegie Mellon University
UK
University of Exeter | University of Warwick | Loughborough University | University of Nottingham
SINGAPORE
National University of Singapore (NUS) | Nanyang Technological University (NTU) | Singapore University of Technology and Design
The IITs (Delhi, Bombay, Kharagpur, Madras) | BHU-Varanasi | Birla Institute of Technology and Science-Pilani
Civil Engineering in India
To study civil engineering in India, you have to take up and excel in subjects like Mathematics, Physics and Chemistry in 10+2. Selection in graduate courses like B.E / B. Tech in civil engineering is based on the marks secured in the final exams of 10+2 and the performance in entrance exams. The entrance exam for the IITs is JEE and for other major institutions is the JEE – Mains. Other private institutions have their own separate entrance exams..
Career Prospects
As we saw earlier, civil engineers are in great demand. As such, they can work both in the public and the private sectors. Indian civil engineers are in great demand in Asia, Africa and the middle-east. Those graduating from IITs are placed in major construction companies across the world. The employment opportunities abroad are many and so are the financial incentives.
A degree in civil engineering offers the prospect of a stable career path, potentially high salary, and the opportunity to work on challenging projects.
Jobs & Salary
A civil engineer can work as a:
Consulting engineer – They are those who work on the design stage of a project, collaborating with architects and other professionals.
Contracting Civil Engineer – This is someone who oversees the actual construction. They deal with practical issues such as procuring materials and meeting deadlines, and helping to resolve any problems that may arise.
Maintenance engineer – Basically employed to maintain equipment and machinery used in manufacturing processes. This involves regular checking and monitoring, and overseeing the replacement, or upgrading of equipment.
Civil engineers can find work in the government sectors like the railways, the defence forces, National Highway Authority of India, government development authorities like the DDA and government housing authority, BHEL and many more. Following are some of the other well-known brands which hire civil engineers:
Gammon India Ltd.
Hiranandani Construction Pvt. Ltd.
Jaypee Group
Larsen and Toubro
The salary of a civil engineer depends on a number of things such as educational qualification, type of employer, industry, location of work and so on. It is also important to ensure that your educational qualification is from a reputed college. Besides a monthly salary, civil engineers in both the public as well as the private sector enjoy many perks and benefits.
Pros & Cons
Pros:
The work is challenging and the scope of growth is immense in a developing society.
You derive the satisfaction of seeing your masterpieces.
The pay is good and comes with many benefits.
Cons:
The construction business is vulnerable to fluctuations in the economy.
Civil engineers often work in varied settings shifting from posh modern offices to construction sites in remote areas.
Next Career
Aeronautical Engineering
Aeronautical Engineering is a branch of engineering which is concerned with developing aircraft or space vehicles. It studies different aspects of Earth's atmosphere, mechanics and other general aspects of engineering and applies them all to developing aircrafts.
International Educational Gateway Pvt. Ltd. © 2020
.
All Rights Reserved
.
Univariety