Career in Interior Designing
Interior Designing is the ability to use creativity to turn the interior of a space or building into something beautiful. It is a versatile profession that embraces intangible development.
The art of making interior spaces functional, safe and importantly beautiful is what an Interior Designer does. To be able to do this requires a lot of skills. The following are some the areas in which interior designers are trained:
Fundamentals of Design, Visual communication, Creative work by project method, Interpretation of the project schemes and Technical studies related to the built environment.
Top Colleges
There are many top colleges across the globe which offers this Interior design course. We have come up with a comprehensive table of the best countries and colleges along with the study duration and annual fees.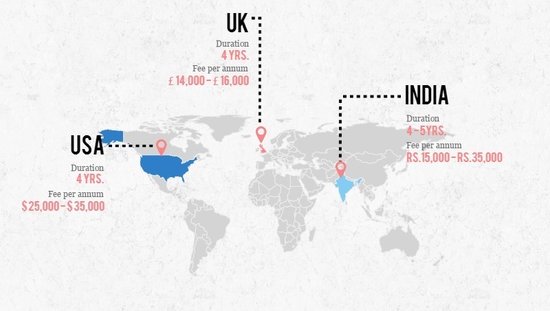 INDIA
Center for Environmental Planning and Technology (CEPT University) | Manipal School of Architecture and Planning (MSAP) | Bharati Vidyapeeth Deemed University |SRM University, Kattankulathur
USA
The University of Texas at Austin | Auburn University Main Campus |University of Oregon
UK
Oxford Brookes University | Edinburgh Napier University | University Of Edinburgh
Interior Designing in India
There are many colleges in India offering graduate and post-graduate programmes for someone wishing to study Interior Designing. The Interior design courses are generally 4 years long, although certain universities also offer three year degree courses. The course fees are around Rs. 15,000 to 35,000 per annum. Some of the top colleges offering courses in Interior Designing are:
National Institute of Design, Ahmedabad
Sir J. J. Institute of Applied Art, Mumbai
India Institute of Technology, Mumbai
Many colleges also offer 4 years Bachelor of fine Arts (BFA) programme which offer specialisation in Interior Design. The school of Interior design, CEPT, Ahmedabad also offers 5 year professional programme in Interior Design to aspirants who have passed +2 with 55% aggregate in Maths/Biology, Physics, Chemistry and English. Many part time one year diploma courses are also offered in many cities, which require very minimal qualification.
Career Prospects
The opportunities for an Interior Designer are immense. A career solely driven by passion, most Interior Designers work as consultants or they setup their own firm.
There are a many areas where Interior Designers can specialize in like kitchen and bath design, commercial design, hospitality design and lighting design. The daily activities of an Interior Designer include the following:
Consulting with stakeholders and clients.
Researching and analyzing spatial, functional, efficiency, safety and aesthetic requirements.
Formulating design concepts for building interiors.
Preparing sketches, diagrams, illustrations and plans to communicate design concepts.
Selecting, specifying and recommending functional and aesthetic materials, furniture and products for interiors.
The scope of employment opportunities for Interior Designers is extensive. They can be employed by architects or architectural firms, builders, public works department, hotels and resort chains, hospitals, town planning bureaus, regional and metropolitan development works, private consultancies, studios and theaters and exhibition organizers. Interior designing also offers excellent opportunities for those who wish to be self employed, or prefer working part time. In fact, it is one of the few professions where one can operate from home with minimal investment.
Jobs & Salary
There are many national and international companies which hire students of Interior Designing. Following are some of the organisations which hire Interior Designing graduates:
Chen Chung design
DWP
Godrej Interio
ChecklandKindleysides
EVOK
There is a huge international market for Interior Designers. However, there is a lack of qualified and experienced Interior Designers in India.
Pros & Cons
Pros:
Rewarding occupation in terms of freedom of creativity
You can choose the work you wish to do
Good work gets you instant recognition
Cons:
Stressful job
Unrealistic clients and sometimes absurd ideas
Many competitors
Confused about which career to take?
Know which career is best for you?
Next Career
Pilot
A pilot is a professional who is responsible for flying planes, helicopters or rockets. Pilots undergo extensive aviation training before they are entrusted with actual flying. A career as a pilot is not only one of the most adventurous career one can imagine,it is one of the most well paid jobs.
International Educational Gateway Pvt. Ltd. © 2019
.
All Rights Reserved
.
Univariety