Career in Mining & Geological Engineering
Mining engineering involves the theory, practice, technology, science and application of procedures for extracting and processing minerals from their natural resources. The course teaches how to solve problems related to locating, extracting, and preparing natural resources for a variety of uses.
Mining engineers get trained to locate, extract, and prepare natural reserves like petroleum, coal, non-metallic or metallic minerals etc. The duties of these professionals also include planning, designing, and excavating minerals as well as their transportation. Apart from maintenance of mines, mining engineers also get trained to check air circulation inside the mines and steps to remove toxic gases that get accumulated in the mines.
Some mining engineers often undergo training to develop and work with new advances in mining technology and equipment to improve separation processing systems. Others may get their training with a focus on safety issues, or to increase both safety and production aspects.
The wide domain of mining engineering has specialised branches like
Mining Electronics, and
Mining Machinery
Top Colleges
Whether you want to locate new ore deposits or ensure environmentally sound and safe operation of mines, you will need to equip yourself with the right knowledge and hands-on experience. This is why it becomes important to choose a mining engineering course that offers a balanced blend of theory and real-world experience via internship and co-op programmes.
Following are some of the best countries as well as colleges where you can pursue and complete a course in mining engineering successfully: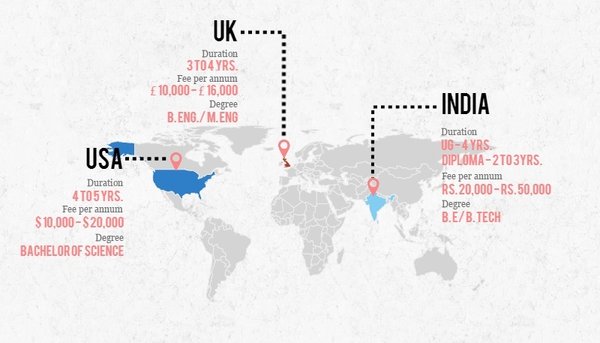 USA
Virginia Polytechnic Institute and State University | Michigan Technological University | Pennsylvania State University | Colorado School of Mines | Missouri University of Science And Technology | West Virginia University
UK
University of Exeter | University of Kentucky
INDIA
Indian School of Mines | IITs | BHU | Bengal Engineering and Science University
Career Prospects
After completing a course in mining engineering, you can take your pick from:
working in mining companies
getting a job with mining equipment suppliers and manufacturers
acting as a private consultant
teaching jobs at universities and colleges
jobs in government mining departments and public sectors
With an increased demand for mining engineers in the oil and gas extraction industry, experts forecast that employment opportunities in this sector will see a tremendous boost over the period of 2006-2016. With many mining engineers, who are presently employed, approaching retirement age, additional job openings are likely to be created. Moreover, since relatively few schools offer quality mining engineering programmes, those having a degree from reputed universities and colleges can choose from several job options.
Jobs & Salary
A majority of mining engineers get jobs in public sector and government organisations like the Geological Survey of India, the Indian Bureau of Mines, as well as in mining companies such as IPCL, Coal India Ltd, NALCO, Neyvelli Lignite Corporation, TISCO, TELCO, Reliance, HCL etc.
MNCs like Schlumberger and British Gas recruit graduates directly from the reputed campuses like those of the IITs and ISM.
Mining graduates and postgraduates can also work as Project Fellows with Kolar Gold Fields (KGF) and the National Institute of Rock Mechanics.
Those with a diploma in mining engineering and a Mines Foreman's Certificate of Competency can find work as Senior Operative Trainees in companies like NALCO, which pay a respectable stipend during the training period that usually lasts for about 18 months.
Depending on their industry, specialty, and education, the earnings of mining engineers can vary significantly. Time, specialty, education, and industry play a significant role in the salary increments of mining engineers.
Pros & Cons
Often considered to be one of the broadest of the engineering disciplines, mining engineering can be both a boon and bane when you consider a career in this field. Still, when you weigh both the pros and cons, the fun and rewards definitely outweigh the disadvantages.
Here are some of the advantages of making a career in this field:
Variety of tasks and specialisation to choose from
Salaries that are higher than the average which other fields pay
Good perks and benefits like housing, insurance, travel benefits etc
Opportunity to travel to the site rather than sitting chained to your desk
Development of problem solving and people skills
Some jobs may even offer chances for professional development like paid vacation for continuing education courses, meeting and conference opportunities, etc.
However, the flip side of a mining engineer's job includes:
Long duration of on-site deployment at the mine
Staying outdoors for long hours
Dealing with labour issues
Long working hours
Often working in dusty environment
Confused about which career to take?
Know which career is best for you?
Next Career
Robotics
Robotics is a branch of Engineering that involves the conception, design, manufacture, and operation of robots. It is a combination and overlaps many fields of Engineering including Electronics, Computer Science, Artificial Intelligence, Mechatronics, Nanotechnology and Bio Engineering.
International Educational Gateway Pvt. Ltd. © 2019
.
All Rights Reserved
.
Univariety