Career in Robotics
Robotics is a branch of Engineering that involves the conception, design, manufacture, and operation of robots. It is a combination and overlaps many fields of Engineering including Electronics, Computer Science, Artificial Intelligence, Mechatronics, Nanotechnology and Bio Engineering.
Did you know that Tony Stark aka Iron Man has at least 53 fully functional suits? Each suit designed for different scenarios? He has got to be the best engineer there is while still being fictional. But coming back to reality, did you know that they recently made cars that transform? YES! TRANSFORM into ROBOTS! Artificial Intelligence has always been a fancy for the human race and as such, Robotics is a great career to pick!
From manufacturing line robots to experimental Robotics for the military, medical and automotive industries, the future of Robotics Engineering is bright.
Top Colleges
Robotics Engineering is not available at the undergraduate level; it is available only at the master's level. However, some universities offer after school Robotic programmes, Robotics camps, and certification courses like Robotics Certification Standards Alliance (RCSA). What follows is a brief explanation of the best colleges/universities in specific countries that offer courses in Robotics: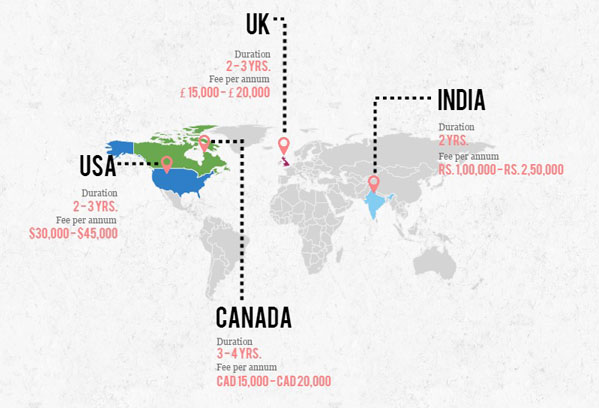 USA
UC Berkeley | Stanford University | Johns Hopkins University | Georgia Tech | Carnegie Mellon Unviersity
UK
University of Kent | Newcastle University | University of Central Lancashire (UCLAN)
CANADA
Carleton University | University of Toronto |University of Calgary | University of British
INDIA
PSG College of Technology, Coimbatore | SRM University, Chennai| University College of Engineering, Osmania University, Hyderabad
Career Prospects
Robotics plays an essential part in several modern manufacturing companies. However, the positions readily available for a Robotics engineer are few. The following are the industries that a Robotics engineer can find work in:
Aerospace
Defence contractors
Entertainment
Manufacturing
Medical research (development of prosthetic parts)
Jobs & Salary
Many modern manufacturing companies hire Robotics Engineers. The Indian Robotics industry is also growing rapidly. You could work in one of the prestigious government owned enterprises like:
Indian Institute of Robotics
ISRO
DRDO
PARI Robotics
At an international level, organisations like CoroWare, CRS Robotics, Stone Aerospace, Baxter (robot), IRobot (not the movie, there is an actual company by that name), Consolidated Robotics, Universal Robotics and Universal Robots also hire Robotics Engineers.
Robotic Engineering is one of the most promising and rewarding field. A Robotic engineer's income mostly depends upon their qualifications, experience and organisation he chooses to work in. Robotic Engineers planning to work overseas often are wooed with lucrative salary packages. For fresher's, the initial salary package is somewhere between Rs 5-8 lakhs per annum.
Pros & Cons
Who is the most famous science fiction movie robot? Who else could it be other than the famous Arnold Schwarzenegger in the Terminator franchise. Interestingly being the toughest robot is not necessarily an advantage. Let's look at some of the advantages and disadvantages of being a Robotics Engineer:

Advantages of being a Robotics Engineer:
A highly paid and respectable job
Both the government and the private sector give a lot of benefits to retain their skilled workforce
Most Robotics engineers are employed in laboratories, space exploration, manufacturing plants, mining and organizations.
Disadvantages of being a Robotics Engineer:
Though highly paid, the work is very demanding
Niche field, therefore limited opportunities
The job requires long hours of work.
Next Career
Computer Engineering
Computer engineering students learn how to develop hardware and software systems for computers, communication systems and other devices. Computer engineers are also suited for robotics research.
International Educational Gateway Pvt. Ltd. © 2020
.
All Rights Reserved
.
Univariety