Career in Chemical Engineering
Chemical Engineering, one of the oldest and most prominent branches of engineering, is a discipline which trains and educates students as to how convert raw materials into usable products and also how to design and operate chemical plants. Chemical engineering plays an important role in the food.
Chemical Engineers are professionals who are equipped with the knowledge of Chemical Engineering. Apart from developing substances that range from food and cold drinks to cloth-washing powder and industrial chemicals, they can also design and operate machinery that is used in chemical plants.
Chemical Engineering is linked to fundamental subjects like Chemistry, Biology, Mathematics and Physics. Fuel combustion and energy systems are prominent areas that employ chemical engineering. Chemical Engineers also play a very important roles in fields like medicine, biotechnology, microelectronics, advance materials, energy, consumer products, manufacturing and environmental solutions.
Chemical engineers are trained on the following subjects mainly among others:
•
Environmental Engineering
Top Colleges
Chemical engineers are the bridge between fundamental science subjects such as chemistry, biology, mathematics and physics, and engineering disciples such as computer science, mechanical, civil and electrical engineering. There are many colleges in India and abroad that imparts quality education in the field. Following are some of them: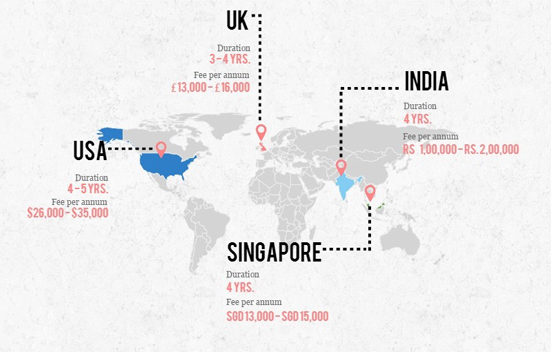 INDIA
IITs (Kanpur, Bombay, Delhi, Madras and Kharagpur | BITS Pilani | Delhi Technological University
UK
University of Cambridge | | Loughborugh University | University of Nottingham
USA
Massachusetts Institute of Technology | University of California, Berkeley | Stanford University
SINGAPORE
Nanyang Technological University | National University of Singapore | German Institute of Science and Technology (GIST)
Chemical Engineering in India
In India, courses in chemical engineering are offered at both the undergraduate and the post graduate levels. The basic eligibility criteria for BE/B.Tech programme in chemical engineering is 10+2 with science subjects, (Physics, Chemistry, and Mathematics), or equivalent examination, with at least 60% marks in aggregate. It is also mandatory to qualify in the Joint Entrance Examinations (IIT JEE). Diploma courses are also available in chemical engineering.
The duration for the BE/B.Tech courses is four years while diploma programmes take 2-3 years
Career Prospects
A chemical engineer can find jobs in the public and private sectors, both in India and abroad. As non-renewable sources of energy are dwindling, being a chemical engineer could prove to be extremely useful. A chemical engineer can help synthesise replacements or options for sources of energy. A chemical engineer can work in either the research or production of such chemicals. Additionally, a chemical engineer can work for a government organisation like ONGC, or even a private player like Reliance energy.

Many chemical engineers are selected as trainee engineers in Fortune 500 organisations like Intel, Texaco etc. Chemical engineers have always been in demand, as chemical engineering is considered an extremely critical branch of engineering. There are huge opportunities for someone completing a course in Chemical engineering. One can easily find work in the pharmaceutical, bio-technology and energy industry.

Being the largest hub of fuel production, middle-eastern countries and the petro-chemical companies based there employ a huge number of chemical engineers.
Jobs & Salary
TOver the recent years Chemical Engineers have served as CEOs of leading energy, semiconductor and oil companies. Chemical engineers are required to play a variety of roles in an organisation. Some of them are:
A Scientist
A Researcher
A Chemical engineer
Subject matter expert
There are many organisations you can work for, once you have completed a degree in chemical engineering. I have listed some of the organisations you could find work in once you have completed a course in chemical engineering.
DuPont
Intel
General Electric
Dow Chemical
Pros & Cons
Pros:
High Salary Packages
Good reputation
Regular inflow of knowledge, about technologies
High end perks
Travel opportunities
Cons:
High responsibility
Excessive research
Longer study years
Proximity to hazardous chemicals
Longer working hours
Confused about which career to take?
Know which career is best for you?
Next Career
Aeronautical Engineering
Aeronautical Engineering is a branch of engineering which is concerned with developing aircraft or space vehicles. It studies different aspects of Earth's atmosphere, mechanics and other general aspects of engineering and applies them all to developing aircrafts.
International Educational Gateway Pvt. Ltd. © 2019
.
All Rights Reserved
.
Univariety