Career in Travel & Tourism
A career in Travel and Tourism has a lot to do with customer servicing as it is a part of the Hospitality industry. It can involve taking people to new places, assist with accommodation, help with other activities and many other things.
Traveling is exhilarating. Seeing the world for yourself and sharing this experience with people is something that only the Travel and Tourism industry field offers it.
A career in the travel and tourism industry is essentially concerned with providing services for people who are away from home, on business or on holiday. It requires assessing the needs of tourists and businessmen and helping them make the best possible travel arrangements from the many travel options available.
Pursuing travel and tourism studies will train you to:
Define the tourism industry and highlight employment opportunities and the skills needed to work in travel
Use knowledge of world geography to sell destinations and plan efficient customer itineraries
Give accurate advice on requirements for travel documents, customs, heath and currency requirements
Make air travel arrangements using standard industry coding and terminology
These are just some of the aspects you will be trained upon. However, with an industry as broad as travelling, there is a high chance that you will find niche where your knowledge of travel and tourism could be applied.
Top Colleges
A vast filed as it is, choosing the right course and the right country to study travel and tourism is a big challenge. There are various courses available, if you wish to pursue Travel and Tourism studies. Australia, New Zealand and Canada are the top 3 preferred destinations for students wishing to study travel and tourism.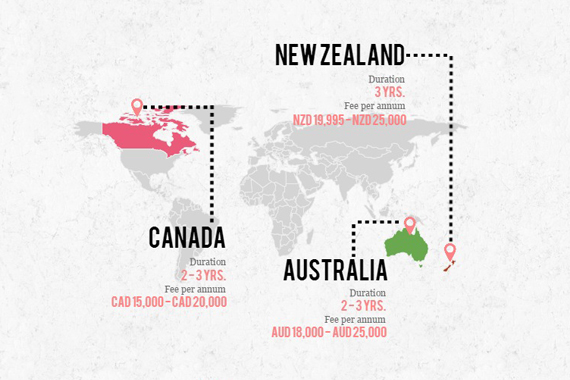 AUSTRALIA
University of Queensland | The University of Sydney | Griffith University | University of Adelaide
NEW ZEALAND
The New Zealand School of Travel and Tourism | AUT University | Victoria University of Wellington
CANADA
University of Calgary | Vancouver Island University | University of Guelph
Career Prospects
The chances of landing a job in the tourism sector are very bright. The tourism industry has high potential with varied opportunities existing in both the public and the private sectors. The public sector has opportunities in the 'Directorates and Departments of Tourism of the centre and the state' as Officers, information assistants, Tourist guides etc. The private sector has opportunities in travel agencies, tour operators, airlines, hotels, transport and cargo companies etc. Some of the Career Options are as given below.
Tourism Department Employee
Airlines' staff
Tour Operator
Travel Agent
If you love to blog, and often indulge in blogging, Travel writing is one of the new areas to work in. Typically a travel writer will travel around the world and write blogs on the same, getting paid to live their dreams and write about their experiences, which may inspire a few others to follow their dreams.
Books like Coasting by Jonathan Raban and City of Djinss by William Dalrymple have been listed amongst the top 20 most inspiring travel books ever. Both Jonathan Raban and William Dalrymple are highly decorated and celebrated authors, who have forged a name for themselves as prolific travel writers.
Jobs & Salary
There are a number of companies catering to the travel and tourism sector, from airline carriers to Cruises, Railways, etc. Most states have boards for tourism, which are looked after by the Ministry of Tourism. There are private organisations which have been arranging tours and offering complete services for travel and tourism operations.
Some of these companies are:
Ministry of Tourism (Central government)
State tourism boards(State government)
Airlines (Emirates, Thai airways, British airways etc.)
Cruise ships (Costa Cruises etc.)
Travel agencies (Travelex)
Hotels (Taj hotels etc.)
Transport and Cargo Companies (Fedex etc.)
There are a number of new companies that have come about over the past few years, with the amount of internet bookings on the rise. Organisations like Makemytrip and Yatra have grown phenomenally, to become almost the main channel to book travel tickets.
There are essentially two different types of travel guides, ones who work locally and ones who work internationally. The money earned by them depends on their skill level and their experience.
Pros & Cons
Though travel seems like a fun career prospect, like every other job it has its advantages and disadvantages.

The Advantages of making a career in this field are:
Visiting new places
Meeting new people
Learning new cultures and traditions
Educative and informative trips.
Adventures and thrills
High remunerations
Ability to grow your network
Disadvantages of making a career in this field are:
Erratic timings
Staying away from friends and family for long stretches of time.
Health risks
Fatigue that can occur on long journeys.
Confused about which career to take?
Know which career is best for you?
Next Career
Air Hostess
If there is one career that matches the glamour of the movie industry, it is undoubtedly this! Even the movie industry is enamoured with this profession–making super heroes out of flight attendants in movies like Executive Decision and Air Force One where air hostesses fight terrorists.
International Educational Gateway Pvt. Ltd. © 2019
.
All Rights Reserved
.
Univariety