Career in Sports
Sport has evolved into a full-fledged and practical career option. It is one of the largest foreign exchange earners and provides direct and indirect employment to millions of people worldwide. The service areas include sporting bodies, private and government sport academies.
A career in Sports is essentially concerned with going on to become a sports person or providing services for people who take part in sports, which requires assessing the needs of sports persons and helping sports persons perform to the best of their ability.
Earlier, parents were a bit apprehensive about their kids wanting to pursue sports at the expense of their education. Now, Sports and education can easily be integrated without compromising on either. The vast majority of courses running on sport support this very idea.
Someone pursuing a career in Sports would ideally be trained on the following areas:
Fitness and Health
Information Systems for Health Services Physical Activity and Health
Personal and Executive Coaching
Athletic Training and Conditioning
Orthopedic and Athletic Injuries
Top Colleges
Many universities run sports scholarships, another reason why one should strive for good grades, even if they wish to pursue a career in sports. American golfer Tiger Woods, who was named "Athlete of the Decade" by the Associated Press in December 2009, earned a major in Economics from Stanford University on a golf scholarship.
There are many courses available for Sports, in India and abroad.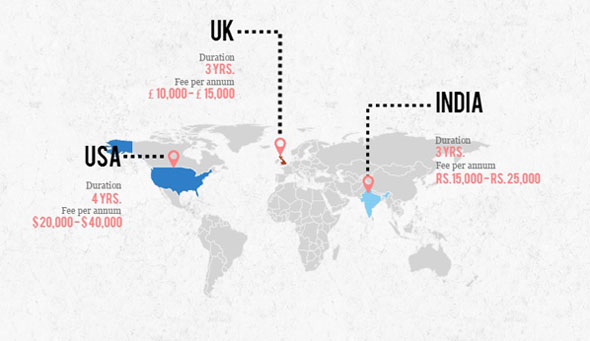 USA
University of California | Concordia University | University of Bridgeport
UK
University of Birmingham | University of Lincoln | Cardiff Metropolitan University
INDIA
National Institute of Sports | Indira Gandhi Institute of Physical Education and Sports Sciences | KMG College of Arts & Science
Career Prospects
Team sports require you to work as an infallible cog in a machine-like sporting body and play your part perfectly. But, there are chances that you might feel the need to work solo and work as a free agent. You can either choose to work as part of a sport club like Chelsea or even national teams, like the Indian cricket team. There are immense opportunities to work solo as well. If you have the vision and the capital, you can easily start your own sport club to help nurture young talent.
After completing a course in Sports, you can easily apply to a sports organisation and find work as
A Sportsperson
A Sport Manager
A Trainer
A Coach
A Sport Therapist
Sporting Director
Talent Scout
Pit-lane Crew
A private agent to athletes.
Jobs & Salary
There are many who have an interest in working out or staying fit. Every celebrity has a personal trainer who looks after their gym schedule and also advises the routine to stay healthy. If fitness training is something that you picture yourself doing in the future, you could even look at being a personal fitness trainer.
Through a career in Sports, you can end up working for teams you followed as a kid. You can choose to work in the sport of your choice, be it football or basketball or cricket. Some of the organisations that you can work for are as follows:
FC Barcelona
Chelsea Football Club
LA Lakers
Miami Heat
It is tough to correctly predict a remuneration for someone in sports, as the amount of money that can be earned depends on your skill and experience, and the popularity of the sport. However for the purposes of an insight, following is the typical annual retainers that cricket boards pay to the cricketers:
| Cricket board | Annual Retainer |
| --- | --- |
| Australia | £ 400,000 |
| England | £ 400,000 |
| South Africa | £ 105,000 |
| India | £ 82,500 |
| West Indies | £ 77,250 |
| Sri Lanka | £ 77,250 |
| Pakistan | £ 22,500 |
| Bangladesh | £ 12,000 |
Cricketers also earn huge amounts of money, through sponsorships and brand endorsements. Mahendra Singh Dhoni, who is the captain of the Indian cricket team, earns 54 cr per annum in sponsorship deals alone.
Lionel Messi, footballer at Barcelona earns around Rs 190 cr per annum. F1 driver, Kimi Raikkonen earns around Rs 200 cr per annum, While Basketball player Tracy Mc Grady earns around 105 cr per annum.
Countries also honour athletes, by giving them additional prize money for medals won at international events like Olympics, and World Athletic Championships. In the USA, an Olympic Gold medal winner is awarded $25,000 as prize money, while a Silver medallist would get $15,000 and the bronze medallist is honoured with $10,000.
Sports management guys also earn a lot of money working for organisations like BCCI, IPL, ICC, FIFA, NBA etc.
Pros & Cons
Apart from the huge payoffs through sports or other brand endorsements, there are many pros and cons, in a career with sports. A true sport lover might find that the advantages outweigh the disadvantages significantly. The advantages are:
Fame
Money
Work with childhood idols
Work for favourite sports clubs
Celebrity Status
Work for Social causes
However, as improbable as it may seem, there are certain disadvantages associated with a career in sports. They are:
No privacy
Challenging work
Erratic work times
Stressful work
Limited scope
Injuries (Training)
Physicality
Dangers (Due to match fixing and crazed fans)
Confused about which career to take?
Know which career is best for you?
International Educational Gateway Pvt. Ltd. © 2019
.
All Rights Reserved
.
Univariety