Career in Physiotherapy
Physiotherapy helps in the treatment of a person affected by injury, illness or disability. This is a science-based profession and involves the betterment of a patient's lifestyle.
Physiotherapists (PTs) diagnose individuals based on their history and a physical examination. This diagnosis helps set up a management plan that will be used in treatment. If necessary, treatment is also based on their X-rays, CT-scans or MRI reports.
As the domain of physical therapy is quite large, many PTs specialise in a particular clinical area, which may include:
Clinical Electrophysiology
Cardiovascular and Pulmonary
Integumentary
Geriatrics
Orthopaedics
Neurology
Sports Physical Therapy
Paediatrics
Women's health
By improving the functional ability and mobility of their patients, physiotherapists enhance their quality of life. Physiotherapy also helps with long term medical conditions like asthma.
Top Colleges
Since this healthcare profession can involve anything from a simple massage to a complex range of therapies, it becomes important to study a course that prepares you to face the challenges of the real world skillfully.

If you want to become an adept physiotherapist, here are some of the best countries and colleges where you can pursue a course in physiotherapy: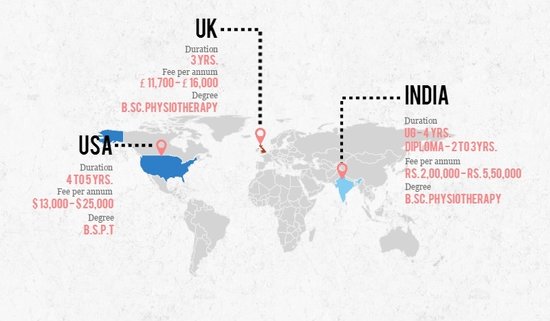 USA
University of Michigan | University of Minnesota | University of North Carolina at Chapel Hill | University of Pennsylvania
UK
University Of Edinburgh |University Of Glasgow | University Of Portsmouth
INDIA
All India Institute of Medical Sciences (AIIMS) | Christian Medical College Vellore | Christian Medical College | Madras Medical College
Career Prospects
After completing a course in physiotherapy, you can:
work as a self-employed physical therapist to offer services to individual patients
work as a physical therapist with hospitals, health agencies, nursing homes, home adult day care programs, and rehabilitation centers on a contract basis.
establish a solo practice
join a consulting group
take up research work
teach in academic institutions
The increase in demand for physiotherapist is seen by the way things are currently. From a very early age we tend to complain about back aces, muscle cramps etc. All this because our daily routine has no physical exercise involved. Hence the increase in demand and this shows that getting a well paid job in this field shouldn't be difficult.
The increase in demand for physiotherapists can be highlighted this way. From a very early age we tend to complain about back ache, muscle cramps, tiredness etc. What is the cause of this? The body needs constant exercise to stay fit. We have become so pre-occupied with work, technology and other things that there is very little physical exercise involved in our lives. This increase in demand therefore ensures that getting a well paid job in this field shouldn't be that difficult.
Jobs & Salary
A majority of physiotherapists find work with
Hospitals
Medical groups
Community care
Outpatient clinics
Intensive Care Unit (ICU)
Apart from this, physiotherapists can also take up faculty positions in schools of physical therapy. This will help you impart knowledge of this medical science and also learn new methods of treatment. They may also work in wide areas like sports, women's health, care of the elderly, mental illness, stroke patients, orthopaedics, paediatrics etc. In a nation of sports lovers like India, an increasing number of sports injuries have triggered a great demand for Sports Physiotherapists.
Physiotherapy treatment can also offer good results for children with Cerebral Palsy (CP) as well as in helping women who are going through prenatal and postnatal stages. So, depending on your specialisation, you can select the areas of treatment and choose your job setting accordingly.
Depending on the core area of specialisation and experience, the earnings of physiotherapists can vary significantly. Statistics show that while those working with state or public hospitals earn the most, those with NGOs and doing their own practice usually are at the lower rungs.
Pros & Cons
Many think that a profession is physiotherapy is much less attractive than that of a medical science graduate or a software engineering. The truth is any job is great if you like what you're doing. Physiotherapy gives you a job satisfaction of a different sort. It's often said: "there is more happiness in giving than there is in receiving". Here, you're helping people improve their lifestyle. So, if you consider yourself a people person then opting for a profession is physiotherapy is a good choice. But like every other job, it too has its fair share of advantages and disadvantages.
Here are some of the advantages of making a career in the field of physiotherapy:
Flexible working conditions
Chances of continued education in most cases
Variety of tasks and specialisation to choose from
A strong sense of satisfaction from helping people
Social prestige
However, the flip side of this field includes:
Erratic and long hours at times
Stress
Unsocial hours, especially when you are travelling with sports quads for competition and camps
Spending a lot of time away from family and friends
Missing out on family and social occasions (birthdays, anniversaries, festivals etc)
Confused about which career to take?
Know which career is best for you?
Next Career
Pharmacy
Pharmacy is the science of developing medicines and drugs through research, to help cure diseases and to improve the standard of health.
Recommended For You
International Educational Gateway Pvt. Ltd. © 2019
.
All Rights Reserved
.
Univariety