Career in Marine Engineering
A marine engineer is a professional who holds responsibility for the operation and maintenance of all mechanical and electrical components of sea vessels. Marine engineering as a branch of study refers to the engineering of ships, oil rigs, boats and any other watercraft.
Have you ever been on a cruise ship? Would you want to get on board a battleship used by the navy? These massive ships are ever steady in the unpredictable ocean. True engineering fleets! Now, imagine what goes into maintaining them? Apart from maintenance, a marine engineer is also involved in designing watercraft of all kinds, from ships to submarines! The constant growth in this filed indicates room for innovation and creativity.
There are certain areas that a Marine Engineer is definitely trained on:
Marine engine training
Ship stability and ship construction
Ship board machinery maintenance
Computer aided programmes like CAD/CAM
Marine engineering has, over the past 10 years, established itself well among other famous professions. A marine engineer is required to be efficient in electrical, mechanical and similar forms of engineering. Considering the demand, studying in a good college is always helpful.
Top Colleges
You would find it refreshing to note that studying marine engineering is as exciting as travelling on a cruise ship. You can be sure it would be fun.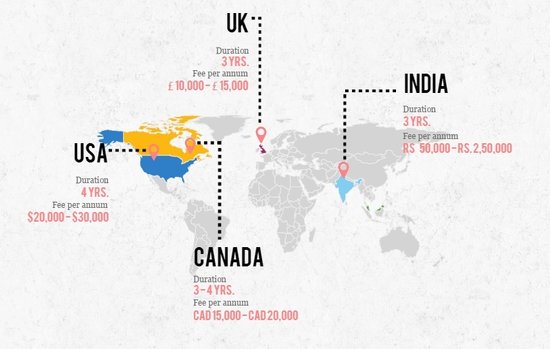 Following are the best colleges to study Marine Engineering:
USA
Stevens Institute of Technology | United States Naval Academy | University of Michigan
UK
University of Strathclyde | Newcastle University | University Of Southampton
INDIA
Andhra University College of Engineering | Marine Engineering Research Institute- Kolkata | Indian Institutes of Technology (IITs) Madras, Kharagpur
Career Prospects
Marine Engineering is a highly lucrative career and offers the option to work in a challenging environment. With the increase in international global sea traffic, the demand for Marine Engineers in public and private shipping companies has risen. The top rung of the hierarchical ladder is the post of a Chief Engineer. Marine Engineers usually sail for 15-20 years after which they land jobs in shipyards, maritime universities or in management of a shipping company.
With the increase in international global sea traffic, the demand for marine engineers in both public and private sectors has increased. It is a highly lucrative and challenging career. As a marine engineer, the first 15-20 years of your career would periodically require you to be at sea. You can then land jobs in shipyards, maritime universities or in management of a shipping company.
Jobs & Salary
Marine Engineers can find employment both in the government and private sectors.
Following are some of the other well known brands which hire Marine Engineers:
Ahlers India Pvt Ltd.
Bharati Shipyard Ltd.
ABG Shipyard Ltd.
Maritime Services Pvt Ltd. (RCL Group)
Adsteam Agency India Pvt Ltd.
This field although challenging is surely rewarding. Marine engineers have various ranks and salaries usually depend in part on the rank you hold. A fresher (Fifth Engineer/Engineering Cadet) gets a salary around 35 – 75 thousand. The highest post is that of a Chief Engineer, you get there and you're drawing at an average of 5 lacs. The above figures are not annual but monthly. Very lucrative!
Pros & Cons
Just like any seashore, which experiences a high tide and a low tide, the job of a Marine Engineer has its fair share of highs and lows.
Following are some of the advantages of being a Marine Engineer:
A highly paid and respectable job
The work is challenging and the scope of growth is immense
Both the government and the private sector give a lot of benefits to retain their skilled workforce.
Following are some of the disadvantages:
Long time away from home
Monotony in work for being at sea for months at a stretch
Mariner's and professional engineer licensure is often required
No relief from work when at sea
Confused about which career to take?
Know which career is best for you?
Next Career
Mechanical Engineering
Mechanical engineering involves the design and manufacture of mechanical systems. To accomplish this, it uses the principles of engineering, physics and materials science.
International Educational Gateway Pvt. Ltd. © 2019
.
All Rights Reserved
.
Univariety