Career in Linguistics
Linguistics is the scientific study of human language. Every human language has different aspects such as grammar, semantics and phonetics. A Linguistic professional studies each one of these aspects of a language along with its cultural origins and development.
If you are one those people who wonder about the syllables and meanings of every word you speak or hear, then Linguistics will surely interest you as a career. Because, it will teach you everything related to a language, how its words were formed, why they are pronounced the way they are pronounced and so on.
A linguistics degree is useful if you intend to teach abroad, work in publishing or the civil service. Your skills will also be appreciated in marketing, advertising, industry and public sector organizations. However, if your goal of learning a language encompasses more than just singing and writing songs, following are some places where you could get certified in linguistics.
As a linguist you will learn the rules of language and why these conventions are not followed, and how languages evolve, so on and so forth. Along with many sub fields of Linguistics, these are certain areas a Linguist is trained on
Phonetics and phonology
Morphology
Typology
Language contact and sociolinguistics
Historical linguistics
Top Colleges
There are many top colleges across the globe which offers this course. We have come up with a comprehensive table of the best countries and colleges along with the study duration and annual fees.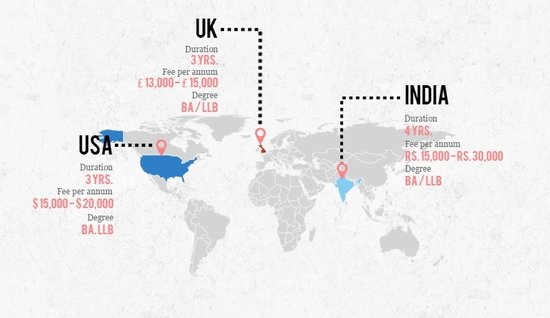 INDIA
St. Stephen's College
|
Lady Shri Ram College for Women
|
St. Xavier's College, Mumbai
UK
University of Glasgow | University of York | University of Portsmouth
USA
Massachusetts Institute of Technology | Harvard University | University of California (UCLA)
Career Prospects
There are many job opportunities which open up for someone with a degree in linguistics. After completing your degree, you can find work in BPOs as voice and accent trainers, in embassies as language trainers, or even corporate translators in multinational companies.
You can find work as any of the following:
Language Teacher
Dialect Coach
Neuro-linguist
Translator
Anthropologist/Surveyor
Jobs & Salary
There are many companies which hire linguist for a variety of functions. Fortune 500 organisations, government agencies like foreign ministries, and hospitals hire linguists every year in a variety of roles. Following are some examples of the kind of companies that hire linguists:
Anthropological Survey of India
IT Companies like Infosys, TCS, and Wipro.
BPOs like JP Morgan Chase, WNS etc.
Indian Embassies around the world
Ministry of Foreign Affairs - India
Pros & Cons
There can be a number of advantages of making a career in linguistics. Apart from the fact that you could call someone rude names and they might simply think you have lost your marbles. There are other advantages as well. Following are a few of them:
Teach classes for just 9 months out of a year
Government sponsored travel to different countries
Present papers at international conferences
Job security
The title of emeritus is awarded to you, once you retire
As with any other career, Linguistics has certain disadvantages as well.
Salary is initially low
Fewer opportunities to teach
High level of study
Its niche career
Next Career
Blogger Writer
No matter which career you pursue, writing will invariably be an essential part of it. You can, however, choose to have an exclusive writing career if you have the flair for it. And a flair for writing is visible from early on in life.
International Educational Gateway Pvt. Ltd. © 2020
.
All Rights Reserved
.
Univariety