Career in Industrial Engineering
A relatively new branch of engineering, Industrial Engineering is all about figuring out the best way to utilise resources. As the scale of work is massive in industrial plants and factories, Industrial Engineers make sure that no resources are wasted and everything done in a way that ensure results
Have you ever been to huge factories with gigantic machines? Ever wondered how is it possible to monitor and maintain such large pieces of equipment? Industrial Engineering is a branch of engineering that makes sure that all resources of production, such as personnel, money, raw material, energy and fuel etc. are made optimum use of. The Institute of Industrial and Systems Engineers have a very interesting definition for Industrial Engineers: "Industrial Engineers figure out how to do things better, they engineer processes and systems that improve quality and productivity".
To do all this, the Industrial Engineers are trained in the development, implementation, evaluation and service of integrated systems. This is done by using information, equipment, knowledge, energy and raw materials. The concepts of Industrial Engineering are very similar to business-oriented disciplines like operations management.
Industrial Engineers are primarily responsible to ensure that the final product is as per the original design created. Therefore, Industrial Engineering graduates can apply in any industry. Industrial Engineering education offers the best of both worlds: an education in both Engineering and Business. There are certain areas that Industrial Engineers are trained on while they pursue their course:
•
Review engineering specifications
•
Production schedules, process flows and other data
•
Financial planning and cost analysis
Top Colleges
There are many top colleges across the globe which offers this course. Here are some details of the colleges along with the study duration and annual fees.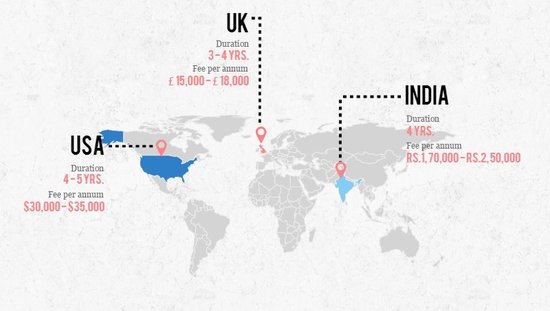 INDIA
IITs – Delhi, Kharagpur, Roorkee | Birla Institute of Technology and Science (BITS-Pilani) | Delhi Technological University (DTU)
UK
University of Greenwich | Heriot – Watt University | University of Leeds
USA
Georgia Institute of Technology | University of Michigan – Ann Arbor | University of California – Berkeley | Stanford University
Career Prospects
Product manufacturing makes up for a huge chunk of the global business activities. Industrial Engineers are in high demand for such businesses. As an Industrial Engineering student will be exposed to think creatively, so that the outcome will look optimum. An Industrial Engineer can apply for the following jobs:
•
Production, assets, manufacturing, or process engineer
•
Quality control manager
•
Health and safety manager
Jobs & Salary
An Industrial Engineer gets paid on par with other engineers. A fresh graduate in Industrial Engineering in India usually gets a starting monthly salary of Rs. 15,000 to Rs. 20,000. Students from well-known technological institutions like IITs, NITs, and BITS get a much higher pay package. The remuneration increases with increase in experience and expertise.
Some of the leading organisations that employ Industrial Engineers are:
•
Siemens
Pros & Cons
Following are the advantages of being an Industrial Engineer:
A highly paid and respectable job
Possibility of work options in a variety of industries (motor vehicle, aerospace, etc)
Quick promotions, recognitions and benefits
Following are the disadvantages of being an Industrial Engineer:
Working in high pressure environment
Switching jobs may not be very easy
Sometimes involves working with hazardous materials
Next Career
Automotive Engineering
Automotive engineering is a branch of engineering which deals with designing, manufacturing and operating automobiles. This also includes working on their mechanical, electrical, electronic, software and safety aspects. It is a segment of vehicle engineering which deals with motorcycles, busses,etc.
International Educational Gateway Pvt. Ltd. © 2020
.
All Rights Reserved
.
Univariety