Career in Dentistry
A branch of medicine, dentistry basically deals with diagnoses, treatment and prevention of oral disorders and diseases. Although it is primarily related to teeth, it is important for the overall health of a person.
Dentists: the terror of children and a need for the elderly. You can go most your life without falling ill, but if you don't take care of your teeth, no amount of apples will keep this doctor away.
Dentistry interestingly though is actually a vast field. It is divided into the following sub-disciplines: preventive care, dental public health, endodontics, orthodontics, periodontics, paediatric dentistry, prosthodontics, restorative dentistry, cosmetic dentistry, oral and maxillofacial pathology and radiology and surgery
As a rapidly changing and ever evolving profession, dentistry basically deals in:
Dental medicine, which includes anatomy, microbiology, pathology, biochemistry, histology and biomaterials
Principles of oral disease prevention
Oral tissues and structures – their functions, and trauma caused
Top Colleges
Students can either opt for general dentistry, where they study all the above disciplines, or specialise independently in any of the above sub-disciplines. Depending on why you want to take up dentistry, you can make the choice of specialisation.
USA does not offer under graduate dentistry courses. So, if you want to do dentistry in USA, you have to complete a bachelor's degree or at least attend university for two years.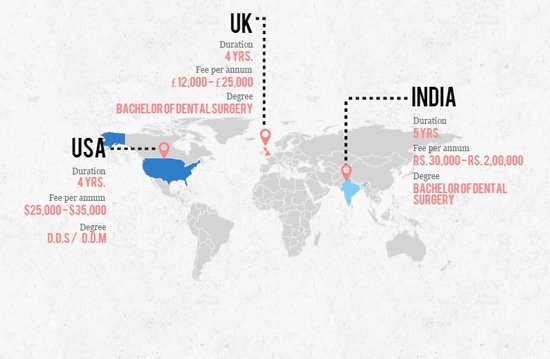 INDIA
Armed Forces Medical College (AFMC)| Maulana Azad Medical College | Christian Medical College | Institute of Medical Sciences (IMS), BHU
USA
University of Pennsylvania | University of Michigan-Ann Arbor | University of Washington-Seattle Campus |New York University | Boston University
UK
University of Edinburg | University of Dundee |Newcastle University | Queen Mary University of London | University of Aberdeen
Career Prospects
We might not like them, but we can't deny the fact that we need them. In the field of dentistry the only factor that might affect your ability to practice in any country, other than where you took the course, is the regulations governing practice in that country.

Like most medical courses, dentistry does not really require you to work with a hospital. The training given during your course will be enough for you to start with your own practice. However, the suggestion is to first work under a renowned hospital or dental clinic. The experience you gain there will give you considerable experience that you can use when you want to start your own practice.
Jobs & Salary
After completing a degree in dentistry, you can opt for any of these following fields, depending on what you have specialised in, and which course you have opted for:
Dentist
Orthodontist
Paediatric dentist
Periodontist
Endodontist
While practicing in any of the above areas, you can choose between setting up your own clinic and attaching yourself with another dentist or hospital. Depending on your skill level, experience as well as other factors, either or all options are definitely viable and profitable.
If there is one big advantage of studying dentistry, it is the money. Whichever country you are planning to practice in, it is one profession that will help you reap huge benefits. While dentists across the world are well paid, it is the best profession to be in the UK, where dentists charge truly exorbitant rates. It's funny, but true.
Pros & Cons
People often say that a dentist is one who puts a hole in your pocket to fill another in your mouth. If you want to prove this wrong, dentistry is the perfect option for you. However, like any other profession, dentistry also has its own set of advantages and disadvantages, which you should consider before opting for it.
Pros:
Extremely lucrative industry
Rewarding jobs
Excellent job prospects
Ability to start out on your own immediately
Cons:
Extremely demanding job
Heavy workload
Crazy schedules
The natural fear of people to seek dentists' help
Confused about which career to take?
Know which career is best for you?
Next Career
Medicine
One of the most respected of all career options, Medicine is the study that deals with identifying, treating and preventing diseases. Bachelor of Medicine and Bachelor of Surgery, is an integrated four and a half years study programme that students have to pursue to become a doctor.
International Educational Gateway Pvt. Ltd. © 2019
.
All Rights Reserved
.
Univariety