Career in Computer Application
Computer application is a course that helps you understand the basics of computer hardware, operating systems and software concepts. It also helps you understand the requirements in developing software and its designing and implementation.
A computer application, simply put, is a type of software that helps you carry out certain tasks. With a wide variety of computer applications being used for different purposes and different devices, it's not easy to classify them into exact categories. Still, some of the important ones include:
Embedded Applications,Web Applications,Desktop Applications and Console Applications
Students enrolled in computer application courses are initially trained in computer fundamentals and programming concepts. This is because the skills that they learn are the basis to master other subjects later on. These subjects include:
Digital Electronics and Computer Organization
File and Data Structure Using D.B.M.S., C etc.
Computer Oriented Statistical & Optimisation Methods
Computer OS (Operating System)
Computer Oriented Financial Management
Getting your hands on the yet-to-be-launched gadget or gaming console, testing new software's for the first time before their public launch, brainstorming with people from varied backgrounds to solve problems - the thrills and chills of being a computer application specialist are many. Thus, to be good at what you do, where you study is important.
Top Colleges
Computer application is taught in most countries as part of Computer Science. However, you can also find universities and institutes in different countries that offer Bachelor of Computer Application Degree.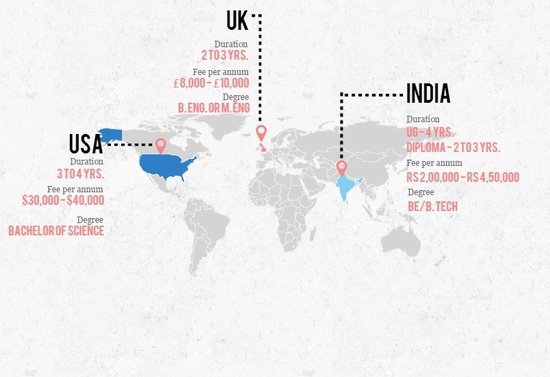 USA
Massachusetts Institute of Technology | University of California - Berkeley | California Institute of Technology | Stanford University | Carnegie Mellon University
UK
University of Birmingham | University of Glasgow | University of Bristol | University of Southampton
INDIA
Indian Institutes of Technology (IITs) at - Mumbai | Kharagpur | Chennai | Kanpur | | Indian Institute of Engineering Science and Technology
Career Prospects
Did you know that Indian techies make up nearly 16% of the US Asian-American community? Or that India now is the world's 3rd largest tech startup hub? No, this isn't another Indian stereotype but, it highlights the immense career opportunities related to this field. As a computer application specialist you can find work in both local and global organizations. In the US you can find jobs as computer programmers, web designers and developers, software developers, IT system analysts, technical support executives, etc.
After completing your degree in computer science or computer applications, you can work in the IT/ITES based industries as a:
Software Programmer
System and Network Administrator
Database Administrator
Web Designer
Web/Multimedia Programmer
Jobs & Salary
Companies that offer IT solutions to global and local clients like IBM, TCS, Infosys etc, as well as those offering web based solutions and desktop services like Google, Genpact, and Microsoft can offer you job opportunities and salary perks that match the best in the industry. Some of the premier companies that hire computer application specialists are Infosys, TCS, IBM, Wipro, Hewlett-Packard, Cognizant, HCL, Google, Intel, Microsoft and Motorola.
Some companies where computer application specialists can get a job include:
Tata Consultancy Services
Tech Mahindra Ltd.
HCL Technologies Ltd.
Wipro
Infosys
The salary of BCA graduates and those with a Bachelor of Computer Science degree would depend on the skill set these candidates can offer to their potential companies. Since the pay rate is directly proportional to the experience of a candidate, those in the higher rungs can earn more as compared to their novice counterparts fresh out of college.
Pros & Cons
In brief, a career in this field comes with advantages like:
A fat pay packet
Global exposure
A wide variety of assignments to learn and grow
However, the disadvantages could be:
Long work hours
Compensation that doesn't match your efforts
Work, which at times, is repetitive
Stress
Health hazards like back pain, obesity etc.
Confused about which career to take?
Know which career is best for you?
International Educational Gateway Pvt. Ltd. © 2019
.
All Rights Reserved
.
Univariety