Career in Biotechnology
Biotechnology is a field of applied biology that uses biological processes and organisms to manufacture products that improve human life.
Biotechnology is a field of applied biology that uses biological processes and organisms to manufacture products that improve human life.
Biotechnology! It sounds new, but it has been around for a long time. The earliest biotechnologists where, believe it or not, farmers! Do you remember reading about cross pollination? Well, that is a part of biotechnology. Humans have been using it in agriculture, food production, medicine etc. In the late 20th and 21st century it has included new sciences like Genetics, Biochemistry, Microbiology, Immunology, Virology and others
.
Interestingly, there are certain programs under biotechnology that many consider a misuse. Processes like human cloning or embryonic stem cell research have come under constant scrutiny. Yes, movies make human cloning look cool, but there is a lot involved in it and many people consider it unethical.
Top Colleges
There are many top colleges across the globe which offers this course. Below is a comprehensive table of the best countries and colleges along with the study duration and annual fees for your consideration.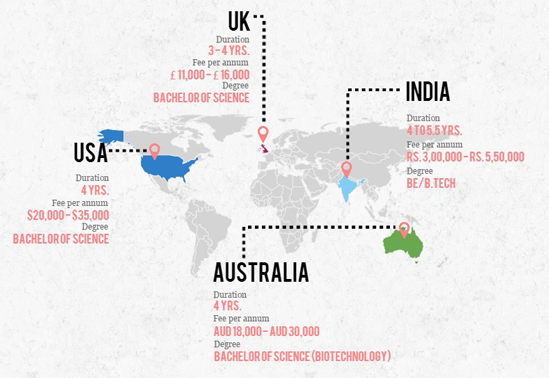 USA
Stanford University | Harvard University Massachusetts Institute of Technology | University of California-Berkeley |California Institute of Technology
UK
University Of Cambridge | University Of York |University Of Leicester | University Of Exeter
AUSTRALIA
James Cook University | University of Western Australia | University of Queensland | Charles Sturt University
INDIA
Indian Institutes of Technology (IITs) at Chennai, Delhi, Kharagpur | All India Institute of Medical Sciences (AIIMS)
Biotechnology in India
With its prominent Biotechnology hubs in Hyderabad, Bangalore and Mumbai, India is a good option for biotechnology related courses. The Universities and colleges like, All India Institute of Medical Sciences (AIIMS) and IITs (Delhi, Chennai & Kharagpur) offer B. Tech & M. Tech in Biotechnology and are for duration of 4 to 5 ½ years. Admission to the courses in any of these prestigious universities is through an entrance exam. The fee for both undergraduate and post graduate courses in biotechnology is around Rs. 50,000 per annum.
Career Prospects
There are numerous opportunities that come with biotechnology. Being an interdisciplinary science it is gaining a lot of significance as a profession, thus opening up many avenues for youngsters who want to explore new developments in science.

With a post graduation in Biotechnology, an individual can find work as:

Bioinformatician
Biotechnical Scientist
Industry Researcher
Investigator
Professor
Jobs & Salary
India is a budding market for Biotechnology and there are many areas where Biotechnology jobs are available. These are
Agriculture
Animal Husbandry
Aquaculture and Marine Industry
Environment
Healthcare & patenting
The top companies which offer Biotechnology jobs to qualified professionals are:
Biocon
Serum Institute of India
Panacea Biotech
Mahyco Monsanto Biotech
Rasi Seeds
A salary ranging in between 3.5 lakh and 4 lakh per annum is offered in the Intellectual Property Rights Division, where one begins one's career as a research associate. One will be able to command a remuneration of 3 lakh per annum as a research scientist in the research and development department.
Pros & Cons
Biotechnology uses a combination of technology and biology to solve some of today's most urgent cultural and scientific issues. It is a diverse field but comes with its own advantages and disadvantages:
Advantages:

Upcoming and constantly growing field and has opportunities worldwide.
Does not restrict you to a particular job or an industry.
Hefty pay packages
Respect from peers and seniors
Disadvantages:

You will have to put in a lot of hard work which can be frustrating at times.
You cannot make a fast buck in this profession. Success can be a slow and a tedious process.
.
Confused about which career to take?
Know which career is best for you?
Next Career
Biomedical
Biomedical engineering is a combination of two disciplines, Biological sciences and engineering, which develops new technologies to help in the healthcare and medicine.
International Educational Gateway Pvt. Ltd. © 2019
.
All Rights Reserved
.
Univariety