Career in Biomedical
Biomedical engineering is a combination of two disciplines, Biological sciences and engineering, which develops new technologies to help in the healthcare and medicine.
If you have ever been to an ICU ward at any hospital, you must have noticed an assortment of complex machines and screens that show the status of the patient. These machines are the best examples of Biomedical Engineering.
Biomedical engineering is about making various potent medical base devices. These devices like micro or macro implants, pacemakers etc. add therapeutic value to patients. The wide variety of the body scanning machines like magnetic resonance imaging (MRI) machines and electro encephalogram (EEG) machines are the biggest gifts of biomedical engineering to the healthcare field. The pharmaceutical drugs, the regenerative tissue growth medications and many therapeutic biological are made with the help of biomedical engineering which further links it with genetics, making it an even vast arena.
The sub disciplines which are covered under the wide field of biomedical engineering are:
Biomechatronics
Orthopedic engineering
Bionanotechnology
Biomedical electronics
Cellular tissue engineering
Other disciplines within this field are Biomechanics, Bionics, Genetic engineering, and Medical imaging
Top Colleges
To become a biomedical engineer one must possess either a master's or a doctoral degree in the field of biomedical engineering. Bachelor of Science in Biomedical Engineering is emerging as a new subject in many colleges these days.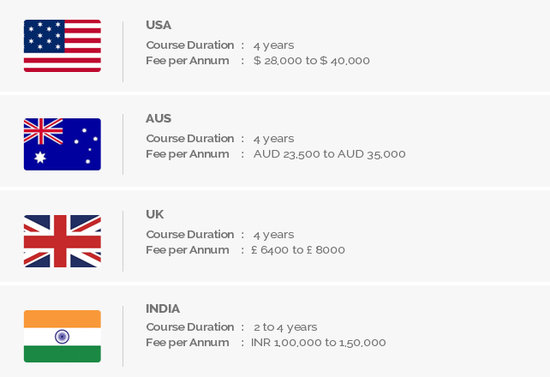 USA
Stanford University | Harvard University | Massachusetts Institute of Technology | Yale University
AUSTRALIA
University of Adelaide | Monash University | University of Queensland | University of Western Australia
UK
University of Oxford | University of Bath | The University of Manchester | University College London
INDIA
Bharati Vidyapeeth Deemed University | Sri Ramachandra Medical College & Research Institute | Acharya Narendra Dev College
Career Prospects
The science of biomedical studies is vast, versatile and covers many aspects of science as well as engineering. An individual who works in this field is designated as a biomedical engineer.
A biomedical engineer's job is very exciting and challenging. They are trained to do the following:
Biomedical engineers work as research and development scientists in various in-house biomedical ventures
They work on developing such surfaces or abstracts which are in sync with the biological sciences like biological ceramics, etc.
They work as the bioinstrumentation engineers who work for the development of the micro or the macro implants which are very helpful for the treatment of various diseases or ailments
They collaborate with the genetic scientists to help in boosting the DNA techniques to yet another level
Biomedical engineers help and work in the domains of plant engineering
The field of biomedical engineering helps in the manufacture of such devices or healthcare equipment which are used for the betterment and cure of the individuals suffering from incurable acute or chronic ailments
There are a wide variety of job options both in India as well as internationally. Biomedical engineers have immense job opportunities in a versatile periphery of equipment like pacemakers, kidneys, laser eye structure, surgical devices etc. Biomedical engineers work as tissue culture regeneration or the tissue regenerative scientists as well.
Many biomedical engineers work with the rehabilitation centres abroad in making rehabilitative instruments which help in recovery of patients. Orthopedic biomedical engineers have even greater scope abroad as they help in the development of the prosthetics and artificial limbs for patients in need.
Jobs & Salary
TThe job and career prospects are huge when one completes the course and gains a degree in the biomedical engineering. A biomedical engineer can work as the following:
Research and Development Analyst
Biomaterial Engineer
Patent Analyst
Bioinstrumentation Engineer
Orthopaedic Equipment Engineer
Biomedical engineers work in companies which have taken healthcare instrumentation to mighty heights and developed new and excellent instruments for better health. The top companies in this field of biomedical engineering are:
Medtronic
GE
Philips healthcare
Johnson and Johnson
B. Braun
Siemens healthcare
If you have a huge capital to invest, then you can become an entrepreneur and can manufacture prosthetics, micro or macro implants like pacemakers etc., the heavy healthcare machineries or equipment like ECG, MRI and EEG etc.
Studying biomedical engineering has its benefits. Biomedical engineers are compensated very well for the work they do and so are their perks, and benefits. It is a very niche and upcoming field. Compensation is based on experience and expertise, so the salary levels increase with expertise.
Pros & Cons
For a career in biomedical engineering, there are many advantages like:
High salary packages
Serving mankind
Top notched perks
There are some disadvantages too; they are:
Excessive peer pressure
Heavy responsibilities
Very high quality standards to maintain
Confused about which career to take?
Know which career is best for you?
Next Career
Biotechnology
Biotechnology is a field of applied biology that uses biological processes and organisms to manufacture products that improve human life.
International Educational Gateway Pvt. Ltd. © 2019
.
All Rights Reserved
.
Univariety