Career in Animation
Animators put life into images and transform them into movies or video games. Animation is technically defined as linking a series of drawings and simulating their movements together. It is a rapid display of 2D or 3D images to create an illusion of motion.
Ever wonder what the world would be like if it was only talking vehicles? What if humans never existed and animals spoke and walked on two feet? How about a panda that loves kung-fu? Animated movies make the oldest man feel young again. The cartoons that we grew up watching, the 3D movies we grew up watching all show the high level of creativity and diversity in this field.

The fact is that technology and animation go hand in hand. Developing skills on software's like Java, Illustrator, Photoshop, Flash, Maya would be very helpful. Students studying animation are trained on 2D or 3D animation based on their choice. Depending on the university and the country, the following areas are taught:
Fundamentals of drawing
Perspective study
Drawing for Animation
Backgrounds and Layouts
Principles of animation
Top Colleges
Students from all streams can pursue Computer Graphics and Animation as their major at the undergraduate level. Admission is usually granted on the basis of the marks received in 10+2 or its equivalent and performance in related entrance exams or tests. Following are some of the top colleges in India and abroad for animation.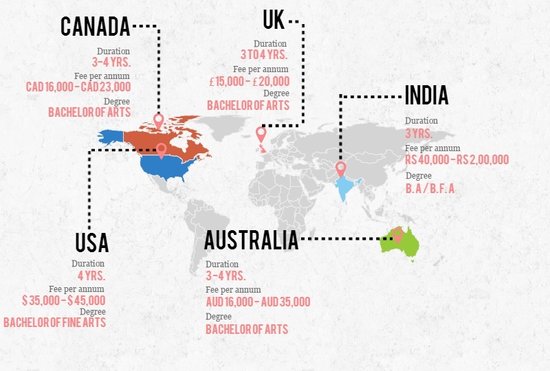 USA
California Institute of the Arts | Carnegie Mellon University | School of Visual Arts, New York | Savannah College of Art and Design| Rhode Island School of Design
UK
Bournemouth University | Royal College of Art | National Film and Television School | Kingston University London
AUSTRALIA
University of Melbourne | Monash University | Griffith University | Royal Melbourne Institute of Technology
INDIA
National Institute of Film and Fine Arts | St. Xavier's College | National Institute of Design | Vellore Institute of Technology
CANADA
Sheridan College | Vancouver Film School (VFS) | Seneca College | Vancouver Institute of Media Arts | Ontario College of Art and Design
Animation in India
Undergraduate programmes in animation vary from country to country. In India, animation is offered as a subject under the Bachelor of Arts programme. The duration of the course is for 3 years after which, one can enrol in a specialised courses like 3D animation, clay modelling, traditional animation, stop-motion animation and so on. Video game design schools offer several different types of degrees - certificates, diplomas, associate degrees and graduate level programmes. Certificate, diploma and associate's programmes are usually one or two year programmes and will allow you to enter the workforce quickly.
Career Prospects
Animation is being used everywhere, from advertisements to YouTube videos, animation has found a home. Movie animation studios, game developers and many other organisations are always looking for creative and talented animators. It's therefore important that you build your creative side.
Animation is applied in many areas like:
Entertainment channels like movies and television
Business products
Graphic design
Computer games
Other areas are fashion, advertising, web designing etc.
Jobs & Salary
After completing an animation course, an undergraduate student can work as:
Illustrator
3D Animator
Sketching Artist
Modeller
Animator
Painter
Technical Director (after gaining considerable work experience)
Job prospects are good when one finishes a course in animation. However, prospective employers hire only those candidates who are innovative, have unique ideas and know how to put technology to best use.
One can either be a part of a firm or become an entrepreneur depending on their personal interests. Starting an individual business has its drawbacks as it may take time to set up practice and gather clientele. We recommend that you first gain experience for a few years and then branch out on your own. Being a part of a firm gives one the necessary exposure needed in the animation industry.
Being a niche industry, animation has good salaries to offer but the fat pay cheque only goes to the most innovative people. Graduates may start off with less pay but with experience, a career in animation is quite lucrative.
Pros & Cons
Pros:
Personal expression: Very few fields like animation offer the freedom to let you express your thoughts and transform them into works of art.
If you are working on your own project, you are given the rare chance to set your time frame to finish it.
Cons:
The initial pay may be a little less compared to other fields since animation is a niche area and only through utmost creativity and ingenious ideas can one become the best.
Not many options exist if you want to move out of this industry as there are very few avenues left for animators outside.
Long hours of work. If considered, it can sometimes exceed 50 hours a week. This is without any deadlines.
Confused about which career to take?
Know which career is best for you?
Next Career
Games Design
Game design is a subset of game development and is the process of designing the content and rules of a game. Game designers are responsible for designing the game play, environment, storyline, and characters. These games are usually played on computers or they come as applications for mobile phones.
International Educational Gateway Pvt. Ltd. © 2019
.
All Rights Reserved
.
Univariety