It seems like the entire world has been trying to woo the 'millennial generation' for the past decade. Understanding the 'millennial perspective' has become a mantra for every product or service-based industry. It is quite understandable considering millennials alone constitute 23% of the world population and are in fact the largest adult cohort worldwide. However, when it comes to schools and the education industry, millennials still are seen as "young". But are they really? We believe that the time has finally come for your school marketing strategies to change if you want to attract these Millennial Parents.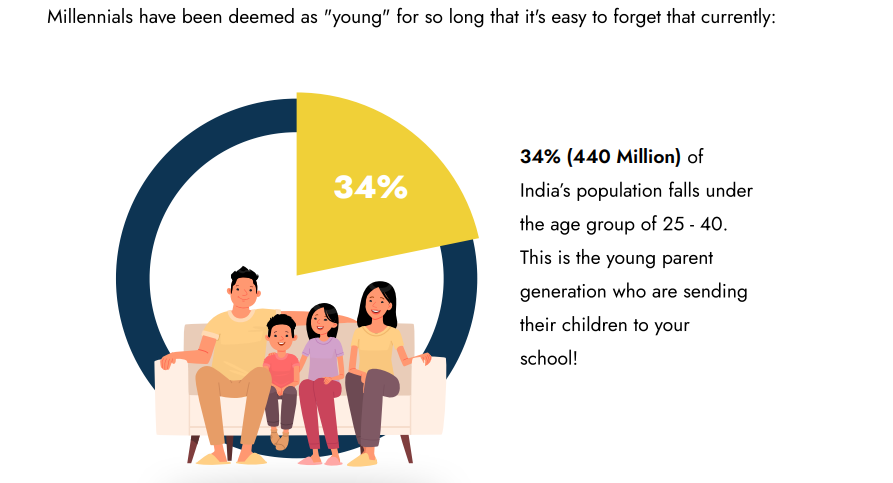 Why Do You Need to Change Your School Marketing Ideas for Millennial Parents?
'Millennials' – The word comes wrapped in too many stereotypes. Too lazy, too entitled, too sensitive, addicted to phone screens. Some of them are true; most of them are grossly exaggerated.
Here's the thing, whether you believe in the stereotypes labelled at millennial parents or not, there is no denying that they are different. They hold different values, wishes, and aspirations than the previous generation. Their outlook towards life is different, and so is their parenting styles. 
And why wouldn't it be? This is a generation that grew up with technology and the internet. They are better educated, well informed, and acutely aware of what the world has to offer them and their children. And most importantly, they know they have options to explore. 
We can go on and on about how millennial parents are different, but you'll get a better picture if you read this blog. 
The point is you need to change your school marketing game plan because this generation of millennial parents holds different values than the previous generation. 
How You Can Speak the Millennial Parent Language and Revamp Your School Marketing Model
Establish An Online Presence
Does your school have a website?
When was the last time you updated it?
How long does it take for a page to load on your website? Or is there a chance of getting stuck in an infinite loop of 'loading…loading…'
A few years ago, this would not have been an issue at all. But now, having a user-friendly website is the bare minimum to establish your online presence. The first thing millennials do when they want any information about anything is Googling about it. 
To establish credibility in the eyes of millennial parents, you need to start focusing on your school's ratings and reviews. 
Increase Social Media Engagement
There's no talking about millennials without talking about social media. Information today is passed around through shares, tweets, snaps, posts, DMs, and likes. Having an active social media presence is extremely important for your school marketing strategy. You need it to create social proof – that you exist! 
Speaking of Social Media, to engage millennial parents you need to focus especially on these channels. 
Facebook:

Despite the raging criticism and controversy following this platform, it is still the most used social media channel. And what is even more important – it's the source through which people now consume news and information and important happening around the world. This is the place where millennial parents network and interact with their communities and swap information and reviews. 

YouTube:

Do you know where millennial parents get their parenting lessons from? By watching videos on YouTube. You can use your school YouTube channel to put out relevant content which will bring you into the radar of prospective parents. 
How?
If your school is hosting a science exhibition, instead of putting out a press release, tape a video about the step-by-step procedure to make a baking soda volcano. The next time a parent is searching for the same for their kid, they will watch your school's video and that will increase your school's brand awareness. 
Engage with Parents Through Thought Provoking Content
So we have been talking about engaging with millennial parents and speaking their language for a while now. But what exactly should you talk about? 
Equal Focus on Academics As Well As Extra-curricular Activities. 
If your current school marketing strategy involves putting up a giant billboard of your school with pictures of school toppers with numbers like 90% or 95% or 100% – It's good. but not enough!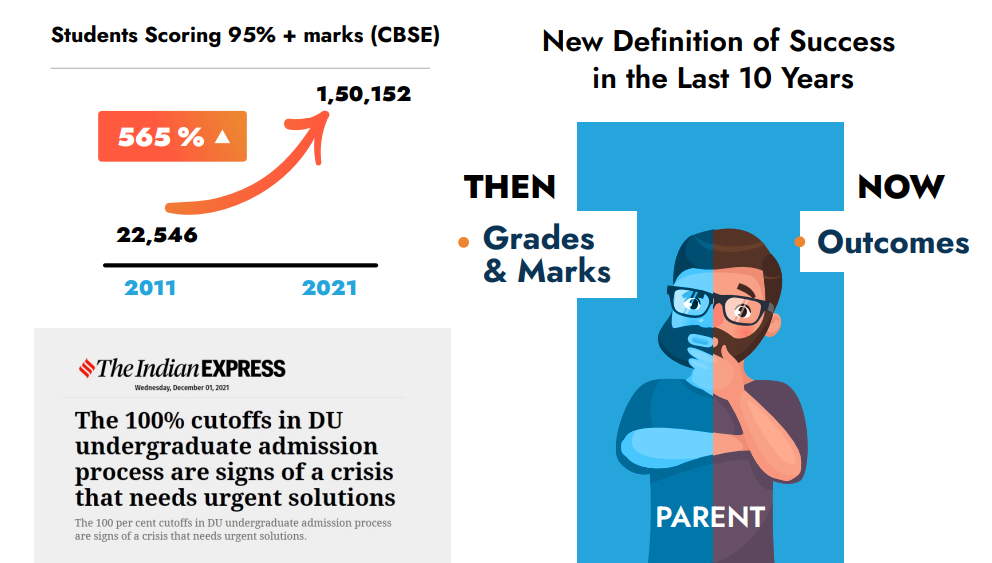 The increasing number of students scoring above 90% and rising college cut-offs has made it clear that academics can no longer be the only focus for students – extra-curricular activities are equally important. 
Millennial parents look for a school and a curriculum that allows their children to get the best of both worlds and build a strong college-ready profile by the time they are ready to seek admission. 
Diversity and Social Awareness
Millennials are a generation who have had access to the world at their fingertips. The word 'Global Citizen' is not just a vague idea for them – that's what they aspire for their children. They want them to live in a world that celebrates diversity. They want education for their children that doesn't constrict their horizons to the city, state, or country they come from or language they speak. 
Diversity and social awareness are what millennial parents value, not just in their corporate work lives but also in the schools their children study. 
Proper Career Counselling and Guidance
For a generation that grew up with career options between 'engineering' or 'medical', where most ended up working in a job they don't really like – you can see why millennial parents will value proper career counselling and guidance. 
These are the parents who celebrate the uniqueness of their children, encourage creative and non-conventional learning styles. So if you don't offer a career counselling service in your school, you need to start now. 
Tap into The Power of Influencer Culture
A while ago we were talking about social proof, weren't we? Do you know another full-proof way of creating it? Your most trusted and readily-available influencers are your Alumni! 
Every year, hundreds of students graduate from your school and enter another phase of their lives. Each one of them has a story to share and those stories are your most valuable assets for school marketing. Your alumni have been there, have seen it all, and done it all. They are the most trusted source whose words millennial parents will value the most.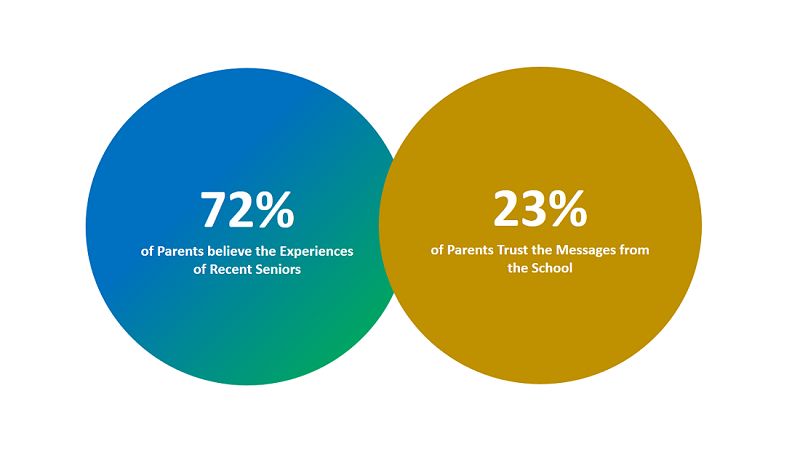 So if you don't have it already, build your alumni network, engage with them, and leverage their influence to promote your school's brand. 
Wrapping it Up!
India has the largest pool of millennial parents in the world. Every year they are increasing in number and will continue to do so for the next decade. While this shift in your school marketing model may seem too much at present – it isn't irrelevant or changing things just for the sake of change. 
To be quite honest, the entire educational ecosystem is transforming and it is because it is welcoming a new generation of parents and students who hold different values and are bringing newer and brighter ideas to the table. Shifting your school marketing strategy to engage millennial parents is just the beginning. 
Talk to us to know about schools that have successfully adopted this approach.