SAT, or Scholastic Assessment Tool, is well known as one of the necessary steps for those wishing to undertake undergraduate study abroad. However, what many people don't realize is, SAT has also grown into one of the key components for the students seeking top-notch scholarships and college admission in India.
Coming with a wide array of advantages, this standardized test helps the college administration determine the tenacity and capability of a student. As most of the prestigious colleges in India are now considering the SAT exam as a way to shortlist the best of the best candidates, academic excellence is not enough for you to get into your dream college. 
Additionally, the SAT will also help you to navigate your career from high school to college by offering a set of benefits; this is why it is usually recommended by experts to appear for SAT through effective exam preparation and guidance. 
In this blog, we sum up some of the significant aspects of the SAT exam in India which can prove to be beneficial for your career planning and to get into your desired college. 
What is SAT?
SAT is an institutionalized entrance test for undergraduate students usually conducted by the College Board for offering exclusive admission opportunities to meritorious students. Although it is mostly prevalent in the US and Canada, more than 30 reputed colleges in India have opted for SAT exam as an important criterion for admission. 
Components of SAT
Fundamentally, a SAT exam consists of –
Reading Test

Writing Test

Language Test 

Mathematics Test

Essay Test
The last two tests are optional after 10th grade. It is usually conducted 5 times around the year in India, especially in the months of March, May, August, October and December. 
Moreover, this 3 hours long exam has the score range of 400 to 1600, and based on the obtained score, the competence of the students for future success and university readiness are evaluated by different educational institutes in abroad and India. 
Eligibility for SAT
Regarding eligibility, the College Board has not set up particular eligibility criteria for SAT. However, those who usually appear for SAT are  
Students who are in Grades 11 and 12

Students in between the age group of 17-19
You can opt for this exam as many times as you desire.
Colleges that Accept SAT in India
There are certain renowned SAT accepting colleges in India. Their names along with other relatable information are provided below.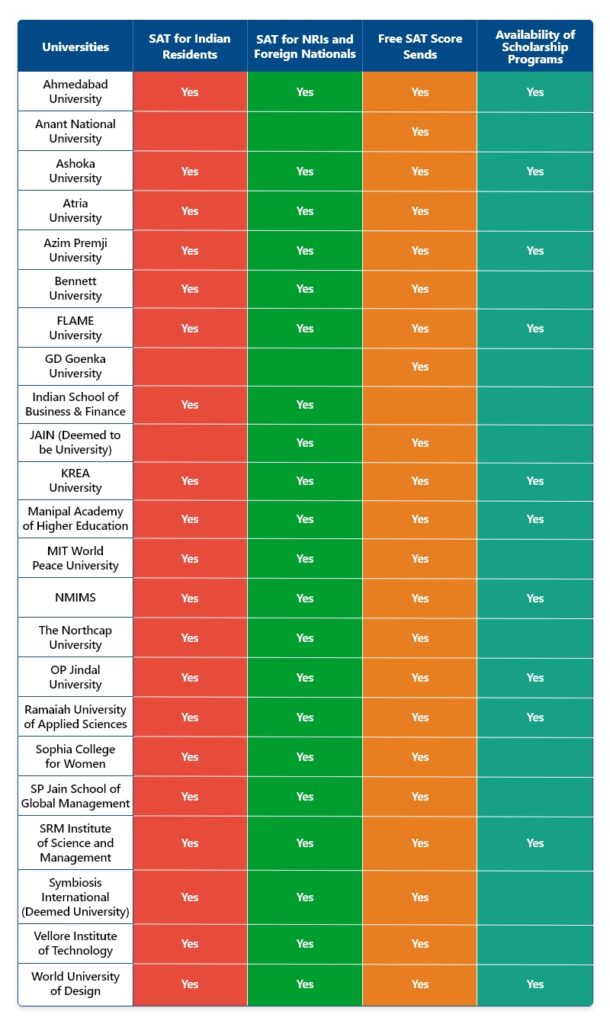 Some of these universities accept SAT scores in a few specific courses.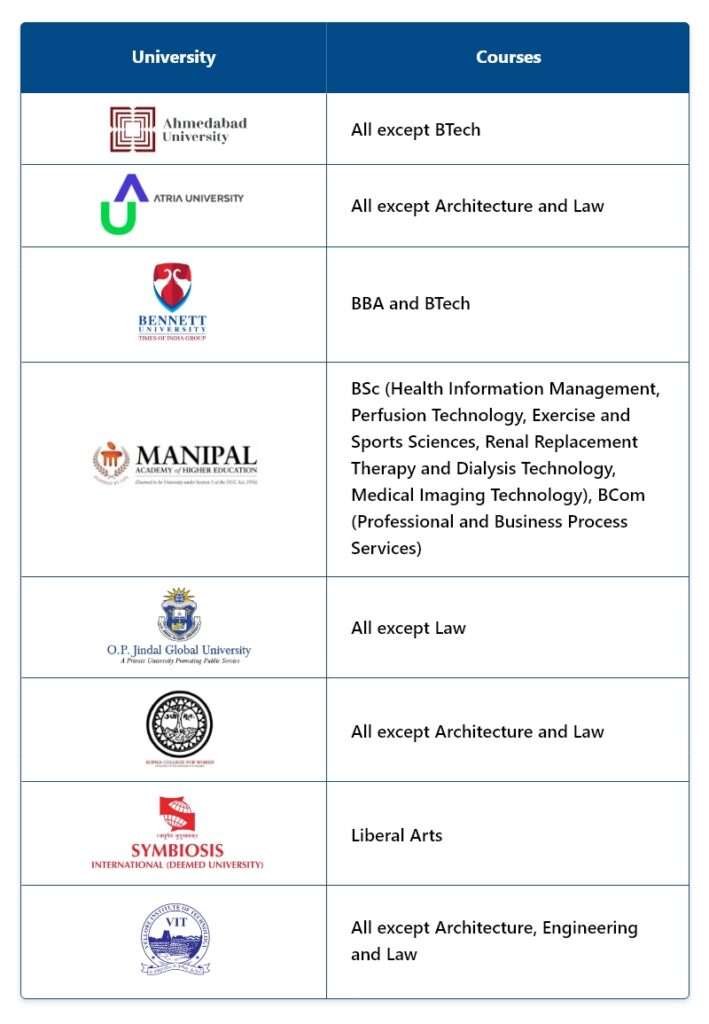 And these universities mostly concentrate upon 5 major subjects:
Science

History

English

Mathematics

Language. 
The Underlying Benefits of SAT exam in India
SAT comes along with a broad range of benefits. Here we are footnoting some of the important ones as to why students like you aspiring to get into the esteemed colleges in India should opt for the SAT test. 
1. SAT scores are accepted by most of the reputable colleges in India
As mentioned before, by the end of 2020, over 30 colleges in India have started to put special emphasis on the SAT scores in students' college applications. Whereas JEE is only focused on engineering, SAT provides you the opportunity to dive into different fields such as Law, Business Management, Liberal Arts, Journalism etc.
2. An opportunity of getting SAT-based scholarships
Scholarships are probably one of the most crucial benefits of SAT. Based on a few criteria, the College Board is offering entirely tuition-free scholarships to students. You can avail this opportunity of getting admission into some of the prominent private colleges in India. 
The eligibility criteria for SAT scholarships are – 
Must be a resident of India

Annual family income must be under 8 lakhs

Must obtain a score of 1300 or more

Must be enrolled in grade 11 or 12

Must apply for admission in performing Indian universities

Must get the offer of admission and enroll at a performing university
3.
More time than other exams
Each subject section of a SAT exam provides more time to the students when compared to any other competitive exams in India like JEE or NEET. If you are dealing with issues like stress, nervousness, and anxiety due to the time constraints of exams, SAT might be a better option for you.  
4. More flexibility
As SAT exams in India are conducted five times in a year, students get the liberty of having enough time for exam preparation and practice. Because of this, you can schedule your SAT exam in accordance with the college application deadlines. In addition, you also have the benefit of signing up for this exam even at the last minute – subject to availability of slots. 
5. No negative marking
Negative marking is a predominant feature in most of the entrance exams in India such as JEE, NEET, UPSC etc. On the contrary, SAT is free of negative marking which means that you will have the privilege of guessing an answer rather than leaving it blank. 
6. Improves your productivity
SAT exams consist of questions and tasks which are aligned with the prospects of classroom activities across India as well as the world. This is the reason you have to opt for challenging courses and hard work in order to excel in the exam which in return, helps in increasing your productivity and aptitude. 
7. Covers low GPA
One of the bright sides of SAT is that it will help you to balance your low GPA in academics. For example, even if you hate History and score low in this subject, leading to an overall low grade, you still will have the option to offset this with your high SAT score. College authorities can get an clear indication of your potential from your SAT score, even if your  school GPA or grades are not high enough.
Go for a Customized SAT preparation with professional help and guidance.
Although studying and appearing for the SAT exam is not an easy task, you should not forget that it will bring tremendous benefits and values to your future career. Even if you don't succeed at your first try, you still have the option of retaking the exam. The result will surely be rewarding!
Read More: How To Prepare For College Entrance Tests
An avid zoophilist as well as a nemophilist, Monalee mostly prides herself for her unprecedented love for dogs and mountains. She is an M.A. in English Literature and highly inclined towards exploring the creative moieties of this EdTech world. When not writing, you'll find her petting the friendliest creatures on the streets.