A career is not a momentary decision made by a student. It is something that will come to define their lives forevermore. Choosing the right career can be a lifelong reward while choosing the wrong might become a lifelong punishment. It has taken a long time for people to understand the significance of making the right career choice. From songs and movies to efforts made by career counselling organizations, the importance of career guidance for students has finally taken seed. We are also quite proud of the role Univariety played in spreading this awareness as pioneers in India. 
While most schools and parents now understand the value of career guidance, there is a lot of confusion on what the process actually involves. Many do confuse career counselling and career guidance to be one and the same. When in fact, career counselling is only a part of the over-arching career guidance process. An important part, but only one of five factors involved the career guidance process. 
What Do We Mean By The Career Guidance Process?
For most people, career guidance is all about finding the right career for a student. However, it is not a one-step process. Nobody ever had one one-on-one session with a career counsellor and came out of the room having complete clarity and ready to move forward with their choice of career. 
Career guidance is not prescribing the right career for a student but rather making them self-aware so that they can decide for themselves. It's about assessing their strengths and weaknesses, creating ways to make up for those weaknesses and honing the strengths. It's about giving them the right information so that they can explore their options. It is also about having an open conversation, addressing their doubts without any bias. It is also about guiding them every step of the way towards their career goal, once they make their decisions. 
To help simplify this complex and subjective process for students and parents, we have come up with a Career Guidance System. Univariety's Career Guidance System is a sophisticated program backed by scientific research and logic that brings parents and students into one fold in the process of career planning. 
For us, there are 5 major facets to effective career guidance – Psychometric Tests, Personalized Counselling, Technology-based Research tools, Alumni Guidance, and University Engagement. 
So, let's understand these five factors involved in an expert career guidance system in detail.  
The 5 Pillars of an Effective Career Guidance System
Psychometric Tests
"Every child is unique, not only capable of learning but also capable of succeeding." – Robert John Meehan
Every student is unique. They have their own learning style, pace, study patterns, skills they are natural at, lessons they find difficult, and areas they find interesting. These qualities later become the determinants that will help them find their ideal career. However, most students are themselves not aware of their uniqueness; then how can they make as important a decision as a career? That's why the first step of a career guidance process involves psychometrics to identify the Aptitude, Interest and Personality of a student.
Psychometric tests are scientific methods of measuring the Cognitive ability & Personality among other characteristics of an individual. They are tools of self-exploration for students to find out who they are. It is also the point of reference for every other step of the career guidance and counselling process. 
These 5 common psychometric tests are given to students for career guidance.
Personalized Counselling
High school is a confusing time for students. Not only are they at a precarious age, oscillating between childhood and adulthood, they are also asked to make significant decisions that will come to define their life. Often, they hesitate to say out loud their aspirations or interests in careers to prevent being judged or dismissed. So, the second step of the career guidance process involves personalized counselling with a professional career counsellor. 
Why is talking to a third-party career counsellor more effective than talking to peers, parents, or teachers? It is in fact because they are a third party and will not have any undue influence on their decision. 
An expert career counsellor has 3-fold duties concerning students. 
Book a Session with Us to Interact with an Expert Career Counsellor
Technology-enabled Research Tools
In career guidance, we often highlight the importance of giving students the right information, at the right time. While students can do simple Google searches and look for information on the internet, the abundance of information can sometimes overwhelm them. It can end up creating more confusion than clarity that is needed to make a career decision. This is why we have devised a platform with curated information courses, colleges, and careers for students to explore. 
Technology-enabled research tools help students in –
Getting all necessary information about the careers they are interested in and shortlist the ones that best match their aptitude and personality

Comparing information about different colleges in different countries to make informed decisions for higher education

Analyzing the admission trends of their own alumni into different colleges over the years

Finding the best-suited colleges and their chances of admission in those colleges through their profiles

Researching information about scholarships that they can apply to, based on their choice of country and college

Finding the top colleges for their choice of course and career through a simple search
Alumni Guidance
Students often need to understand the real-life experience of studying a course, going to a particular college, or pursuing a particular career. Who's more suited to give them a glimpse of their future than someone who has been there, done that? 
Alumni interaction can be really beneficial for students in career guidance. Only alumni can share the practical aspects of pursuing a career path that no mere research can do. Moreover, our studies show that students are more willing to listen to their alumni's advice than any other adult in their lives. 
In our Career Guidance System, students can view their alumni's profiles, watch their videos, and interact with them one-on-one to ask for their advice and gain insights.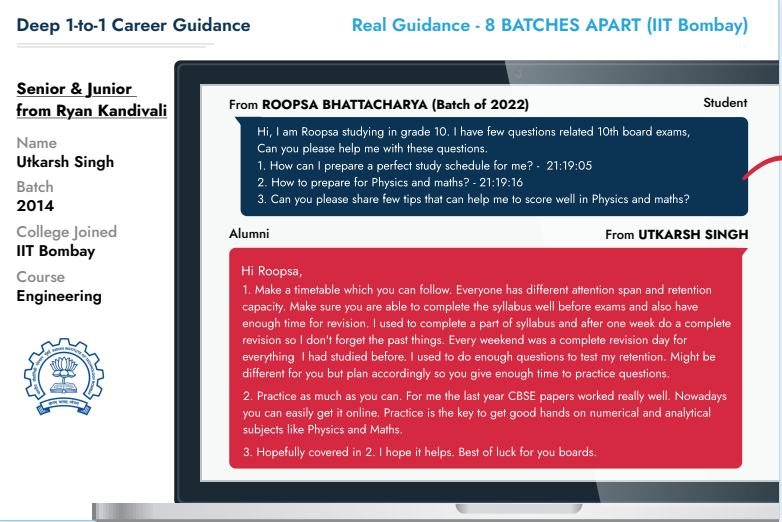 Book a Session with Us to Know More About Building an Alumni Network
University Engagement
The final step of the career guidance process for a high school student is finding the right university or college. But to reach this dream destination students have to do a lot of research, fill out essays and college applications, appear for entrance exams, and the whole nine yards. While career counsellors do help students do a lot of these tasks, there's one more source who can help students find answers to all their queries and doubts – universities themselves. 
University engagement ensures students and their parents get to interact with universities and college admission officers directly. This will help them in finding the traditional as well as new-age courses the college offers, their admission process, and well understand what colleges are looking for in their applicants' profiles. 
Check Out a Free Tool to Check Student's College Profile Strength
Summing it Up!
These five factors are the building blocks of a comprehensive career guidance system. They help students through a journey of self-awareness and realisation and find clarity. It helps them find their way towards an ideal career and a bright future. 
If you want to know more about these factors that determine effective career guidance,