It wouldn't be too much to say that college admissions in India and abroad have changed overnight. 
While the dynamics of the admission process has been undergoing changes for the last couple of years, the sudden outbreak of COVID-19 across the world has impacted the education system. 
Entrance tests are constantly getting rescheduled, affecting 1.3 Billion students globally. Many colleges abroad like Harvard, Cornell, Princeton, Boston University, Williams and many others made SATs optional or waived them off all together! 
The admission processes of top colleges in India are also seeing a shift.
Now is the time for students in Grade 9,10,11 & 12 to adapt & work towards getting into their dream university & college.
Students everywhere are starting to work on their profile, CV, non-academics & much more to stay ahead of rest. Did you start working on it yet?
There are undoubtedly a lot of questions and doubts around university admissions for the coming academic year. In these volatile times, it's important to have the right updates and plan one's career accordingly. 
First thing to remember is to not rely on rumors. Now more than ever, you need expert guidance and accurate information to secure your future.
We have it all under one roof for students with GEM (Go the Extra Mile).
What is GEM (Go the Extra Mile)?
Univariety's GEM is a premium admission and career guidance service that enables students to get the best possible admission and scholarship results across thousands of universities within India and abroad. With GEM, the best of the roadmap can be created by going the extra mile and assessing a student's abilities and aspirations. The service offers premium counselling and more:
Career, Course and Country Services

Test Preparation Services

Pre-Application Services

Application Services

Visa Services (for foreign universities)
What's In It For Students?
Career Selection:

Through Psychometric Tests, career mapping with interests, and aptitude, a customized career roadmap is created.

Entrance Test Preparation:

Guidance on the types of entrance tests to appear along with its preparatory resources and strategy to ace it.

College Selection:

Based on the student's unique requirement, creating a personalized list of colleges as per his/her decision.
What's In It For Parents?
24/7 personalised guidance from a dedicated career mentor for you and your child

Reliable information about constantly changing test and application dates 

Custom recommended programs & activities for your child to be done from home until college starts
We go the extra mile for both the students who want to study further in India or aim to fly far and study abroad. Here's the nitty-gritty of the GEM service for India & abroad:
[popup_anything id="6052″]
GEM(Go the Extra Mile)– India:
GEM – India's hand holds a student in choosing a college, applying for it, preparing for entrance tests, writing college essays, and securing admission in their dream college! Below is a deep delve into each of these aspects:
1. Psychometric Assessments:

 
Psychometric tests are conducted to understand the student's interests and the aspirations of parents. Post this, the student is introduced to 3 career options by matching their interest and aptitude.
Through personalised counselling, the student chooses the career they want to pursue out of the three and it is then mapped to the final course they should be pursuing. Parents are also taken through the costs involved in pursuing that particular course.
By the end of this step, the career & course are finalised.
2. Test Preparation: 
Once the student has chosen the course, the next and the most crucial step is the test preparation.
An expert assists the student in the following areas:
The basic guidelines while applying for colleges

The pattern & best strategy for exam preparation

The syllabus and material the student should follow

The coaching centre they should join if needed

Registration for online tests
3. Ideal College List: 
Now that the course selection and preparation has been taken care of, the next step is college selection.
After understanding the student's profile & potential, parents aspirations and finances, our expert drafts three college lists:
Aspiration List

Best-fit List

Safe List
Based on these lists, both the student and the parents evaluate options, finalise the college, and help their child take off towards his/her dreams!
[popup_anything id="6053″]
GEM – International:
Going abroad for education is not a bed of roses, especially during these uncertain times. GEM International is a premium admission and career counselling service for students to get the best possible admission and scholarship across colleges abroad.
Once a student enrolls for GEM International, he/she is given a personalised roadmap to achieve his/her end goal.
Some of the milestones in the roadmap include:
1. Career, Course & Country Selection:
A student innate talent, interests and potential and the aspirations of the parents are all assessed through a series of psychometric tests.
An expert then suggests 3 careers based on the student's interest and potential and chalks out the 'path to the career' for a clear understanding. Once the student chooses a career, the expert maps it to different courses in different countries that map to the career choice.
Based on the finances and aspirations, by the end of this step, the career, course, and country are selected.
2. Test Preparation: 
Through this step, an expert hand holds the student and assists him/her through admission exam preparation, scholarship applications, SOPs, etc.
The expert also gives the student suggestions on the exam material he/she should use and the coaching centre he/she should join.
3. Ideal College List:
Just like in the GEM – India service, the expert creates three lists for parents and the student i.e., the Aspiration List, Best-Fit List & Safe List. 
Once the student shortlists colleges, a University Information Sheet (UIS) is created for each of these universities, which helps the student and parents make a well informed college decision.
4. Pre-Application:
Our expert gives an overview of the whole admission process and the roadmap and timelines for various steps in University admissions. They also give their insights on the student's CV, portfolio, etc, and give them suggestions on how to improve it. They also assist in the SOPs, LORs, etc. 
5. Visa:
Visa is a very crucial step when a student decides to study abroad. Our team of experts provide Visa Application Support, gives guidance of documents, and conduct mock visa interviews.
6. Applications:
Our expert proofread SOPs written by students, give timely reminders on deadlines, keep the student in touch with universities, ensure everything is submitted on time, and keep following up with colleges.
[popup_anything id="6054″]
Why Choose Our GEM Service?
94% service satisfaction rate

Clients receive an average of 3+ admission offers from the Ideal List of colleges.

91% of past users express complete clarity in career choice

95% Visa success rate
[popup_anything id="6055″]
Rapid GEM To Every Grade 12 Student's Rescue!
Rapid GEM is an accelerated Personalised Admission and Career Guidance Service, specially designed to help anxious students of grade 12, in securing their future during these difficult times. Whether your child is planning to study in India or abroad, Rapid
GEM will help you get expert Guidance to secure his/her future.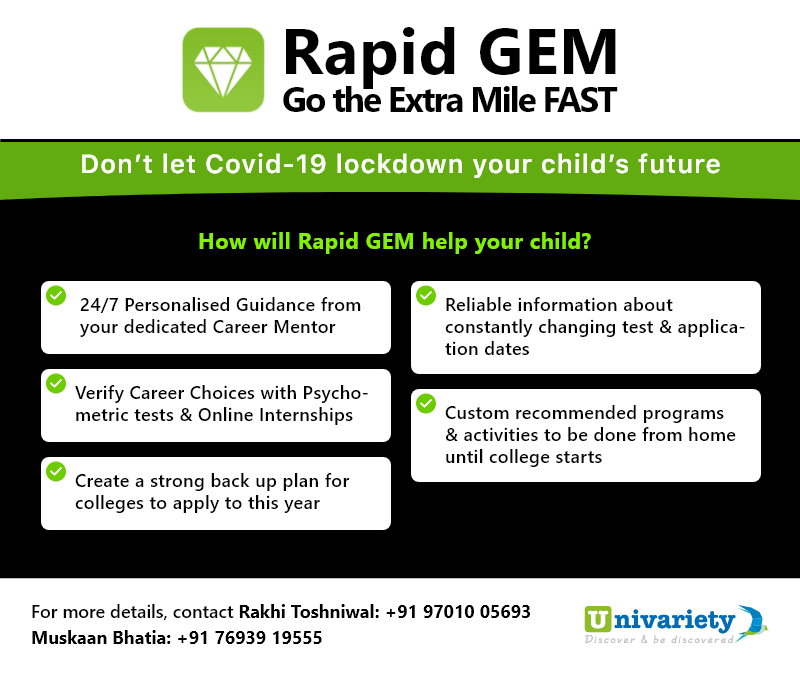 [popup_anything id="6056″]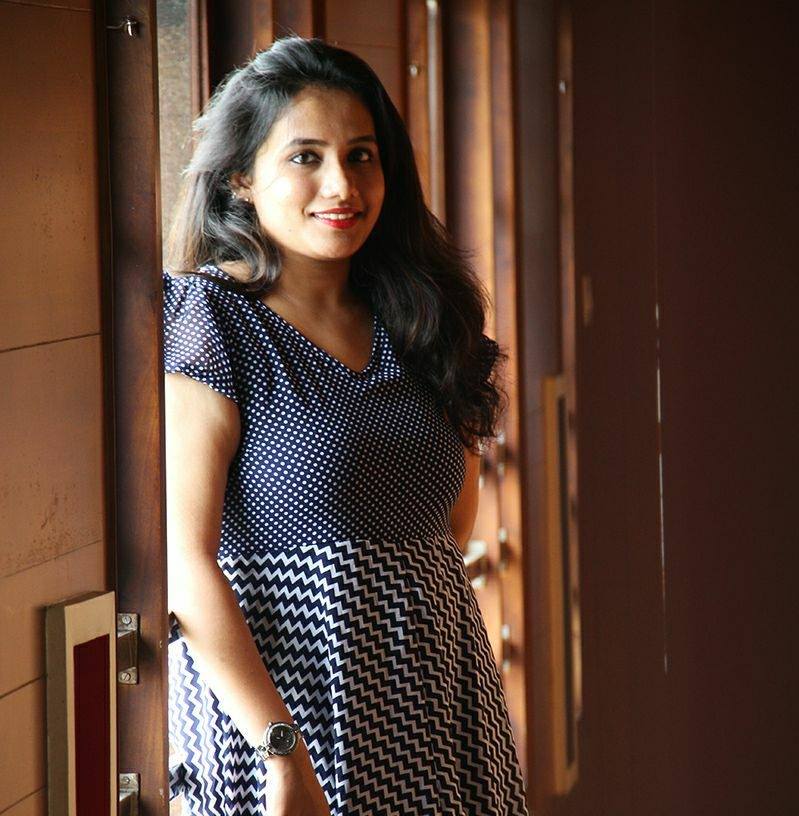 Sneha Mashetty is a former journalist who covered state politics. With a degree in Journalism & Masters in Electronic Media, she combines her research techniques, versatility in writing for the web, and love for education at Univariety. She has written extensively for International schools, Ed-Tech products, emerging learning technologies for half a decade. An avid reader, a travel lover & a movie buff who loves to have meaningful conversations