Many times, the plans that we envision don't necessarily turn out the way we imagine. This is especially true in terms of your child's education, career and curriculum choices. 
As a parent, you always want the best for your child. You choose the board that you believed to be right for them. However, during their middle and high school, their plans and dreams for the future might change. That's one of the reasons that call for a curriculum (or board) change! 
But that's not the only reason. There are several factors that need to be considered to make the BIG decision: 
'Will my child face problems if she changes boards?'

'When is the right time for a curriculum change for my child?' 

'What are the factors to consider before a curriculum change?'
The number of boards and schools offering them in the country has doubled in the last decade. This has left parents with more options, but little guidance – let alone professional guidance. 
The answers to the above-mentioned questions are not available easily. In fact, in a survey conducted by Univariety, we realised that many parents are worried about choosing the right curriculum.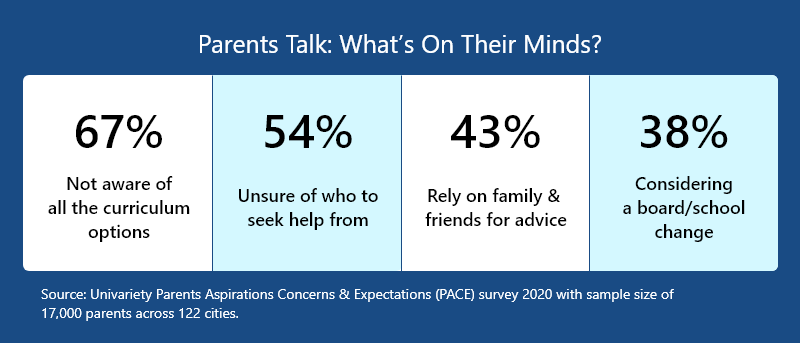 Quite often, parents and students find themselves in this crossroads and that leaves them worried. The next step is usually making a choice in haste! This not just affects their future, but also leaves children trying to fit into a new environment and curriculum system. 
Hence, we highly recommend you think, discuss, read, understand, and analyse all the options, factors, and reasons before making a decision. In this blog, we will help you do exactly that! 
Let's begin by answering the three questions: 
Will My Child Face Problems If She Changes Boards?
Determining the right board is the key to not facing problems or regretting the curriculum change. One of the main reasons for students to change boards, as we pointed out earlier, is because the current curriculum isn't aligning with their dreams and personality. 
In that situation, curriculum change is important – but the change should be right because this is your child's final two years before college. It forms the base for their higher education and career as well. 
Dotting down elements that you are looking for in the new curriculum will help you be aware of your expectations, thus, preparing your child for the new shift. This will ensure that your child receives the kind of education she is looking for, leaving her with no problems but only success! 
When Is The Right Time For A Curriculum Change For My Child?
If your child is in high school, then grade 11 is the perfect time for a curriculum change. We'll tell you why! 
If you've been following our blogs on curriculum, you would've understood the essence and value of it. Your child's future depends on the journey she will experience in the school that will shape her life – which is what curriculum offers. 
Whether it's the values, discipline, strengths, or interests, the curriculum is the foundation and the biggest influence that will impact other decisions in your child's educational journey. 
If you realise that your child is not happy with the board, it's important you have a conversation with her and decide what she is looking for. 

Sometimes, children tend to explore new career options or interests in their high school, which might not align with the curriculum you picked for them when they joined grade 1. 
In grade 11, students are more informed about their future and are ready to have a career conversation. Thus, post grade 10 is the right opportunity for you and your child to analyse their dreams and expectations, and accordingly, decide if they need a board change. 
What Are The Factors To Consider Before A Curriculum Change?
This is the most significant question that will also help you decide if a curriculum change is necessary. There are not 1 or 2 but 7 major factors that experts in the field highly recommend. These are the aspects that need to be evaluated and analysed to determine if the choice is right.  
Before we go ahead, we suggest you understand the four main curriculum options available in India – CBSE, ICSE, Cambridge, and IB. This will help you have a better idea of the boards and you can analyse each of them as we discuss the 7 factors in detail. 
Also Read: How to Choose the Right Curriculum for Your Child? [8 Factors to Consider]
1. Stream Selection
Since your child is changing the curriculum in grade 11, the first topic that invariably pops up streams. After studying a range of different subjects, it's time for your child to pick the ones that she is most passionate about, which will also form the base for her college and career. 
Sometimes, students are not fully aware of the subjects that they want to choose. They feel it's early to decide – instead, they would want to explore different fields and then pick the best one! 
For instance, your child may be interested in Statistics and Mathematics, while also showing a keen interest in English or Economics.
This is where subject flexibility comes into the picture. Some curricula allow students to pick from different sets, while a few provide pre-set combinations. This is a major step in your child's future because the subjects she chooses today and the flexibility she has in learning will affect the course she opts for in college.

A student who studied English Literature in grade 11 & 12 cannot opt for Engineering in undergraduation. Similarly, a student from an Economics background might not be able to study Architecture. 
So, understand your child's interest and choose a curriculum that offers those subjects. 
Also Read: How to Choose the Right Curriculum for Your Child? [8 Factors to Consider]
2. Study Abroad
John Hopkins, Stanford, Harvard, Caltech, Oxford – Are these the universities on your child's dream college list?
Your child isn't the only one dreaming to study abroad. The number of Indian students flying to a different country for higher education has skyrocketed over the past.

If you're keen to send your child abroad, remember that she is one of the thousands of students who will apply for colleges abroad. An important part of being college-ready is school curriculum and education. 
Does your child's curriculum offer the kind of preparation with global perspectives? Is the curriculum accepted in universities abroad? 
We have put together information about students from different boards opting to study abroad. This is based on Univariety's network of 80,000+ students across the country.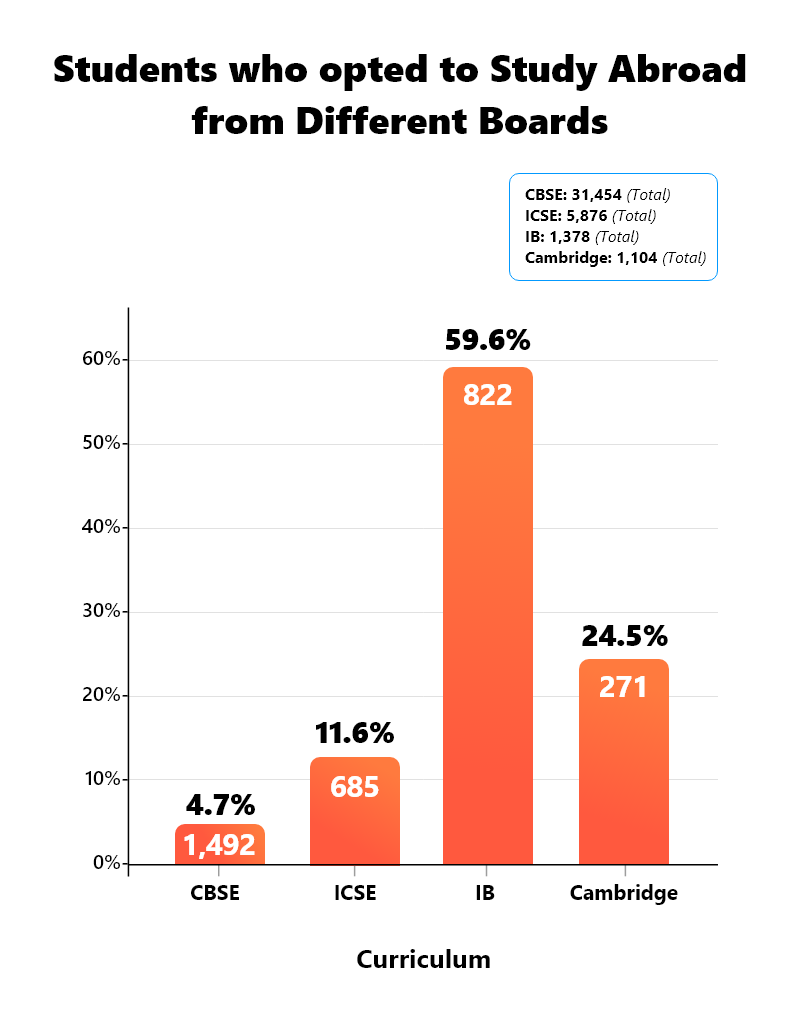 No curriculum eliminates the opportunity to study abroad, but a few curriculum options certainly give an added advantage. 
Students from IB and Cambridge are more likely to study abroad because their boards provide an international method of learning and are more recognised globally, compared to CBSE and ICSE. The international boards offer exposure with research projects, community service, and internships. 
According to an article by the New York Times, the strength of the high school curriculum carries a lot of weight in admissions in top global universities.
Apart from just deciding to study abroad, the country your child is interested to move to, also plays a big role. Your child's readiness and ability to score well in the entrance and assessment tests for that particular country is another important factor. 
Does your child want to study undergraduate abroad or masters? Finding an answer to this question can help you get closer to deciding the curriculum change. 
Also Read: Expert Guide to International Baccalaureate (IB) Curriculum [Everything You Need To Know]
3. Study in India
If your child wants to study in India, the process of approaching curriculum change is completely different. 
The admissions process in Indian universities is quite different from global colleges. Most of the institutions in India have entrance exams, followed by an analysis of academic scores and interviews. 
Here's a graph based on Univariety's network of students who studied in India in the last five years: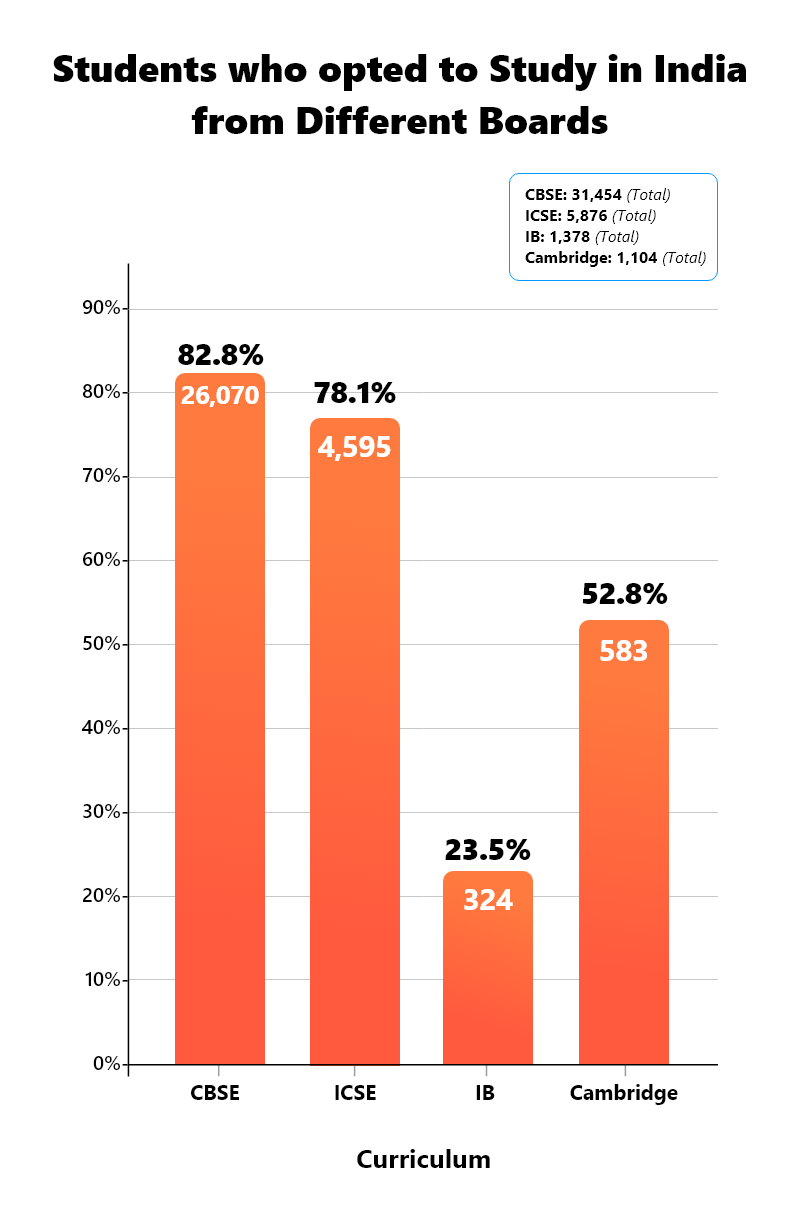 If your child is interested in STEM (Science, Technology, Engineering, Mathematics) courses, then CBSE is suggested to be the right choice. The theoretical learning approach makes students ready for the Science field, especially the careers that require memory-based learning and assessments. 
ICSE is a close second but is preferred by students who want to study Arts and Humanities. This is because the curriculum offers a strong foundation in Language and Humanities. 
However, students from international curriculum schools also opt for Indian colleges, though their percentage is lesser than national boards. 
Also Read: CBSE vs ICSE: The Big Debate on the Right Curriculum
4. Extracurricular and Non-academic Activities
Having completed 10 years in school, as a parent, you can now assess if your child is interested in extracurricular activities more than academics. Although there has been growing importance given to activities that make students better individuals, some boards offer better opportunities in this context. 
For instance, CBSE and ICSE are known to be focused on academics, especially in senior secondary. It is believed that grades 11 and 12 are paramount for students' future. Thus, the boards insist on rigorous learning plans during these 2 years.
On the other hand, international curriculum options certainly take credit for promoting overall personality development with non-academic activities. For example, Cambridge expects students to volunteer for various projects such as Environmental Sustainability, where they are given the opportunity to run their own environmental project.
If your child wants a balance between academics and non-academic activities, then you might want to rethink and consider international boards. However, if the focus needs to be on cracking an entrance test, then go for national curricula! 
5. Entrance Test and Career Plans
Since your child will soon be in grade 11, it's time you have a career conversation with them. The next two years will form the foundation and you don't want to risk giving them the wrong preparation. 
Even if they don't want to make a full-fledged decision right away, deciding on a couple of career interests or fields will also take you closer to making the decision. 
It's not a surprise when we say that CBSE is the temple for any IIT or competitive exam aspirant. The syllabus for JEE and NEET exams (top entrances for Engineering and Medicine, respectively) are based on NCERT textbooks prescribed by CBSE. With its emphasis on theoretical learning and reinforcement of concepts, the curriculum is a good choice for science stream students looking to build careers in the fields of Engineering or Medicine. 
With ICSE focusing on language skills, it's the most suggested curriculum for students interested in exploring English Literature, Mass Communication, Journalism, Law, Hotel Management, and other Humanities courses. It also provides a good base for students writing Test of English as a Foreign Language (TOEFL).
International boards, on the other hand, are considered to be more suitable for skill-based careers. 
Also Read: 8 Things 'Top Colleges Of The Future' Are Doing Today [How To Get Admission]
6. Cost Factor
Cost attributes of a curriculum are undoubtedly one of the most commonly considered factors. How much are you willing to spend on your child's education? The answer to this question is primary in determining the result. 
A common mistake made by many parents is to choose an international curriculum because their budget is higher. However, the better way to approach the right curriculum change is by picking the one that fits your child's dreams. 
If you feel that CBSE is the right choice and you're willing to spend high, you could look for an international school with all facilities offering the CBSE curriculum.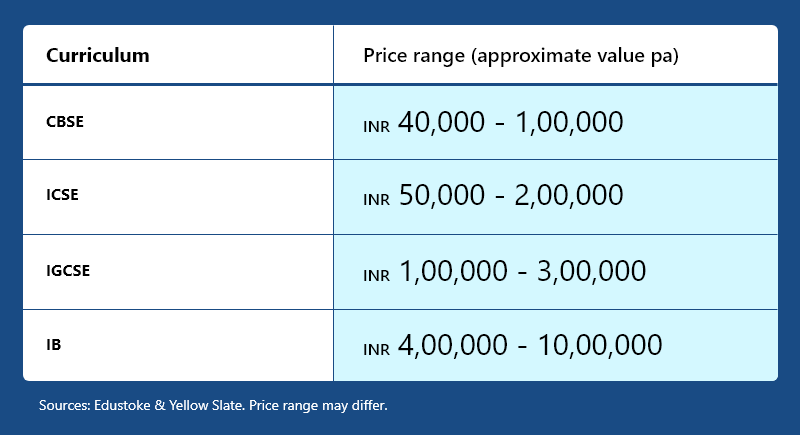 7. Mode of Learning 
A key difference between the curriculum options available in the country is the mode or approach towards learning. 
The traditional boards like CBSE and ICSE are rooted in rote learning. It's mostly memory-based with the syllabus also strictly being followed from NCERT. ICSE also has been increasingly stressing on practical application, but it's still a few steps behind the international boards. 
IB and Cambridge, on the other hand, promote holistic and all-round development. For instance, IB students are required to do 15 hours of community social service along with research. The Cambridge curriculum has a subject named Global Perspectives & Research, in which a student's performance is assessed on a team project, presentation, and written project.
Therefore, you need to evaluate your preferred mode of learning to decide what board you want your child to shift to. 
Students who have studied in the Cambridge or IB curriculum for the most part of their school years often find the sudden change to the CBSE mode of learning a little difficult to manage. 
Time for Decision-Making
Now that you have the factors jotted down, it's time to decide which curriculum is the right and perfect fit for your child. Whether you're still wondering if the change is necessary or if you're confused between two boards, we have a scientific way to help you find the answer.
Curriculum Selector is the world's first curriculum evaluation program for parents that offers a scientifically researched roadmap to choosing the right curriculum for your child. It has been developed by Univariety with inputs from top CBSE educators, International Baccalaureate Organisation, Cambridge International, and University Faculty, among others.
You will go through the following key steps that will help you make the big decision:
Deep Fitment Analysis
The first step towards selecting the curriculum is defining your expectations and dreams in a structured manner. What out of the 8 learning expectations do you prioritise? 
A questionnaire, designed around scenarios based on the 8 different factors, will help you collect your thoughts and reconsider decisions. 
Expert Modules
Taking you closer to your decision, the Curriculum Selector goes a step forward in giving you expert advice through sessions by educators and professionals from the IB Board, Cambridge Board and heads of top schools.
Here's a sample video from our product module for you!
Best-Fit Curriculum Recommendations & Detailed Report
From understanding your expectations as a parent to mapping them with the attributes each curriculum offers – the Best-Fit Curriculum Recommendations & Detailed Report will help you choose the right option.
Click here to download a Sample Report
Personalised Counselling Session
A one-on-one review of your expectations and the report with an expert counsellor will help you get an interpretation of your analysis. 
Conclusion
Curriculum change is no doubt a big step in any student's life. Sometimes, your child can change the board within the same school, while often, there's a shift in both school and curriculum. These decisions are highly important because your child's future is majorly dependent on it. 
As mentioned, the number of schools offering different boards is growing with time. Each of them differs in their areas of focus, methods of instruction, modes of learning, and subjects, among others.
Consider the factors mentioned above and make an informed decision. 
We're here to guide you through. Have any questions? Ask us in the comments below!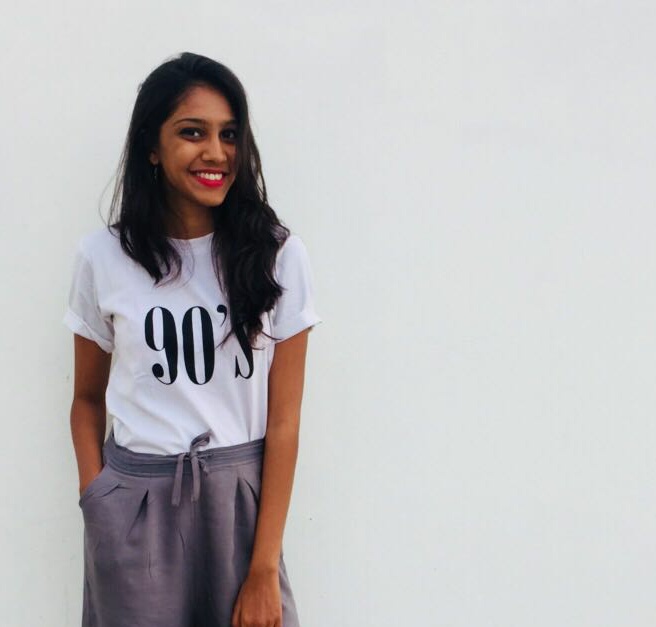 When Harini Prasad is not busy researching about top trends in education and learning techniques for students, you will find her writing about all things fashion, travel, cinema, and music. A millennial poster-child, Harini is a former lifestyle journalist with specialisation in child rights, gender, and new media journalism. Currently, she is busy exploring the world of marketing and content creation.