Every year, between June to August, there is unmistakable anxiety on the faces of graduating school students and their parents around the country. It is the season of College Admission – The culmination of everything they have aspired for and worked towards for years. 
Getting admission into a top college is a dream that students and parents nurture for years. From scoring top-notch board scores, taking up coaching classes, and acing entrance exams – a lot of hard work, dedication, time, and money goes into securing college admission. Yet despite the efforts students and their parents put into turning this dream into a reality, college admission hinges on a lot of external factors they don't have control over. 
Mark inflation

Disparate board marking pattern

Different eligibility criteria for different colleges

Multiple entrance tests 
All these factors are in the college admission process and for years students and parents have despaired over it. However, this year came with unexpected, yet a piece of welcome news. 
In March 2022 the University Grants Commission (UGC) announced that from this year onwards all undergraduate admission into Central Universities across the country will be done through a common entrance test – Common University Entrance Test or CUET.
This move was made to counter the challenges faced by students across the country as they seek college admission for an undergraduate degree. But how far this new move will find success is yet to be determined. 
In this blog, we'll be discussing the hits and misses of CUET. 
Why Was a Common Entrance for Undergraduate College Admission Needed? 
Reducing Dependency on Board Scores
In India, there is no common school curriculum or board. There are CBSE schools, ICSE schools, HSC schools, and international schools that follow international curricula like Cambridge or IB. Each is governed by a different board, follows a different curriculum, and has its own marking scheme. 
While one board can be very easy-going with marks, the other very stringent. We have often seen comparisons like 95% in CBSE is equivalent to 70% in some state boards. 
This means that a student from a state board school will face an obvious disadvantage when it comes to college admission. 
A Solution to 100% Cut-offs
Over the past several years, Delhi University has shown incredibly high cut-off scores. Only last year 5 honours subjects, across 7 different colleges has 100% cut-offs. This is trend is not exclusive to DU itself. Many colleges and universities across the country are following this pattern.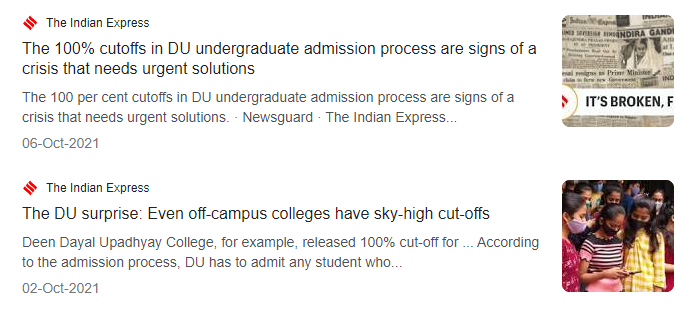 This means a student with 95% marks is ineligible to study in one of the premier institutes in India. Is a student with that high a score not smart enough? 
And what about a student from a state board who is the topper and yet the top score is still rendering him ineligible for college admission? 
Different Eligibility Criteria for Different Universities
In India, there are 54 central universities. Until the announcement of the common entrance test, every university had its entry criteria and/or entrance exams. Many universities admitted students solely based on entrance scores, others conducted entrance exams of their own and many used a combination of both as eligibility criteria.
This meant that a student graduating from 12th grade, after spending all their time and energy to do well in 12 boards now had to apply to multiple universities separately, and appear for different entrance exams, across different states. 
Quite naturally, students had to compromise on which colleges or universities they applied to. 
This also meant at the end of college admission season – some universities had an overflowing number of applicants and others had vacancies that won't be filled that academic year. This was a lose-lose situation. 
Non-domain Specific Admission into Honours Subject
In India, there is a strange occurrence during college admissions that often boggles students and experts in education alike. 
A student from science stream with Maths, Physics, and Chemistry as elective subjects in 12th, with a 99% score, can find admission into humanities undergraduate honours degree like Economics or English in a top college over a student from humanities stream with a lesser score. 
Sure, many students don't choose their stream after 10th carefully and there should be flexibility in choosing areas of study in college. But it doesn't seem very fair to the student who actually knew their mind and chose their stream carefully – only to find that despite having the right background they were ineligible. 
Why Is Right Stream Selection Important for Successful Career Journey
A common entrance test is an easy solution to all these challenges.
It will put students from across boards and curricula on equal footing to secure college admission into top universities.

It will bring down the trend of high cut-off scores.

It will allow students a breather from multiple tests and reduce their stress.

It will allow for domain-specific knowledge assessment for entry into undergraduate degrees.
If CUET is such an obvious solution, why do many still have so many reservations against it?
The Case Against Common Entrance Test for College Admission
Focus on Academics Only!
For the longest time academics have been the only factor that decides the fate of a student's college admission and career path after that. Be it board scores or entrance exam scores, the worth of a student is still determined by a number on their mark sheet. However, there are many factors beyond academics that determine success. 
More and more colleges are looking into students' personalities, their demonstrated interest, how they present their stories and how they can contribute to the college. Even with a common entrance test, the focus is still entirely on how many marks a student can score. 
CUET may be able to curb the immediate problem of high cut-offs, but mark inflation is still a reality. Sooner rather than later all colleges will recognise the need for assessing a student's complete Profile. 
How Strong is Your Current Profile?
Too Much Ambiguity, Not Much Common-ness
CUET sure is a much-needed step in the right direction. Yet, the current guidelines issued by UGC are too ambiguous and leave room for too many loopholes. 
Firstly, all Central Universities offering undergraduate and integrated-post graduate degrees are bound to follow CUET marks for college admission. However, they can add other eligibility criteria beyond CUET scores at their discretion. So the disparity between college admission processes within different universities remains. 
Secondly, while CUET is mandatory for all Central Universities, state and private universities can use their own discretion on whether or not they choose to follow CUET scores for college admission. This means students still need to apply for those universities separately and appear for multiple exams.
As it turns out, the common entrance test isn't as common as it sounds. 
No Centralized Counselling
CUET isn't the first attempt at centralizing college admission for undergraduate degrees. Before this, admission into engineering and medical colleges was made through central common entrance tests – JEE and NEET respectively. However, both JEE and NEET have a centralized counselling process to allot seats to students based on their scores. CUET has no such provisions. Students have to individually apply to universities of their choice. 
CUET – A Step Forward But Miles To Go
The common entrance test for undergraduate college admission is a step forward in many ways. It has some obvious advantages. Yet, there are too many ambiguities remaining that will soon give rise to more complications. More importantly, it fails to address the need of the hour – focusing on the shift away from 'only marks' to a 'holistic profile' of a student. 
Profile building isn't a good-to-have, fancy-sounding buzzword to throw around. It has real value to add to a student's life. There are skills as important as marks when it comes to becoming successful in the real world. Many colleges today are recognizing the value of assessing a student beyond their academic scores. It is high time to factor it into common entrance test guidelines too. 
Be Prepared for Tomorrow, Build a Strong College-ready Profile Today!