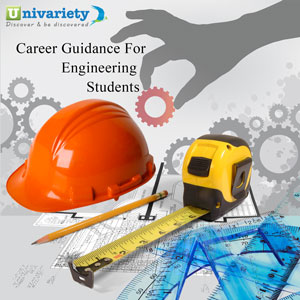 Engineering is in the air we breathe now. It has emerged as an omnipresent, ubiquitous sphere that is indispensable to the very functioning of the world.
Career opportunities lie plenty when it comes to Engineers, but choosing the right path and establishing oneself as a pioneer in the field might take time and expertise. Career guidance for engineering students is a must so that graduates can discover their strengths and weaknesses to choose a profession that is lucrative and fulfilling. Before venturing out into the highly competitive world, some precautionary, as well as career-boosting measures, need to be taken by graduates. Here are a few of them:
1. Fruitful Vacations
Potential employers usually look for any kind of practical knowledge students have in their fields. Summer internships, project works, etc. undertaken during the course of education are highly beneficial when it comes to securing dream jobs.
2. Proven Synergy   
Team players are always welcome aboard all job sectors. Participation in group projects and articles, organizational skills and fair team play are essential aspects that employers look forward to seeing in CVs.
3. Inspiration Plus Perspiration
An emulate-worthy idol could not only improve your performance but also impress employers as it reflects one's profound knowledge in the field. A source for right career guidance for engineering students may come from biographies of eminent personalities like Steve Jobs, Bill Gates, or Mark Zuckerberg.
4. Open-minded Retrospection
No career succeeds sans criticism. To get far ahead in this field, it is imperative that one must welcome criticism in order to constantly improve oneself. This would help improve communication, leadership, and other life skills apart from technical skills.
5. Business Know-How
Mere technical expertise would not help in the effective execution of plans. Taking a course in business management along with other subjects would help one get acquainted with skills that are necessary for a successful future in this field.
6. Campus Recruitment-How to Prepare Yourself

 
Companies visit colleges and universities to add more people to their existing pool of experts. To gain a good position via campus placements, students should aim for posts that are related to their streams. Apart from technical knowledge, recruiters look for well-rounded personalities; therefore it is important to appear competent. Dress code, etiquette, body language are all factors that contribute to employment. A cheery, but not too laid-back, confidence exuding interview performance would help students land into their dream jobs. Preparation is a must to accomplish this. Mock interviews, an impressive resume, and contacting seniors and alumni would help excel in campus placements.