Now that you're done with your 10th board exam, the crucial question that's been under the surface for a long time, now begins to pop out its head – what to do after class 10? If it makes you nervous thinking about the decision, you should think of it as more of a rite of passage, or as the first step towards adulting!
Phrases like "there's no future in arts", "look at Sharma Ji's son, he became an engineer after choosing STEM", or the scariest one- "you still haven't decided what you want to study after the boards?" must have become common by now.  And why wouldn't it be?
The academic path you choose post Class 10 board exams is an important milestone in your student life. It is the turning point that sets the base for your further studies and career options. While it can be a little too daunting, you can rest assured to have expert suggestions and tools at your disposal to help you to make the right choices.
So, let's start to break down the decision making process one sub-head at a time!
2 Primary Factors In Deciding What To Do After Class 10
While the influence of your family, peer pressure, and the notions of your elders have already conditioned you to think a particular way, you must give yourself the opportunity to know what you want. Look back at all the great dialogues from '3 Idiots' and 'Taare Zameen Par', if you must, but do dig in deep to come up with a vision for yourself. This will help you in making the two most important decisions which are stream selection and subject selection for Class 11.  
1. Stream Selection
In most boards, after 10th the pedagogy is clearly segregated into three distinct streams viz. Science, Arts or Humanities and Commerce. You can choose to pursue any one of these streams according to your career goals and interests. Let's look at what career prospects will these streams open up to:
Science
Many Indian parents' favorite stream, Science has a lot of lucrative career options that you can choose from such as engineering, medical, IT, and more. It also allows you to delve into the field of research. However, the best advantage of choosing the science stream is that you can switch to arts or commerce after the 12th if you wish to but it's not possible to do the other way round.
Science can prove to be a fun and exciting field for you if you enjoy problem-solving and have a knack for brain teasers.
Commerce
Commerce is just the field for you if you like numbers, finances, and economics. The field opens a wide array of career opportunities for you including Chartered Accountancy, investment banking sector, MBA, and more.  The stream ideally shapes your career in the corporate world.
Arts & Humanities
The idea of disregarding humanities as the lesser of the options is just passé and you tell this to whoever tries to shame your choices. Besides, nowadays, there is a multitude of job opportunities for people from the arts stream. Public policy, design, languages, communication, performing arts and the list is practically unending when it comes to picking career opportunities in humanities.    
2. Subject Selection
Subject selection is just as important as choosing the stream after Class 10. Students often are confused at this time and it is not uncommon for them to lose out on their dream careers because they didn't choose the right subjects. It is also important for parents and guardians to realize that the right combination of subjects chosen in Class 11 and 12 will help the students secure a place at their preferred courses and colleges.
Some of the popular choices of subject combinations based on the streams are given below:
Physics, Chemistry, and Biology (Medical)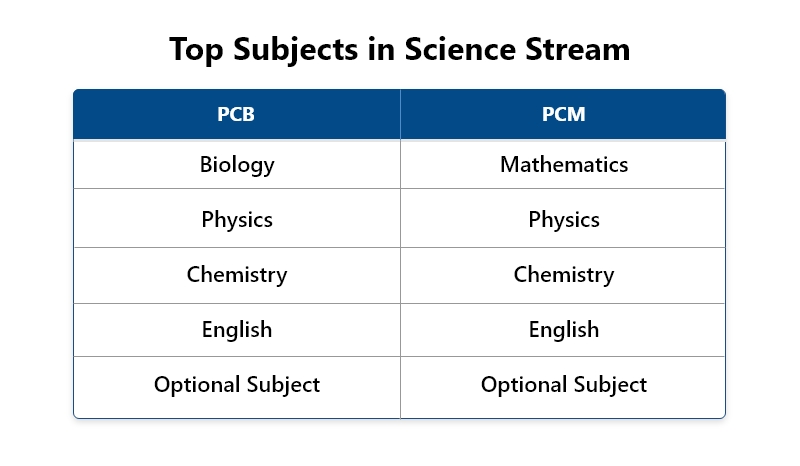 If you're interested in getting into the medical field PCB are the three major subjects that you'd want to pick. Optional subjects would include Psychology, Home Science, Mathematics, Economics, Biotechnology, Physical Education and more depending on the board and school.
Physics, Chemistry and Math For (Non-Medical)
Choosing math among the other subjects in the science stream will open up a lot of avenues for you with a career in technology being the main one among them. Ideal optional subjects to choose with PCM include Biotechnology, Economics, Computer Science, Home Science, Fine Arts, Physical Education, and others.
Subjects in Commerce Stream

The major subjects in the commerce stream will include Accountancy, Economics, Business Studies, Mathematics, and Informatics Practices. While these subjects set the base in the commerce stream, there are optional subjects like legal studies and physical education that helps keep up the average score and opens up more opportunities for good colleges.
Subjects in Arts Stream

Choosing the humanities stream after Class 10 would allow you to choose a career from a wide range. Subjects that are mostly available in CBSE include History, Geography, Political Science, Psychology, Sociology, and Languages.
Subject Selector: Expert Guide to Choosing The Right Subjects in Class 11
Univariety's Subject Selector is the world's first immersive and experiential tool for students to determine the right combination of subjects to opt for Class 11. 
Offering a deep analysis of the student's academics, the 8 well-researched steps will take students from confusion to career clarity by recommending not just pre-requisite subjects for their career goals, but also a list of recommendations to add value to their preferred courses. 
Based on a student's aptitude and personality, the tool takes him/her through Psychometric Assessments, Career Guide, and Alumni Success Stories to determine the right mix of subjects for a successful career.
Subject Selector gives students: 
Detailed recommendations on stream, subjects, and career choices 

Career options for a student's list of recommended subjects

Scientifically designed and formulated test report with accurate and customized results
With Subject Selector, you can:


Start your journey from confusion to clarity by choosing the right subjects.
Stream Selector: A Smart Way To Pick Your Ideal Stream
Univariety brings to you the perfect way to choose the right stream after Class 10 based on your interest, skill, and aptitude.
It is a psychometric test that will suggest the ideal stream for you among Science, Arts, and Commerce that you ought to choose in class 11. The test has been scientifically designed to give you a deep understanding of your own preferences based on your aptitude. The students will be asked to fill up a questionnaire with multiple-choice questions that will analyze their personal and professional traits and offer a detailed report at the end of it. This report will give you an overview of which stream is the most ideal for you and why.
Find out your most ideal stream
Benefits Of Stream Selector
It helps to choose the right stream after class 10.
A detailed report that elaborates on the interests, aptitude, skills of the student and suggests streams/subjects accordingly.
Gives an overview and benefits of various streams – Commerce, Humanities, Science.
So, now that you know what lies ahead for you, have you decided what to do after the 10th? If you haven't, don't worry since there is expert help available to guide you through. Getting career counseling after the 10th is a great idea to have clarity about your path to achieve your goals while tapping into your skills and interests.    
Frequently Asked Questions About What To Do After Class 10
Q. Which is the best course after 10th?
A. Some students who want to get a professional degree right after their 10th can opt for different two to three-year skill-based diplomas.
Q. Which subject is best after class 10?
A. There are different subjects and different streams from which you can choose for your 11th. These subjects must be chosen according to the students' preferences as well as aptitude.
Q. Which board is best after the 10th?
A. In India, CBSE is one of the most popular as well as best boards. There are CBSE schools in all the cities of India and the syllabus of the board is made keeping in mind the competitive exams that students like to opt for after the 12th like JEE, NEET, etc.
Q. Can I do IIT after the 10th?
A. No student is eligible for admission in the IIT in any course after completing the 10th.  They will have to pass 12th with 75% for candidates belonging to General, OBC-NCL category, and 65% to the candidates belonging to the categories like SC, ST, PwD.
Q. Is the 10th Board Exam canceled in 2021?
A. As of yet there is no news about the cancellation of the 10th board exams in 2021.
Q. Which stream is best for IPS?
A. Most academicians have suggested that to become an IPS officer it is best to have an educational background in Humanities where a student can learn about political sciences, history, and economics. However, to be eligible or to clear the UPSC exam, students can have a background in any stream including science or arts or commerce.
Q. Is ICSE better or CBSE?
A. If a student is planning to continue their studies post 10th board exams in India, it is best to pick a CBSE board school. ICSE board is more preferable for students who opt to pursue their academics abroad eventually.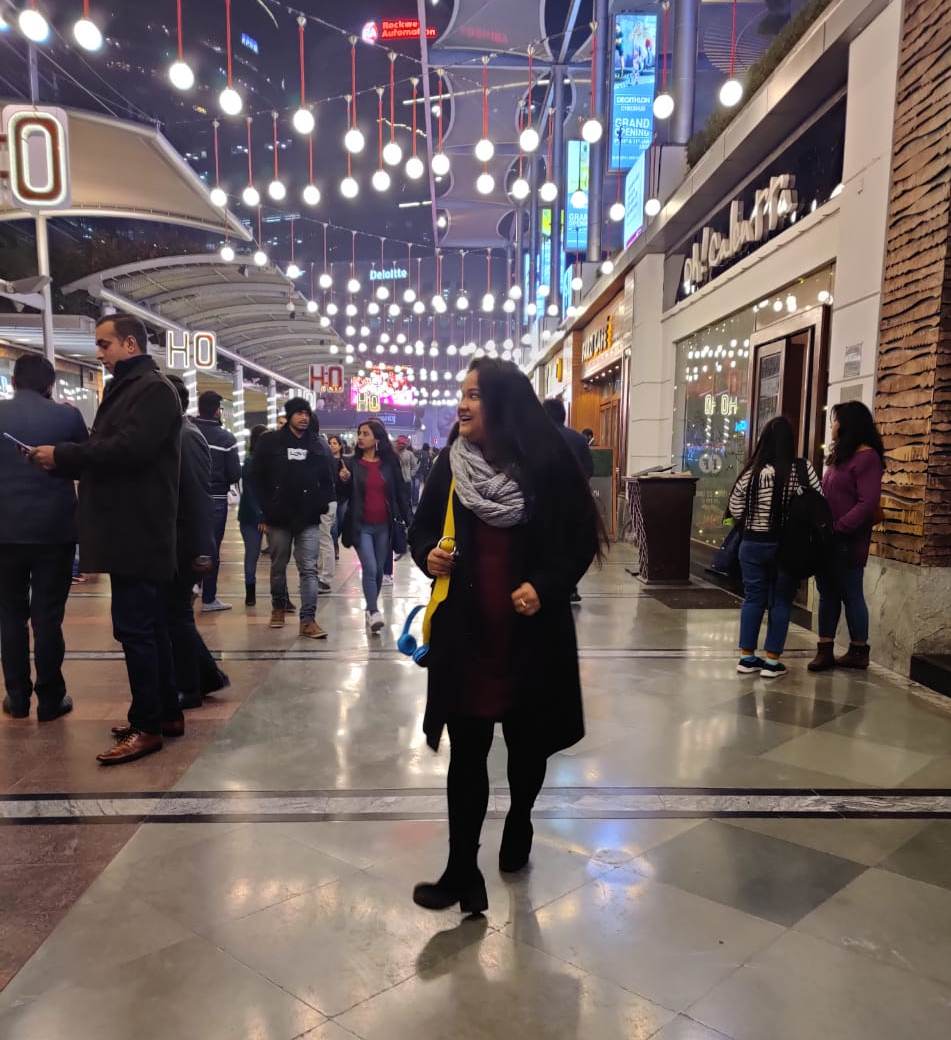 After working in the travel industry for the past 8 years, Kasturi has now ventured into the EdTech industry which always intrigued her. With extensive research and her past experience, she hopes to provide information that genuinely helps students and parents to have answers regarding academics and careers. She is busy creating her next article, as we speak, with her head bobbing to some rock tunes. Be on the lookout!