Guess who recently spoke about the importance of alumni engagement in schools? 
PM Modi himself! 
In the last episode of his show 'Mann Ki Baat', PM Narender Modi highlighted the crucial role that the alumni of a school play in carrying forward its ideologies and values. They support the school and become brand ambassadors of their alma mater. Thus, managing your alumni is essential. Alumni Management is being able to consolidate all the alumni details in one place and connect them with school and students for increased engagement. 
A strong alumni network means great leverage for the school and vice versa. In addition to that, being connected with their alumni can serve as a catalyst for higher success ratios among current students. For the alumni too, it can provide a sense of belonging and enable honest and real conversations with their juniors that are centered around growth. 
we enable schools and alumni to reap the benefits of a valuable bond that we help forge. Our alumni engagement and management platform for K-12 schools across India are one-of-its-kind. It's a robust system wherein students from various schools can contact and directly communicate with their alumni and seek their assistance on several aspects of their careers. Alumni, on the other hand, become part of an exclusive network that offers several advantages of its own. 
We are already partnered with some of India's most premier schools that are using our alumni engagement platform.

We don't just engage with alumni online! Here is a glimpse of various offline events that took place at our partner schools.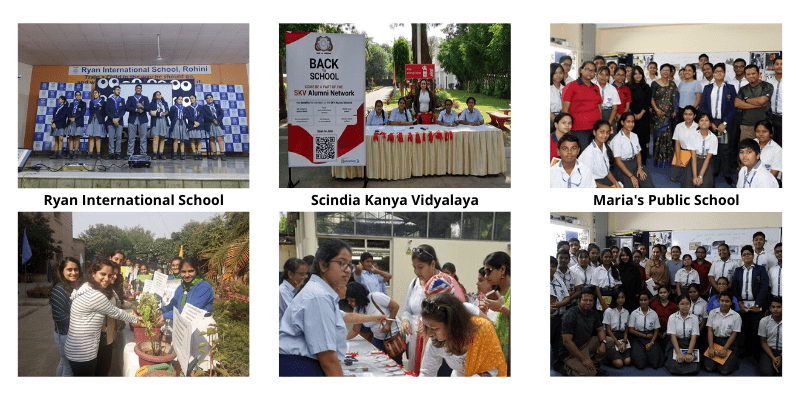 To introduce an alumni engagement system in your school today