It's already December of 2020, and I'm sure most of you have already started your second wave of revision for the upcoming 10th Boards in 2021.
And, why not?
A well-structured study routine combined with efficient hard work is definitely going to help you clear the exams with flying colors!
 Must Read: The Best Way To Study According To Your Natural Learning Style  
The 10th Board.
The onset of a student's academic aspirations. All the reason one should leave nothing to chance during its preparations.
Now, while we are at the topic of 'Leaving to chance', there remains an aspect of 10th boards as crucial as your preparation routine.
"What subjects to choose after 10th?"
If you are going to appear for your 10th boards this year, the above question can be either comforting or alarming to you.
Comforting because you have it all figured out, and alarming for the fact that you have no idea whatsoever. Former or later, let us go through the concept of subject selection step by step to eventually figure out what subjects to choose after 10th.
Why Is Subject Selection After 10th important?
It goes unsaid that your concentration for the upcoming boards should be unwavering, but sparing no thoughts on the aftermath can be a risky affair.
How exactly?
Well, most students consciously or subconsciously, get influenced by:
parental/sibling guidance,

decisions by fellow peers,

availability of options in an institute, while choosing subjects for themselves after 10th.
As a result, as good as 4 in every 10 students believe that they chose the wrong subjects after 10th. 
Statistically speaking, that's a very solid number!
Adding on, low grades, loss of focus, and even inability to apply to dream colleges and courses are the problems that follow.
So, How To Know Which Subjects To Choose After 10th?
To be precise there's an ocean of career choices today. Choosing the right career path amidst all of them right after 10th can be daunting. 
That's why you need to have clarity on these chronological requirements before you decide on the subjects to choose after 10th.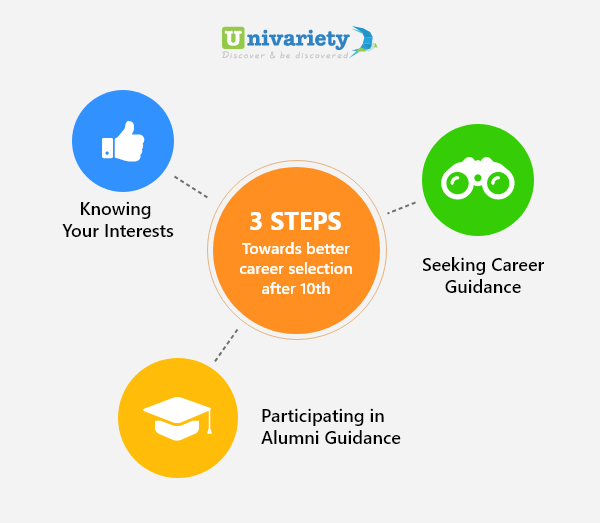 Knowing Your Interests
Knowing your own strengths and weaknesses is the first step of every journey, big or small (Massive in this case). 
In order to choose what's best for you, you need to know yourself first. 
Quite basic, but the part missed out by most of us. 
When it comes to figuring out the best subjects to choose after 10th, the following checklist is crucial:
Which subjects align with your personality?
In which subjects do you have a solid foundation?
Which subjects spark the interest in you?
Psychometric tests from reputed bodies serve this purpose the best, as the results of the test are based upon your inputs. A detailed report after completion puts most blocks of the puzzle into the correct spaces.
8 out of 10 students believe an online psychometric test would have helped them make wiser decisions on subjects to choose after 10th!
Take The Psychometric Test Now
Seeking Career Guidance
Now that you know in which subjects lie your strengths and interests, you might find yourself in 3 situations:
First Situation: What career options can I choose based upon my subject alignments?
Second Situation: If my career aspirations don't match the report on my subject alignments, what can I do about it?
Third Situation:  As my career aspirations match the report on my subject alignments, what should I do next?
In all the 3 situations a team of Expert Counsellors are the best people to understand your situation and guide you through it.
Participating in Alumni Guidance
Now that you know your strengths, you know the course, you are all set!
Something that could make the process better than complete?
Absolutely! There's nothing like speaking to alumni who have been through the educational gateway you are going to be a part of. 
Alumni tend to provide insights and experiences that generally aren't a part of a formal procedure. Speaking to them directly helps you clear your inhibitions on a core level.
 Enroll Into Our Alumni guidance Program Now
Voila!
Now that you are aware of the steps to follow before you decide upon the subjects to choose after the 10th, let us have a brief look at the boards and stream you can choose from.
Which Board To Choose After 10th?
If your current board is aligned with your future career aspirations, you can continue with the same board as your 10th. If you feel a different board will serve your ambitions better, you can definitely switch the board for 11th and 12th.
However, an informed decision in this crucial process is highly advisable.
Discuss With Our Counsellors Now 
An Overview of the available courses in India would give us 3 major categories.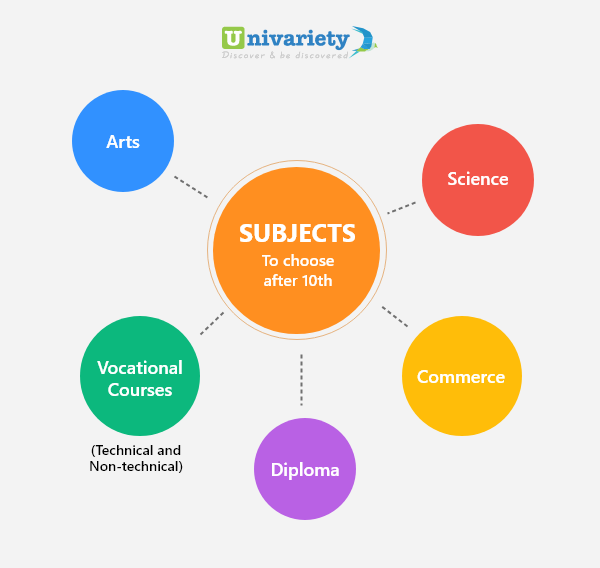 Pre-University Course (Arts Stream, Commerce Stream, Science Stream)
Diploma Courses
Career and Technical Education Courses or Vocational Courses
Now, let us have a quick walk-through of the courses.
1. Pre-University Course
The pre-university course (10+2), is the most commonly pursued course in India after 10th. If a part of your ambition is to have a Bachelor's Degree, then the PUC course is the minimum eligibility criteria. The streams available to choose from are:
Arts stream
Commerce stream
Science stream 

A. Arts Stream After 10th
Profession: Teacher, Lawyer, Anchor, Professor, Politician etc.
Subjects to choose After 10th: History, Geography, English,  Psychology, Economics, Political Science, Sociology, Sanskrit, and Philosophy.
B. Commerce Stream after 10th
Profession:  Chartered Account, Professor, Bank PO, Teacher,  Finance Manager, Bank Manager, Stock Broker, Marketing Manager, Economist, Cost Accountant, Accountant Executive, HR, etc.
Subjects to choose After 10th: Business Studies,  Statics, Economics, Mathematics, English, Computer, Accountancy,  etc.
C. Science Stream after 10th
Profession: Engineers, Doctor, Scientist, Pilot, Teacher, Professor, Chemist, Nurse, Loco Pilot and wants to join the Indian Navy, Indian Air Force etc
Subjects to choose after 10th
Group A – Mathematics, Physics, Chemistry (Engineering)

Group B – Biology, Physics, Chemistry (Medical)
2. Diploma Courses after 10th
After 10th you can take up a Diploma in the following fields: 
Engineering

Medical

Paramedical

Travel & Tourism, 

ITI

IT & Software 

Computer Courses    
3. Career and Technical Education Courses or Vocational Courses after 10th Standard
Career and Technical Education Courses (CTE) courses are industry specific courses that'll train you in a dedicated profession. The courses to choose after 10th are: 
Banking and Financial Service Course

DTP (Desktop Publishing) and Printing Technology

Diploma in Insurance and Marketing

Tourism and Travel Techniques Course

Pre-School Teacher Training

Hotel Operations Course

Dental Technician Course
So, there's that. The list of almost all probable courses and their subjects to choose from after 10th. Remember to follow the rule to know yourself better before diving into the depth of these courses. Don't leave this important decision to chance! 
Find Out Which Subjects To Choose Now 
Got a query? Write to us at guideme@univariety.com and our expert counsellor will get back to you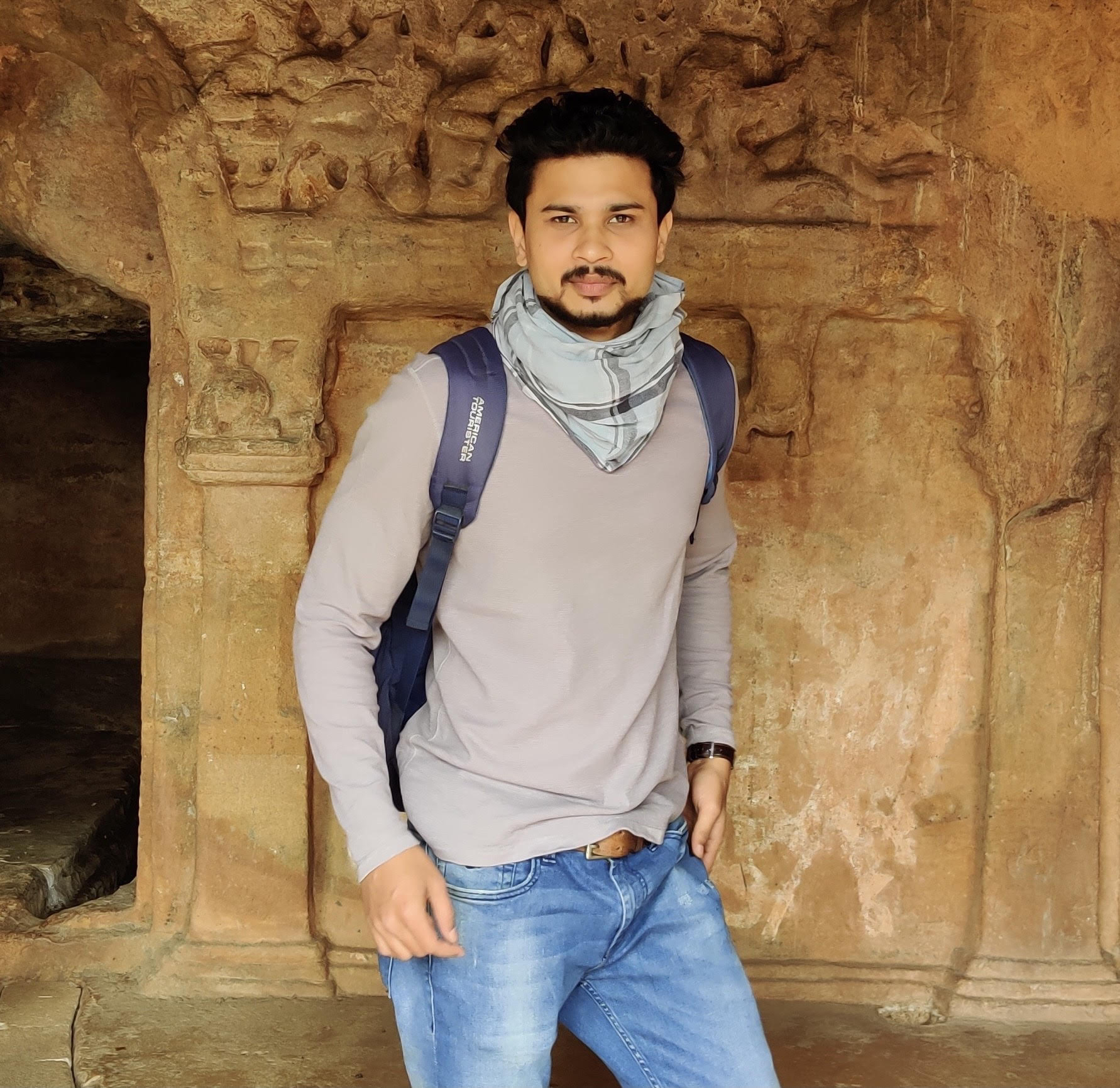 A wanderer in every sense of the word, Asit's love for biking is mostly on full throttle. As a writer, he feeds on satire and sarcasm in every possible way he can manage. Asit's vision is to explore every aspect of Content Creation, from his laptop, on a warm beach, sipping on sweet Coconut water. Well, ideally!