Making the right career decision is not always an easy one. Do you choose a path that has more opportunities or do you follow your passion? You don't want just a career. You want a career that you absolutely love! 
That's where our Virtual Internship Program comes to your rescue. This online immersive program helps you make an informed career decision in two hours! 
So, What Is The Virtual Internship Program (VIP)?
Imagine if you could live the life of a Dentist or an Architect for two hours and decide what's the right career choice – that's Virtual Internship Program for you! 
With online internships now becoming the buzzword, it's the perfect time to enroll for a Virtual Internship Program. VIP is a first-of-its-kind simulated internship experience that is conducted online. It helps you experience different careers through 1-2 hour interactive programs, which give a focused approach and a holistic experience of prospective careers. You can experience 18 different careers and get a real picture of each field before finalising what career you want to pursue.
What Does Virtual Internship Program Offer?
Expert Videos

Professional Tasks

Simulated Work Environment

Detailed Skills Analysis Report

Certificate Of Completion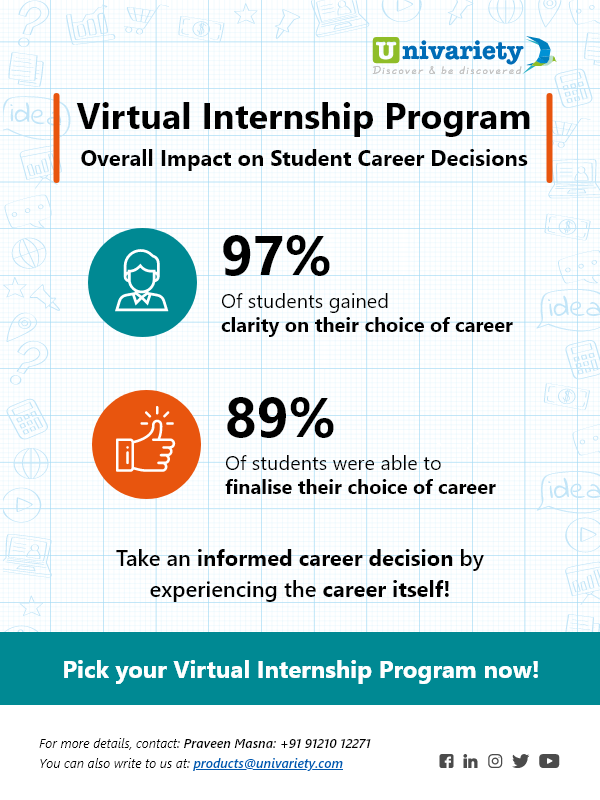 Making the most of their free time, this summer, over 1,000 students from classes 8 to 12 opted for the Virtual Internship Program. 
Grade 12 student of Oakridge International School, Hyderabad, Harish Rao Pagalla, said, "The Virtual Internship Program was a great platform to learn and experience the true nature of work in different fields. The program is interactive and filled with real-life tasks that professionals deal with. The instructors explained the basic concepts well. I now have a better idea about what I want to do in the future."
Like many others, Harish too gained in-depth knowledge in the field, which helped him choose the right career path.
[popup_anything id="5956″]
The Virtual Internship Program has created a significant impact on the career decisions made by students in India.
Impact 1: Better Understanding Of The Career 
There is no doubt that choosing a career path is an important step in a student's life, which decides their future. Knowing what career suits you the best and matches your interests and aspirations is of prime importance. 
What better than experiencing your future today and shaping it accordingly? More than 1,000 students who opted for VIP will tell you this. With professional tasks and hour-long sessions with experts in the field, students get to be a part of a simulated work environment that makes them experience the real world. 
97% of the students who chose VIP developed a better understanding of the career they experienced through the online program. They got a clear idea of what the field has to offer in regard to exposure, opportunities and impact in society – all of which are the key factors that need to be considered before choosing a career. 
85.2% students enjoyed the practical activities during the internship, making them ready for the future. 
"VIP was a brain booster for me. It was a great experience with a lot of learning. The experience gave me the knowledge of Computer Engineering and Graphic Designing. Thanks to the practical experience, I know how to deal with problems faced in these industries," said Tejovarsh Acharya, grade 11 student of Vidya Niketan Birla Public School, Pilani. 
Impact 2: In-depth Knowledge & Practical Experience Of The Career
Imagine if Satya Nadella didn't know how to code or Anurag Kashyap wasn't aware of the filmmaking techniques? Would they be stalwarts in their respective professions? 
Having an in-depth knowledge of the career students want to pursue gives them a clearer idea of the profession, while it also gears them up for college and future endeavours. 
The interactive sessions by instructors, which are a part of the Virtual Internship Program, gave 89% of the students a better understanding of the career. 
75% of the students were sure and more likely to pursue the career they had experienced through the Virtual Internship Program. On the other hand, 25% of the students reconsidered the career options they had in mind, before they went ahead with the course and college admissions. 
"As a parent, I found VIP really helpful for my child, especially in gaining knowledge about the career of her choice," said Renu Chauhan, parent of Aarushi Chauhan, grade 9 student of Convent Of Jesus And Mary, Waverley, Mussoorie. 
86% of the students loved the overall experience of VIP. Join them and experience your dream before you make the big decision.
Enroll for this interesting experience and find out what's the right career for YOU!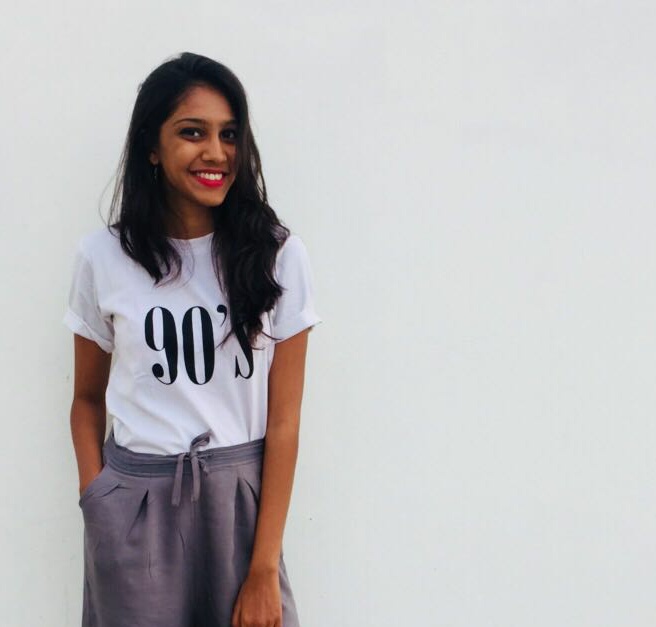 When Harini Prasad is not busy researching about top trends in education and learning techniques for students, you will find her writing about all things fashion, travel, cinema, and music. A millennial poster-child, Harini is a former lifestyle journalist with specialisation in child rights, gender, and new media journalism. Currently, she is busy exploring the world of marketing and content creation.