The era of the 34-year old National Education Policy (NEP) came to an end. The new National Education Policy was passed by the Union Government on 29th July 2020. A lot of academicians and educational institutions came out and spoke about the Policy in detail. 
But, as a parent, we understand what concerns you the most is the impact that the new NEP has on your child's future and success. Some of the questions that are going on in your mind might include: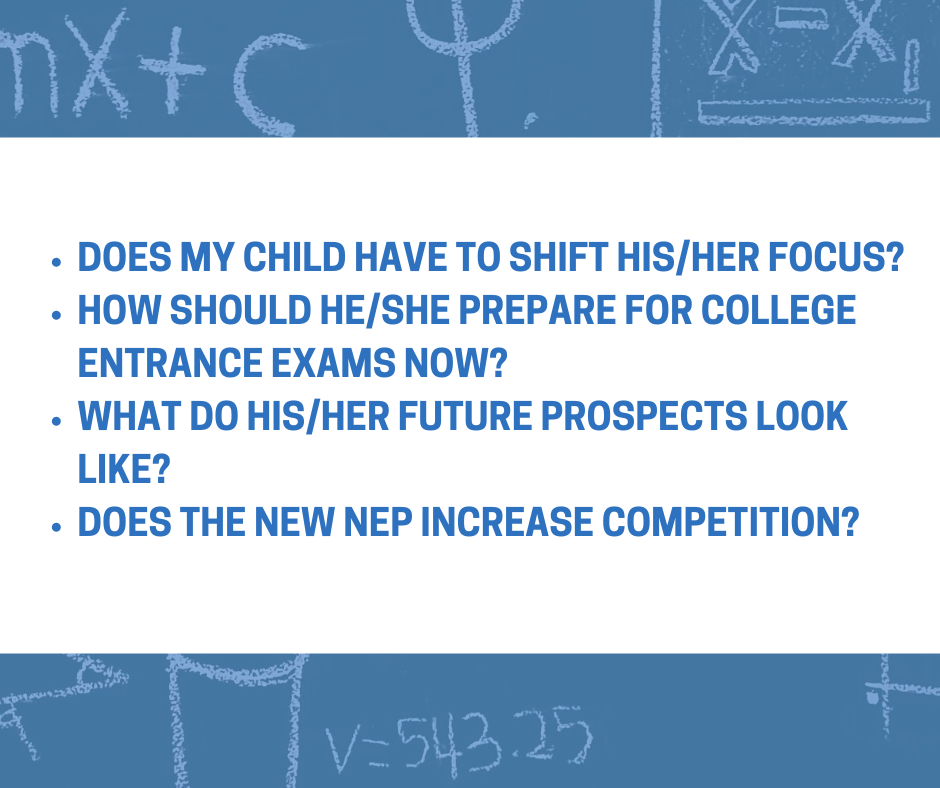 Don't worry, we will help you understand how your child can be guaranteed of his/her success under the new NEP. 
The National Education Policy Of 1986
The National Education Policy that India followed until now was passed in 1986, which was later revised in 1992. This NEP was rigid and too much focus was laid on marks and examinations.
However, over the last few years, we have seen the saturation that is taking place when it comes to students scoring 90% and above.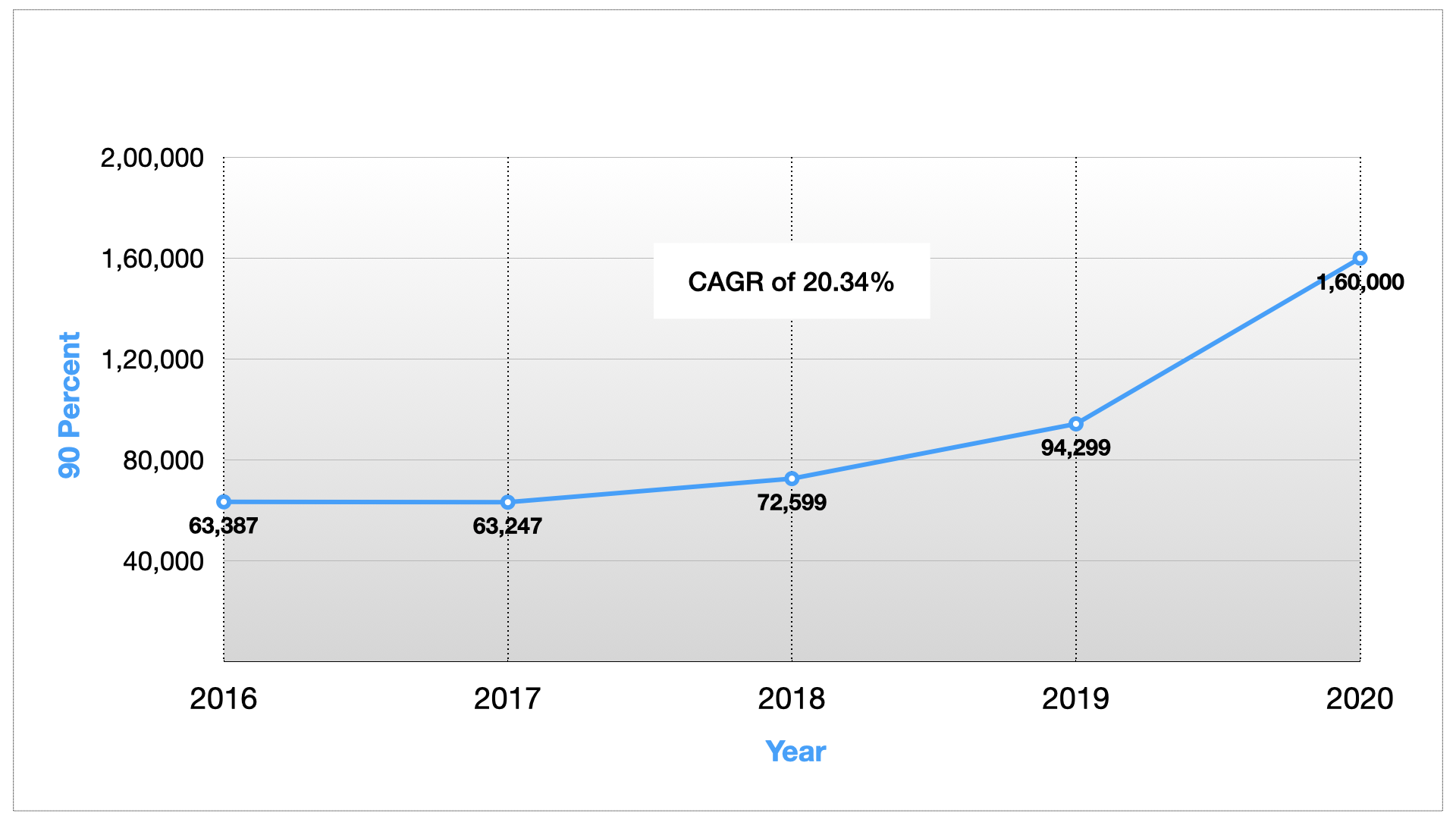 A Trendline of Class 12 Students Scoring 90%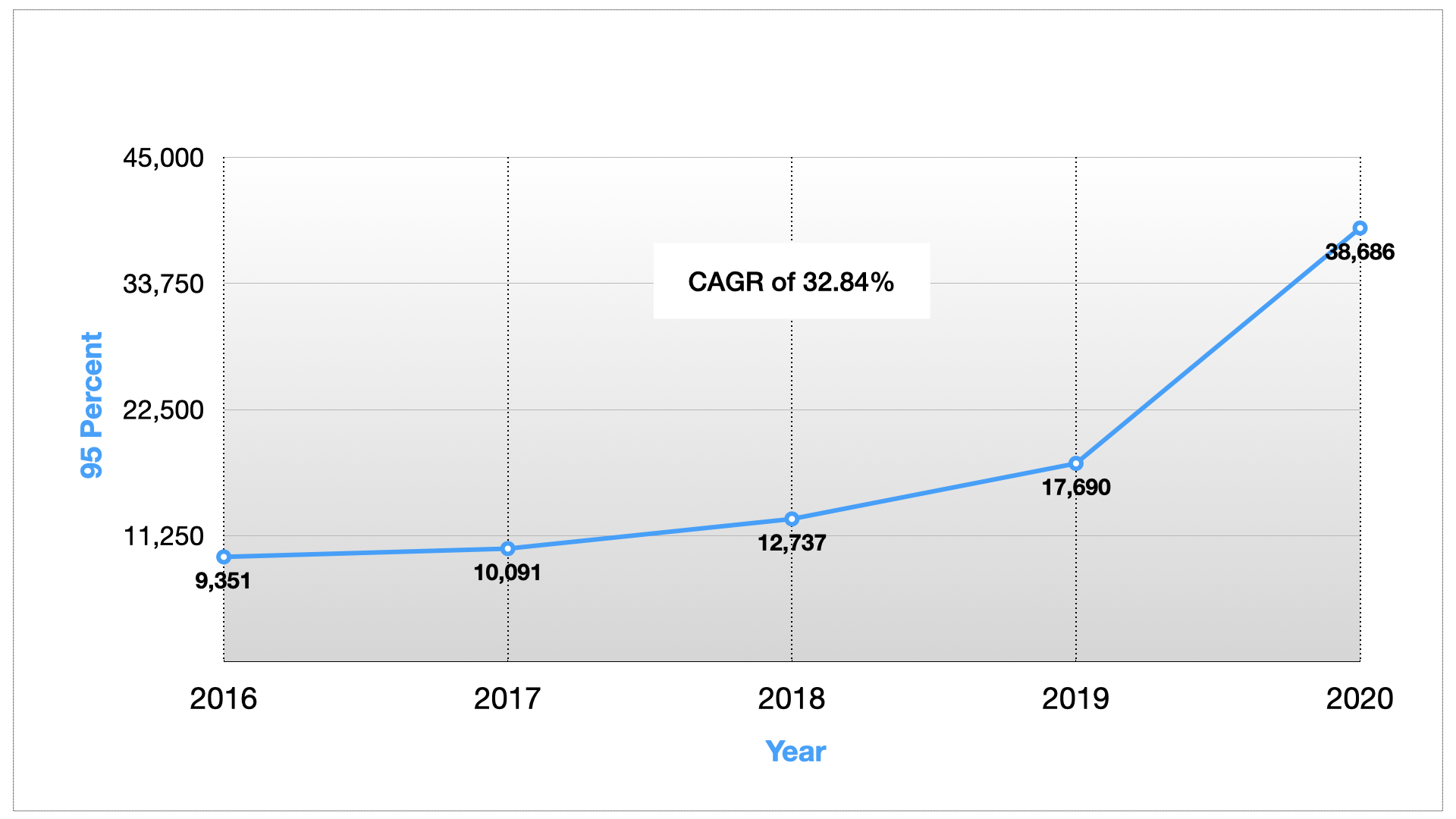 A Trendline of Class 12 Students Scoring 90%
While the world is focusing on skill-building and research based learning, we were a step behind  and our children were stuck with textbooks. Students weren't given a choice to choose their subjects, except  for in a very few multidisciplinary universities established recently. 
All of this was eventually affecting the employability of students, which also included the students who passed out with flying colours. 
The New Education Policy – 2020

The NEP – 2020 is the first-ever education policy to be drafted in the 21st century. It has been drafted keeping the need and demand of the future generations to come. It has been claimed to be one of the most forward-thinking and path-breaking educational policies so far, calling for changes in almost all aspects of education.
The National National Education Policy 2020 lays particular emphasis on the development of the creative potential of each individual. It is based on the principle that education must develop not only cognitive capacities – both the 'foundational capacities 'of literacy and numeracy and 'higher-order' cognitive capacities, such as critical thinking and problem solving – but also social, ethical, and emotional capacities and dispositions.
Source: National Education Policy – 2020
6 Main Takeaways From The New NEP And What It Means For Your Child
1. New Schooling Structure
The school structure which has been 10+2 since many decades has come to an end. It has been divided further to lay a special focus on early child development and to emphasise on different skills needed at different stages in a student's schooling. 
5+3+3+4 is the new schooling structure corresponding to the ages 3-8, 8-11, 11-14, and 14-18 years respectively.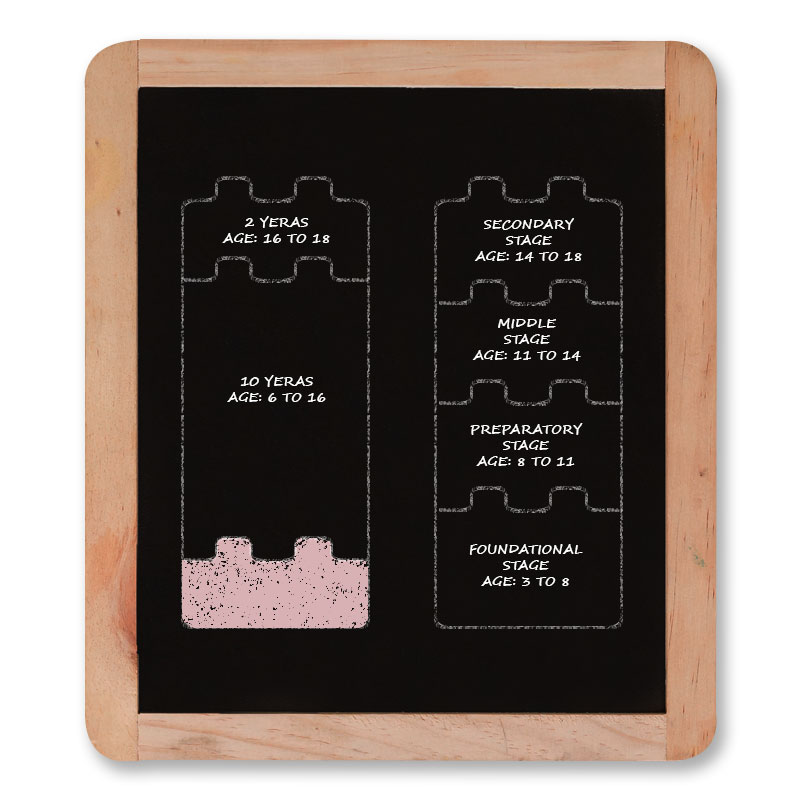 This structure is based on taking cognisance of a child's developmental journey during their formative years as well as trying to ensure that critical characteristics like knowledge seeking, logical thinking, social skills like communication, teamwork, etc. are imbibed. –Anindya Mallick, Partner, Deloitte India
What Does This Mean For Your Child?
This new pedagogical structure brings government and private schools under the same gambit. It focuses on different aspects of education at different stages of your child's education to develop them holistically.
2. More Focus On Skill-Building & Less Focus On Marks
The new NEP laid an extreme focus on moving away from rote learning and memorising theory to score marks during exams. It wants to shift focus towards skill-building, self-discovery, experiential learning etc. So that students keep up with global learning standards.
Board exams won't be held in high regard like they have been for years now. Board exams will be made 'easier' as they will primarily test core capacities, competencies rather than months of coaching or memorisation.
The progress card will now be designed to reflect 360 degree assessment of a student. A multidimensional report card will be generated that will reflect in great detail the progress and uniqueness of each learner in the cognitive, affective, and psychomotor domains. The progress card will include self-assessment, peer assessment, and teacher assessment.
In addition, a new system of self, peer, and teacher assessment will give parents and children a 360-degree progress report imbibed with new skills learned during the academic year. – Rustom Kerawalla, Chairman, Ampersand Group
What Does This Mean For Your Child?
The approach of 'I want my child to score 95% to get into a good college,' will change drastically. Your child will be scored on wholesome development in multiple domains. 
Not just that, colleges which are already moving away from marks-based selection, will further move away from it. Focusing on all-round development and balancing between academics and non-academics will be the mantra for success for your child.
3. Flexibility In Subject Choice
The new education policy aims to give students increased flexibility and choice of subjects to study across the arts, humanities, sciences, sports, and vocational subjects. Every student will have the freedom to choose one vocational subject between Grade 6 – 8.
They will also have to intern with a local vocational establishment after that. Students will now be able to choose subjects like history and physics at the same time in class 11 and 12.
The elimination of rigid streams in secondary education will ensure that no career option is restricted to students due to subject specialisation. – Rohit Manglik, CEO, EduGorilla
What Does This Mean For Your Child?
This flexibility in choosing subjects means that your child is not stuck with one rigid subject. Thinking from the perspective of college who will be granting admissions, they are aware that your child has the freedom to choose.
So, they will lay special focus on checking since when is your child passionate about a certain subject and what they did in school to work on this passion. This means that they should set their goals early on to establish their passion, dedication, and deep interest in a certain subject.
Read our blog to understand what you can do as a parent for your child's success. 
4. One Body For Higher Education
Say bye bye to UGC, AICTE, and NCTE. The new NEP brings the entire Higher Education under one umbrella. The Higher Education Commission of India (HECI) will be a single body overseeing the entire higher education system, except for medical and legal education. 
The National Testing Agency (NTA) will conduct entrance examinations for admissions to universities across the country. It already is responsible for conducting exams like – JEE Main, NEET, UGC NET, and others.
NEP is envisaging a single regulator the Higher Education Council of India (HECI). The Council will function as the common, single regulator for the higher education sector including teacher education. This will go a long way in evaluating and revisiting the learning outcome in higher education – besides the presence of a single regulator will remove uncertainties in educational policies. – Aakash Chaudhry, Director and CEO, Aakash Educational Services Limited (AESL)
What Does This Mean For Your Child?
Having a single body overseeing all of higher education and organising exams for colleges means admission processes are going to get much more structured and holistic. Having exposure to the right kind of activities will be a crucial role in your child's success.
5. Top 100 Global Universities Will Come To India
The new NEP states that the top 100 global universities will be allowed to set up campuses in India, opening doors to global education in the country. This might be in the form of new campuses, partnerships with universities in India, etc.
Allowing Indian universities to set up offshore campuses as well as facilitating foreign universities to operate in India, will not only increase the quality of education, but also strengthen India's position on the map as a global education destination. – Nitish Jain, President, SP Jain School of Global Management
What Does This Mean For Your Child?
Off the bat, this is great news for your child. He/she will have a lot more opportunities to choose from. But, it also means a lot of added competition. Students who intended on going abroad might also stay back and apply for these colleges. 
These global colleges believe in a holistic approach for admission and hence is crucial to have a mix of academic scores and a strong non-academic profile to crack the admissions. Watch the video to understand the admissions processes in global universities.
Read our blog to know about holistic admissions. 
6. 4 Year Degree & Blurring Lines Between Arts & Science
The new NEP makes undergraduate degree 4-year courses with multiple entry and exit points.  Under the 4-year programme, students can exit with a certificate after one year, diploma after two years, a Bachelor's degree after three years and Bachelor's with research after 4 years. 
This multiple entry and exit will be based on academic credits. The NEP aims at making all Universities multidisciplinary universities, just like it is in the west. This will provide students a chance to choose different subjects and gives me more flexibility in the field of their interest.
The thrust on multidisciplinary education which would include more humanities and social science subjects at the IITs would strengthen the holistic academic needs of new generation IITs. – Prof. VK Tewari, Director, IIT Kharagpur
What Does This Mean For Your Child?
This flexibility will allow your child to follow his/her passion without any rigid rules. Making all universities multidisciplinary also means that top colleges like all IITs will open up to humanities and social sciences. 
This will give your child a chance to pursue any subject of their choice in renowned colleges.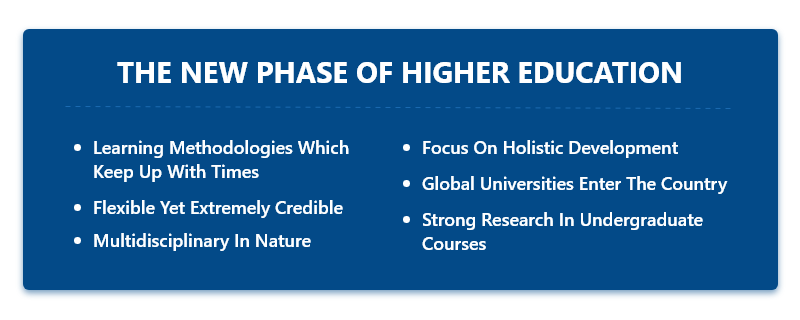 How Can Your Child Succeed In This New World?
One clear take away from the new NEP is that marks won't matter as much as they did so far. So for your child to succeed and get admission in a TOP college, he/she should focus on building a strong non-academic profile and showcase deep interest in the subject of interest. 

Your child can follow the below steps to ace the new NEP:
Get clarity on what your goal is early and decide which career you want to pursue. 

Understand the requirement of the college you want to apply to and prepare accordingly. Most students ignore this and work on qualities that are not aligned with their dream college. 

Make a plan of action and invest in activities that will take you closer to your dream college. 

Balance between academics and non-academics is key to achieving the best possible result. A roadmap should be made to help you achieve that balance. 
To do this seamlessly, your child will need expert help. We can help you with ProMap – short for Profile Mapping, where we will build a personalised roadmap keeping in mind your end goal and increase your chance of admission success.

Conclusion – Plan Now & Stay Ahead 

The new NEP has taken everyone by surprise. This is something that parents & students were not prepared for.
But to make sure that your child's success is not hampered by the new NEP, you need your child to take stock of things, realign priorities, set new goals, and make a plan that works. All of it might sound overwhelming, but taking expert help will make it a piece of cake.

What is your favourite aspect of the new NEP? Comment and tell us!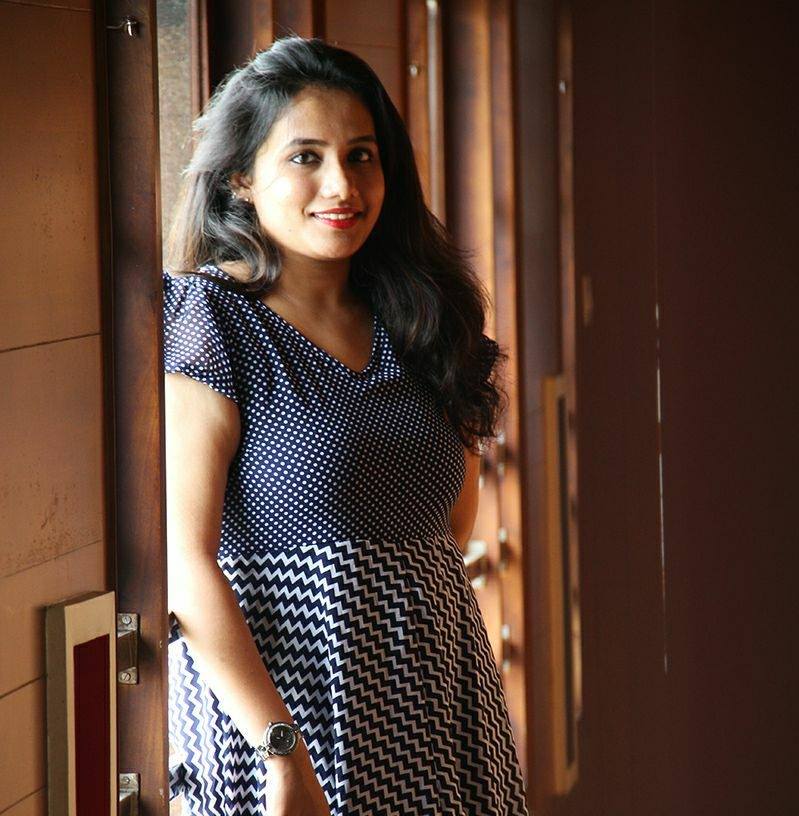 Sneha Mashetty is a former journalist who covered state politics. With a degree in Journalism & Masters in Electronic Media, she combines her research techniques, versatility in writing for the web, and love for education at Univariety. She has written extensively for International schools, Ed-Tech products, emerging learning technologies for half a decade. An avid reader, a travel lover & a movie buff who loves to have meaningful conversations