With no plan and minimal help, choosing a career may seem like an impossible task. Career indecision can be exhausting, especially if there is a lack of awareness and clarity. This is where career guidance comes into place. 
Career indecision is confusion in essence, and this confusion can lead to many after-effects if not addressed in time. Some of the major after-effects of career indecision include the lack of clarity in – 
Course

Destination

College
Not having clarity, of course, the destination and the college can be tackled with the right career guidance. However, it must be timely and not at the last minute. Career counsellors can help students understand how to move on from career indecision to clarity of career through career guidance. 
The demand for career guidance has been on the rise, with a lower number of career counsellors to help them. Due to this, many students have not been able to avail career guidance. Students and parents are often not aware and the lack of awareness and guidance results in career indecision. 
The after-effects of career indecision may only be 3, but without career guidance, these 3 effects can affect a student's career greatly.
No Clarity in Course
One of the primary steps that a student should take in the career journey is choosing the right course. Without clarity in career, and the course that compliments it, it becomes difficult for you or any student to move forward with the career plan. 
If you opt for career guidance early on, it becomes easier to understand what your skills are, interests, aspirations and dreams. Based on this, it becomes easier to choose a career and a course. 
Not knowing your course comes with a price and a heavy one at that. Here are some of the issues faced by students who do not have clarity in their course.
The Domino Effect –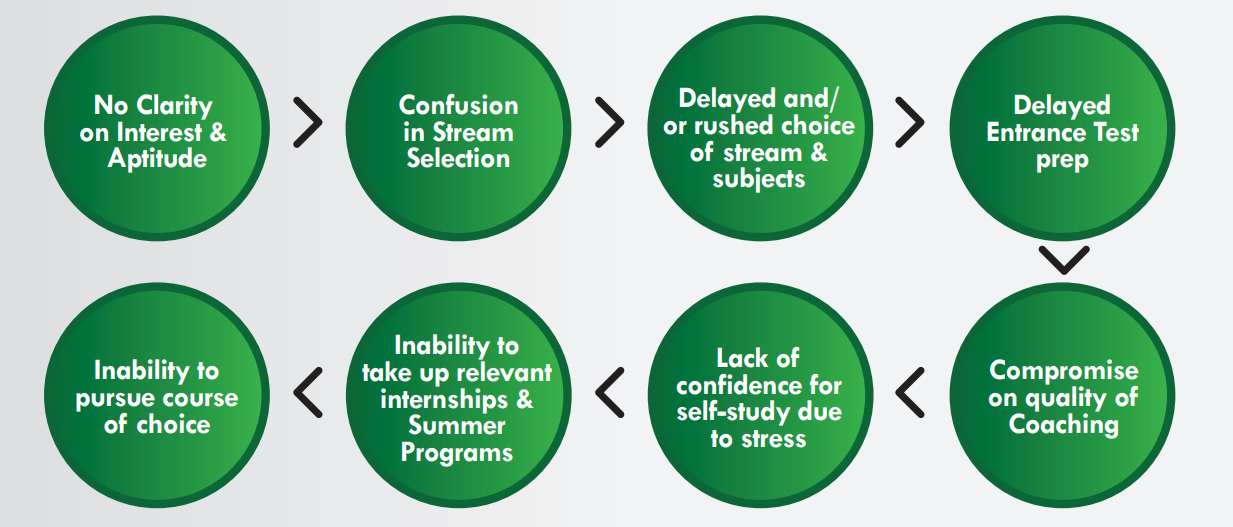 Without clarity in the course, this infographic showcases exactly how it can affect your career journey as a student. 
This is why it is important to have clarity in your interests and aptitudes. Career guidance and career counsellors help you understand your interests and aptitude. 
This prevents confusion in what stream could be your ideal career choice. With adequate career guidance, you have a clearer idea of your subject choice. With an understanding of what subjects you wish to pursue, zeroing down on a course becomes easier, and gives you enough time to prepare for college admissions.
When it comes to the choice, of course, it all boils down to time. The more time you spend being confused, you compromise on the time that could have gone into the preparation. Without clarity in the course, it can affect your admission and career path, whether in India or abroad. 
The ideal solution to prevent confusion around subjects and courses is taking up a career counselling session!
No Clarity of Destination
The next step after deciding on a course and career is to select a destination. A destination is not where you wish to go on a holiday, but to study. It should be the best place where you can receive the ideal education and scope to succeed in your career. 
Choosing a destination for your college depends on multiple factors, and it does not depend on you. But it can be confusing. It's not easy to decide on a city or a country, especially if it's abroad. Many factors come into play such as safety, finances, scholarships, accommodation, etc.
Even though many factors influence the choice of destination, confusion is common. Due to the confusion, there can be a whole set of falling dominoes that can affect your career path. 
The Domino Effect –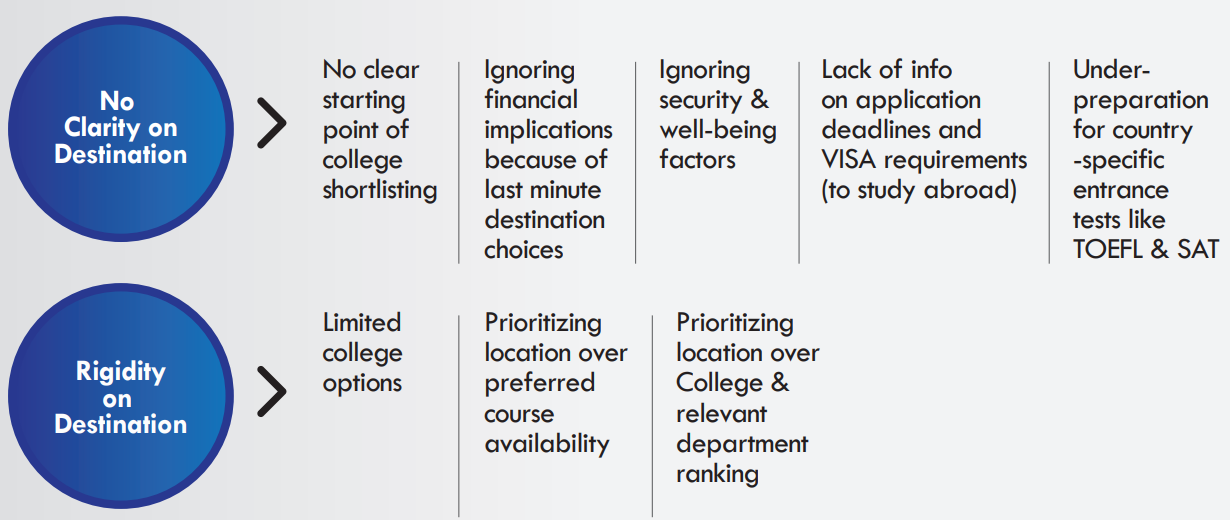 You can see by not having clarity on your destination, your career journey is affected in a great way. Career guidance is your one-stop shop to take the help of counsellors for your choice of destination. 
With the help of career counselling, there will be a starting point for your shortlisting process, that will take into factor the finances. Not only so, but it will also help parents understand the security and well-being factors that each destination carries. With this, you can also receive guidance on VISA applications and deadlines if you wish to study abroad. 
Rigidity in destination choices is common in India. Most students are unable to pursue an education in a college of their choice due to factors that were mentioned before. Due to this, students give preference to location and often have to settle for the college, and course that is being offered. 
All of this confusion can go away with just one step in the right direction – Career Guidance.
No Clarity of College
Not having a clear idea of college choices is another byproduct of career indecision. Colleges can make or break a career, it is often said. A college is an institution. Its admissions, faculty, curriculum, and campus plays an important role in a student's education and further career. 
So what can happen when you do not have a clear idea of your ideal college?
The Domino Effect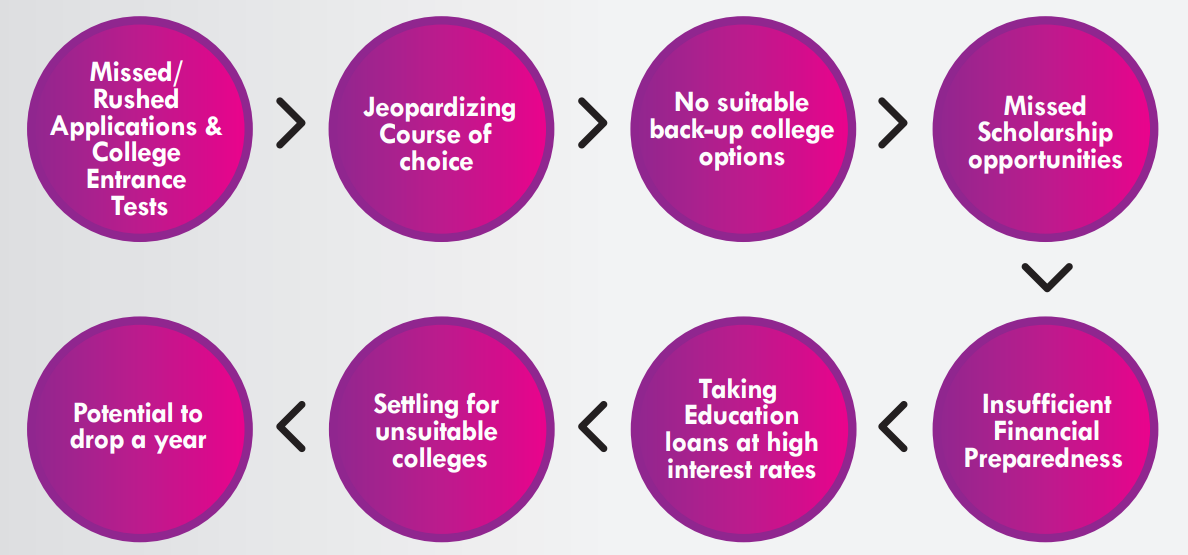 This infographic details the domino effect of college indecision, and ultimately can result in a drop year. 
Choosing a college can be difficult due to several reasons – 
Finances

Faculty

Facilities

Accommodation

More so, if you wish to study abroad, another major factor that students look out for is – Scholarships. Considering all of these factors, and more importantly, doing it alone can get difficult and confusing. 
This is where career guidance can play a pivotal role in your career journey in the aspect of shortlisting colleges. Our career guidance sessions include segregating colleges into 3 major categories depending on your interests, dream college aspirations, finances, and the facilities that the college must offer. 
Students should start looking out for colleges from Grade 11 itself. This can help them to begin shortlisting colleges. By the time Grade 12 is done, there are only a handful of targeted colleges that students can apply to where they are sure to get admission. 
Career indecision can often be a disease and the more it prolongs, the deadlier it becomes for your career journey. This is where career guidance comes in as a treatment and offers help in all aspects of your path. To know more about career guidance and how it can help you in your journey,  talk to our expert counsellors today!