A campus that's away from the bustle of the city, with lush green trees lined along the road- that's Anant National University for you. The campus is vibrant with students from across the country and the globe. Moreover, it boasts world-class infrastructural facilities in the midst of scenic beauty and art in the form of graffiti and installation. 
At AnantU, you can have it all!
Take a stroll around the lake and amphitheater, engage in tete-a tete with the natural surroundings, experience heart to heart conversations with your peers, participate in constructive interactions with the faculty, experiment with curiosity in classrooms and workshops, revel in the University cultural fests with your friends or indulge in a sporting activity of your choice. At AnantU, you can experience all this and much more!
Anant National University offers learning opportunities that not only facilitate critical thinking and creative ability among its students but also aid in the mental, physical and emotional development of its students. Brimming with revolutionary ideas, AnantU aims at channelising these ideas by enabling students to think and analyse critically and help develop practical design solutions to everyday challenges.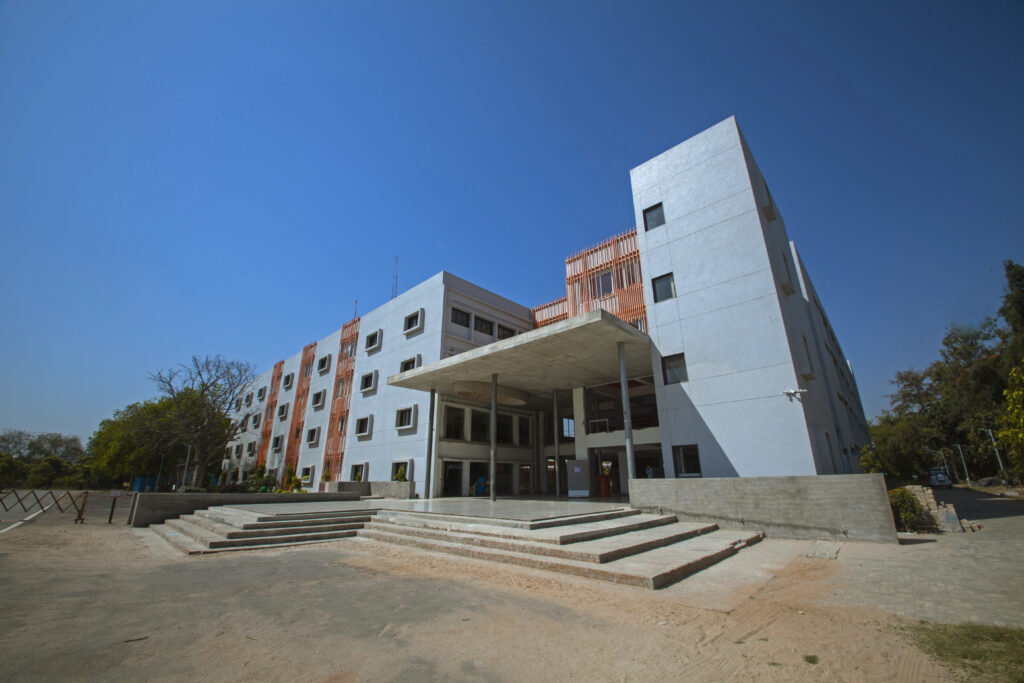 Anant National University's Online Initiatives
The ongoing pandemic has limited human interaction but posed multiple opportunities for AnantU to get more creative with imparting education. Apart from conducting lectures online, the University has organised various activities such as interactive webinars, workshops, virtual fests, games such as online scavenger hunt to make learning engaging and interesting. AnantU also launched ANUsanga- an e-learning platform- to facilitate easy dissemination of courses, assignments, reading materials, along with tracking student's progress.  
Besides, the studios have adapted well to the online platform. Professors in-studio classes have introduced various methods to engage their classes for optimum learning. The faculty provide relevant content in the form of additional teaching materials and practically demonstrate projects for students to learn and implement design principles at home. The studios, through numerous activities, challenge students to not only engage in quick design thinking but also test their collaboration skills in an online setting.
MakerSpace: Anant National University's Workshop
With the current semester being held online, the MakerSpace, AnantU's workshop, has been actively assisting students with their projects. MakerSpace advises students on facets related to the choice of materials, processes, and tools to execute their ideas, and the 'how and why' of processes to make parts. Besides, the MakerSpace team shares videos and tutorials that demonstrate the practical implications of theories and provide solutions to specific queries raised by the students.
Anant National University's Education Partners
AnantU has collaborated with various leading institutes and universities around the world to provide faculty and student exchange opportunities, and to partner in joint research and curriculum innovation.
The University Of Pennsylvania
AnantU has partnered with the University of Pennsylvania (UPenn), one of the top private Ivy League research universities in the United States of America,  to facilitate the design and delivery of new innovative academic programs at AnantU. The University also supports activities such as faculty exchange, student exchange, joint research programs, and the creation of innovative course content. In the academic year 2018-19, AnantU launched the course Master of Design – Integrated Product Design (MDes: IPD) in collaboration with UPenn.
The University of Miami And Others
AnantU has also collaborated with the University of Miami, a private research university in the United States of America, and Bezalel Academy of Arts and Design, an academic college of design and art located in Israel, to facilitate activities such as faculty exchange, student exchange, joint research programs and creation of innovative course content.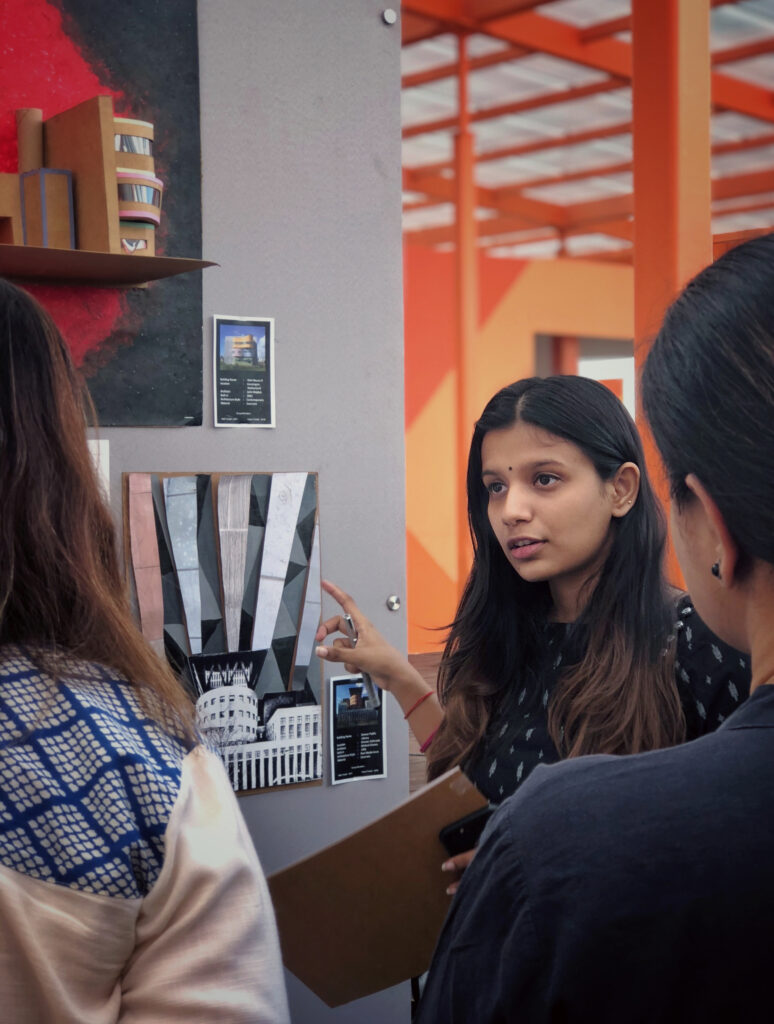 Arizona State University 
In addition, AnantU has also partnered with Arizona State University (ASU), one of the largest public universities in the United States of America, which supports the creation of an incubation paradigm at AnantU that addresses the needs and opportunities in the built environment. ASU provides tight integration between the Anant Fellowship curriculum, Live Action Project, and incubation and collaborates with AnantU teams to create the right framework for an incubator. It also facilitates partnerships with a range of complementary incubators to provide access to multiple opportunities.
The Design Village
AnantU collaborated with The Design Village (TDV) for the design and delivery of new programs and curriculum for undergraduate and postgraduate students, including the Anant Fellowship program. TDV facilitates faculty exchange, creation of innovative academic programs and course content at AnantU, student exchange programs, and the creation of joint academic teams to guide the implementation of best academic practices. In addition, TDV enhances student experiences at AnantU through a mix of innovative classwork and co-curricular activities.
Sustainability At Its Core With Sustain Labs Paris
Sustain Labs Paris, an enterprise based in India, France, and New Zealand that makes large organisations more sustainable, has set up the Anant Centre for Sustainability at AnantU, which is responsible for supporting research and curriculum development activities related to sustainability in undergraduate, postgraduate and fellowship programs. The enterprise establishes research partnerships and student and faculty exchange programs with leading universities and institutions globally. They enhance the student experience at AnantU through a mix of innovative classwork including research and practical problem solving for the real world.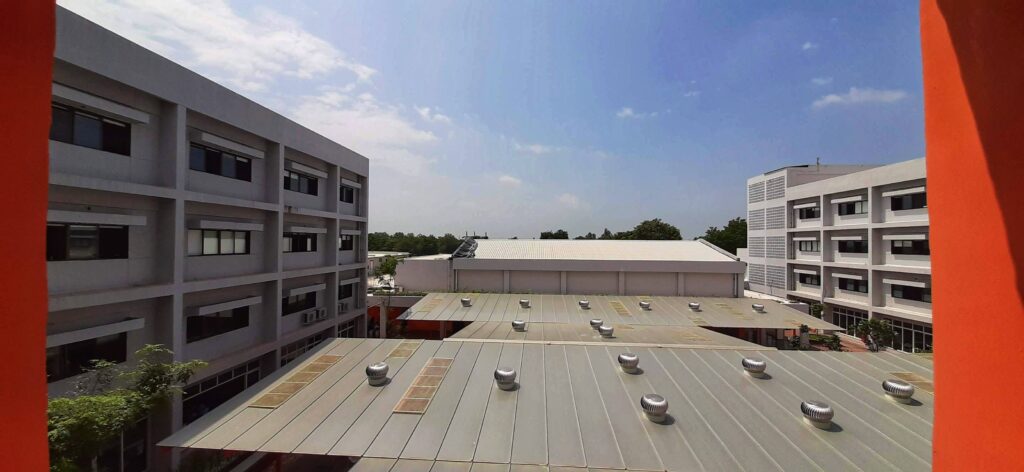 Placement and Internship Opportunities
Anant National University instituted the Career Services Office (CSO) to support students in their endeavour of finding suitable work opportunities throughout their study period at AnantU. The CSO works with the students to understand their dreams, talents, and capabilities, and help them make informed career choices. The CSO facilitates interaction between academia and industry to provide exposure to students, and to create opportunities for real-world learning through classroom projects, industry projects, internships, and training. The CSO scouts for optimal opportunities for each student and facilitates conversations with recruiters to find a mutual fit.
CSO: State-Of-The-Art Support For Placements 
The University and its institutes have state-of-the-art infrastructure facilities to facilitate recruitment activities in a professional manner. There is a dedicated Industry Interaction Cell at the University with exclusive space for group discussion, interviews, and dining facilities. There are well developed Corporate Relations Cells in all the Institutes equipped with the following facilities:
Dedicated access to Computer laboratories for conducting online tests\ Conference and interview rooms

Video conferencing/ Skype facility

Guest House for Corporate Visitors
In addition, the CSO conducts numerous activities to find placement and internship opportunities for AnantU graduates. 
Skill Enhancement Workshops
The office conducts semester-wise session planning for multiple career service activities and implements them. These activities include career skills enhancement sessions on resume building and mock interviews, workshops on resume and cover letter writing, organising pre-placement talks with industry experts, web sessions on developing communication, and writing skills for those who want to study abroad or engage in PR and other work opportunities. 
Industrial Visits
The office organises multiple recruitment drives and connects the students with alumni working in different companies. It organises industry visits for the students and facilitates connecting students with overseas Universities for counselling sessions on multiple fronts such as profile building, LOR among others. The office maintains a database of architecture and design firms and reaches out to them through PPV (Pre-Placement Visits), Direct Calls, Alumni Interaction, etc.
Currently, students are placed in cities such as Ahmedabad, Bengaluru, Hyderabad among others, and have found opportunities in sectors such as architecture, construction, design, management and consultant, Non-Governmental Organisations, education, and the sustainable sector.
Facilities at Anant National University
At AnantU, students can avail of the advantage of a modern classroom with projection and presentation facilities, studios, live design projects, creative workspaces, additional learning resources, industry, and on-site visits to learn beyond the traditional classrooms and our faculty of national and international repute.
In addition, students can also avail of accommodation, canteen, sports facilities, and participate in wellbeing workshops to rejuvenate oneself and be a part of a conducive community. The campus offers a great opportunity to learn from the surroundings either from nature or through peer interactions. Students can also take part in various cultural activities through student clubs and cultural-academic events to explore their hidden talents. 
Library
Students have access to the library with several books on architecture, design, and urban planning written by Indian and foreign authors. The University also subscribes to online and print journals and magazines and makes available a variety of online content in the form of articles, videos, and databases.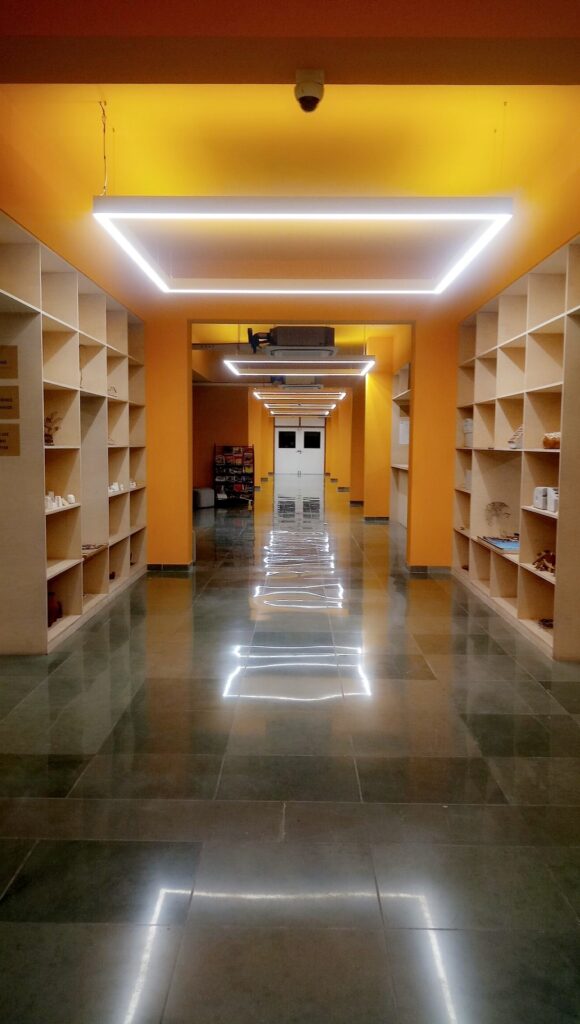 Sports Facilities
The University has a tie-up with Sanskardham Sports Academy on campus which provides high-end sports facilities and space to stay physically fit while engaging with varied sports outdoor and indoor sports. Coaching is also available for various sports to those interested. Along with that we also have a sports room within AnantU academic block with a few indoor sports amenities. 
Hostel
The University offers modern and comfortable hostel accommodation with fully air-conditioned rooms having attached bathrooms. The hostel is purely vegetarian and divided into separate blocks for girls and boys. There is CCTV surveillance, wi-fi access, a mess, gym facility, common reading, and play areas. The hostel is within a walled compound and is protected by security guards 24×7 with entry restricted through a biometric system, ensuring privacy and security. Students are provided bus services to commute between the hostel and the campus. 
Canteen
The canteen at AnantU offers sumptuous, delicious, and nutritious meals for its students. It offers multiple breakfasts and lunch options along with various dairy products, high-tea, snacks, and beverages. AnantU has a Nutrition Committee, which comprises students who decide on the menu every fortnight. The committee is dedicated to providing high protein food and uses healthy substitutes for various unhealthy ingredients. The committee also evaluates the performance of the canteen, ensures a ban on the use of plastic products, and encourages the use of sustainable alternatives.
Green Campus
Set in the Sanskardham Campus, the University is surrounded by lush green trees and located right beside a beautiful lake. The campus stands amidst 4000 trees comprising Gulmohar, Asopalav, Banyan, Tamarind, Coconut, Almond, Guava, Indian Blackberry among others. The University takes special care so that the construction activities do not affect the vegetation. To this end, the University has carefully transplanted more than 1700 mango trees to preserve the mango orchard. Furthermore, the University also conducts tree plantation drives regularly. To ensure that the campus is sustainable, it has also set up a sewage treatment plant that accumulates all the drainage water released from the campus and treats it to make the water reusable. This water is primarily used in agricultural lands near the campus. Additionally, the University has also banned the consumption of plastic in all forms and pays special attention to waste management. 
MakerSpace
The MakerSpace at AnantU forms an integral part of 'Learning by Doing'. The workshop facilitates a hands-on approach to learning through experimentation, model making, and prototyping. It assists students in innovating products that are realistic, artistic, and technologically advanced. The creative workstation allows students to work and hone their skills in carpentry, metalworking, ceramics, and others. The MakerSpace team assists students through conceptualization, making, assembling their projects, and gives them space to tests its practical implementation while maintaining the safety of the students.
AnantU is a testament to modern construction that remains connected to its natural surroundings, ensuring zero damage to nature. Additionally, its sustainable practices make AnantU a one of a kind education institute which stands firm on its mission to build equitable, sustainable, ethically appropriate solutions to everyday challenges. If making the built environment healthy, safe, and resilient interests you, then AnantU is the right place for you!