We believe that informed life decisions are propelled by precise information. With over 26+ Research Tools available on our Platform, your students are enabled to make better career decisions.
Career Deep Dive
The section includes a detailed description of over 50 Career Options. This includes what the career actually entails, top colleges across different countries offering courses to pursue it, required Entrance tests, Career prospects, Placements and Salary expected and the pros and cons of that career. This tool has everything a student needs to know about a specific Career to understand it thoroughly.
There's little you won't find about a Career of your interest in our Career Deep Dive!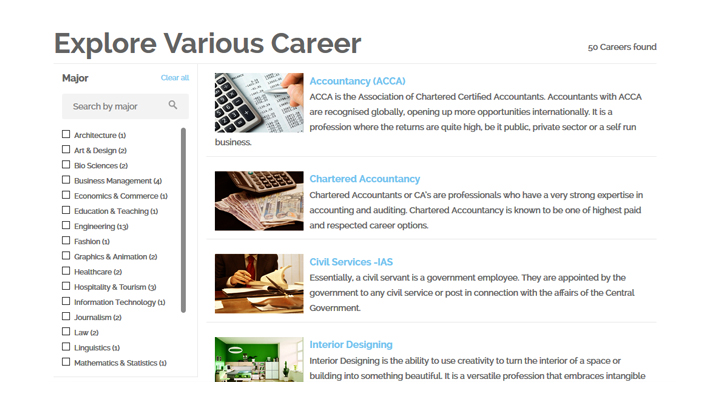 Admission Chances Calculator
While the Future is not ours to see, it is certainly possible to have some level of understanding of what it holds. Through this tool, based on their input of Academic and Entrance test scores, students can calculate their chances of admission to any University of their choice. This helps manage their expectations and gives them an understanding of what it will take to get into their dream colleges, as well as plan back up options.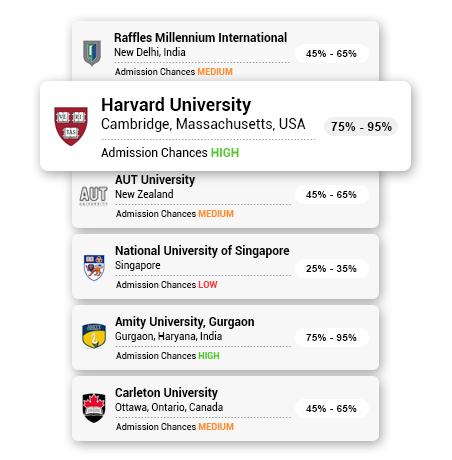 100+ career options in Career Deep Dive | 14,000+ Universities Covered in-depth 150+ Entrance Tests Details, Prep Tips and Sample Papers | 1,000+ Scholarship Information