VIT is not only just a name to reckon with! It is the top favourite choice among students and parents in India and abroad. Its unshaken position among the top 20 universities in India, year after year, is a testimony of the top-notch quality of education, placements, and research that they stand for. It is also a popular and trusted name in research & publications and industrial consultancy.
Here is a glimpse of what you can expect at this giant Institute of Eminence and its futuristic outlook towards education.
I. International Relations at VIT
VIT has an understanding (through MoU) with more than 350+ universities across the globe and hence has a very strong international network. This has helped the university have a strong presence abroad and its students gain excellent world exposure – as they get to explore diverse cultures across the globe.
The 'International Relations Office' of VIT university connects the university students and faculty with peers from many foreign institutions abroad. VIT's partner universities span across the USA, Canada, UK, Australia, Asia-Pacific, Europe, Middle East, Africa, and South America. The list of VIT's international partner universities is quite long. Visit this link to check them all.
International Education
The university provides education to students not only from India – but also abroad. The growing number of foreign students across its campuses is a testimony to VIT's presence as an institution of international repute. One visit to its campuses is enough for you to understand the diversity, acceptance, and coming together of world culture! 
International Exposure
Students of VIT get a chance to visit other international partner universities in their final semester under the Semester Abroad Programme (SAP). This programme aims to encourage students from all streams to pursue their final semester in one of the partner universities abroad.
VIT organizes a roadshow for all its students ahead of their final year of the course to enable the above. 
VIT also offers an International Transfer Programme (ITP) in which the students can opt for studying at a partner university after completing a minimum of 2 ( two) years of their bachelor's degree in VIT. Partner universities span across countries like the USA, UK, Belgium, Sweden, and Australia. This program is offered across all specialisations in the engineering stream. 
International Experience
There are international internships available too so that students can receive fellowships, gain valuable work insights, and have a wider study experience.
In addition to this, more than 175+ faculty from foreign universities take up teaching and research assignments at VIT.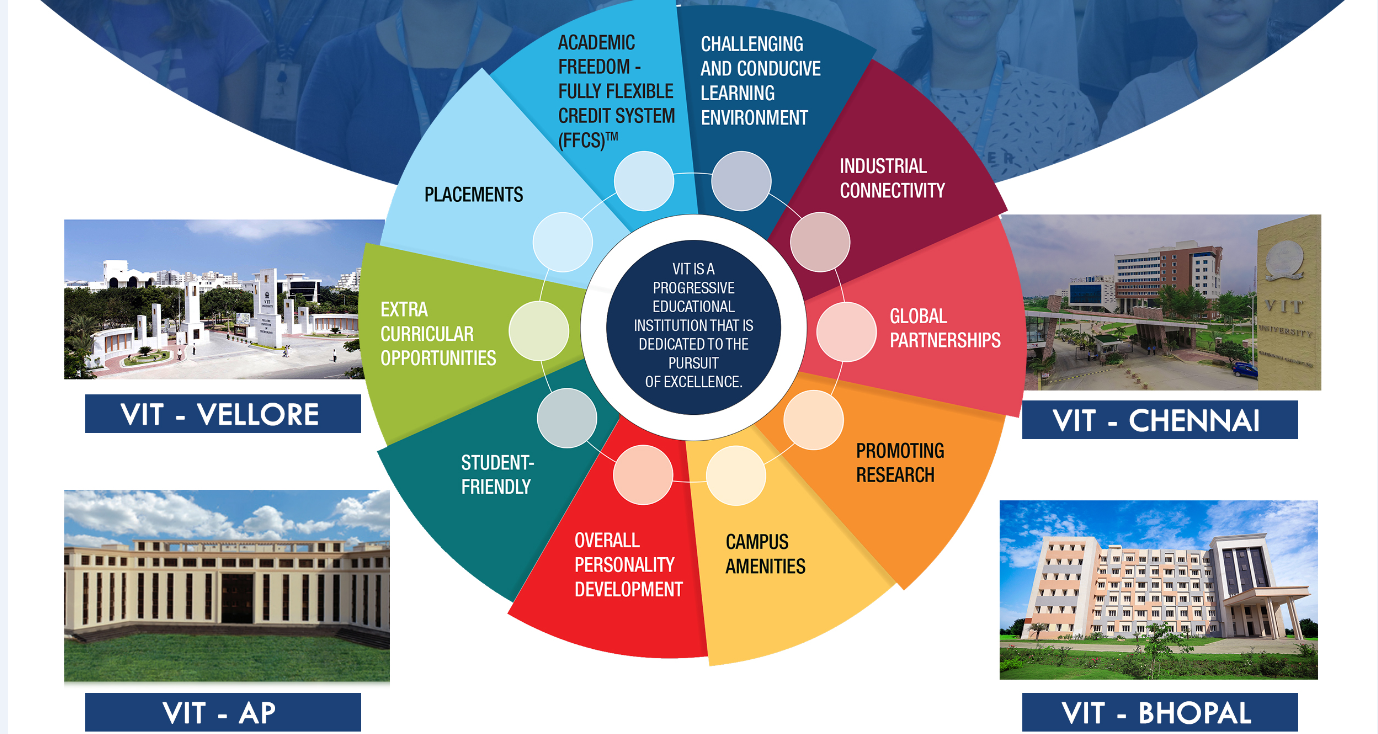 II. Research at VIT
VIT is known for its research-oriented and innovation-driven approach. It is committed to creating excellent ambiance and infrastructure for research.
And hence it established research centres as a part of its schools to provide an opportunity to students to participate in exciting research projects. The university has set standards of excellence in fundamental research and in developing innovative technologies for the future.
VIT also ensures world-class research by connecting regularly with industry and business experts through its extensive research network. Some of the research centres here are: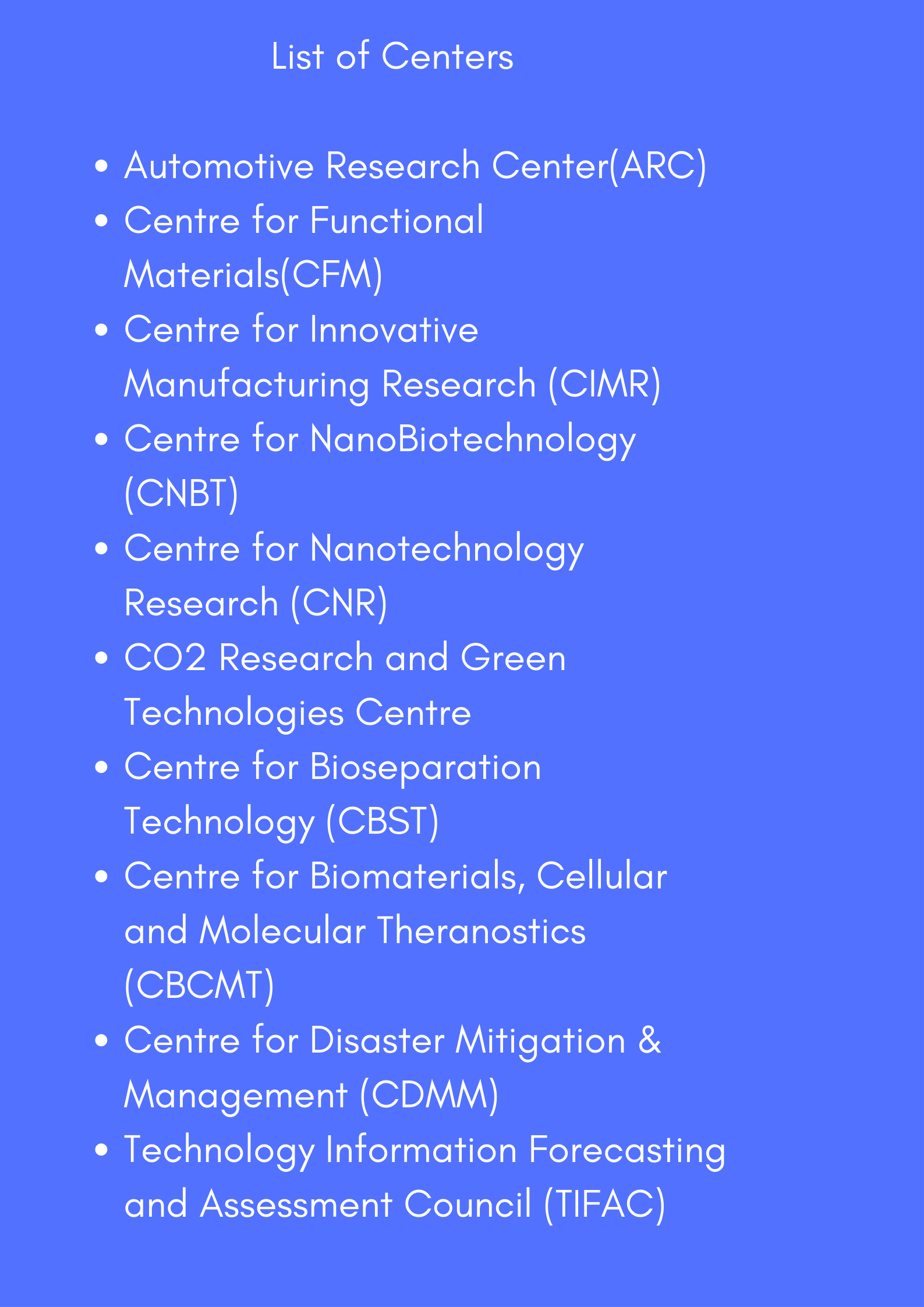 What can students expect?
The university recognises and rewards research students, at various levels; making it one of the very few such institutes in India. The university grants several research awards and also encourages students through incentive schemes (like the Raman research award).
Many research papers by VIT students are published in international journals. The university research has received many patents to its credit; while being proactive in technology transfer to industries too. Such proud accomplishments of VIT students have made the university commit greater resources and time to establish global research standards and gain worldwide visibility. Some of VIT's best research is in streams such as: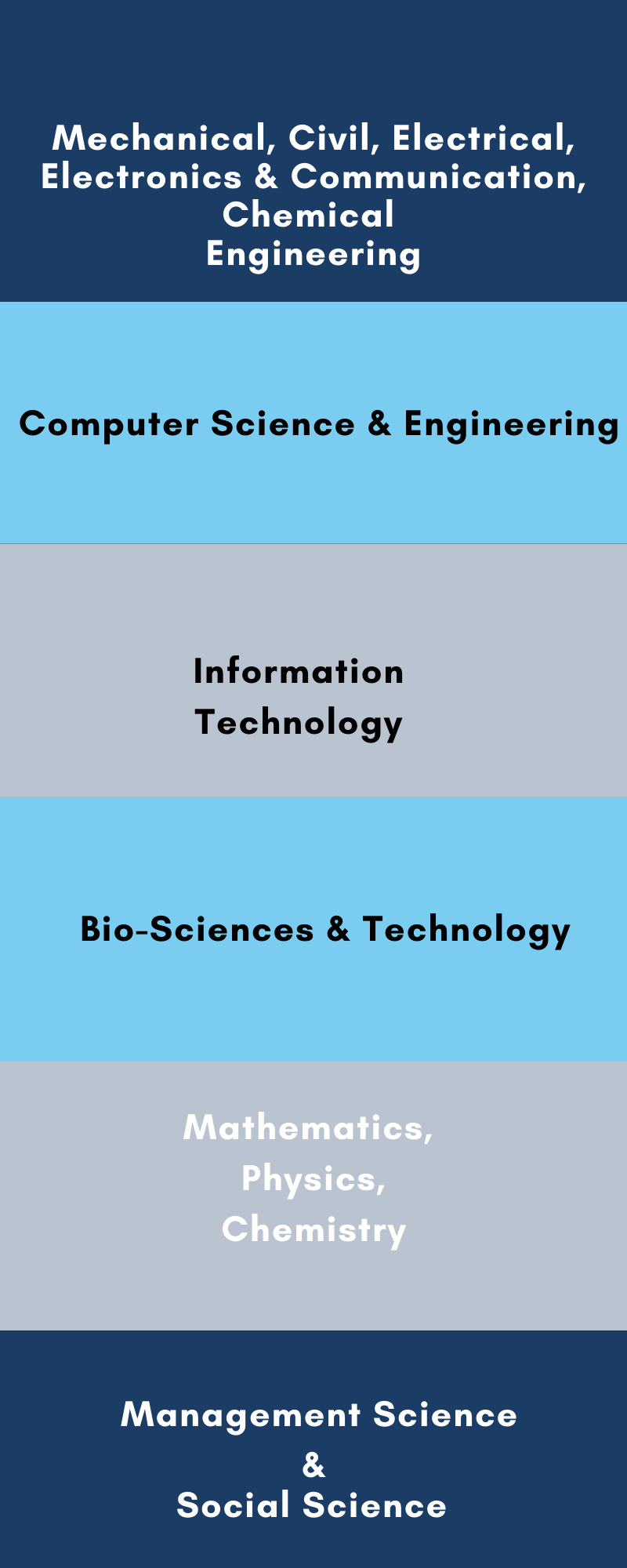 Today, VIT stands for excellence in research – and highly knowledgeable and skilled scholars. This reflects in the demand for VIT's many programmes and top student achievements. Within a very short time of becoming a university in 2001, VIT has risen to the expectations of various government organisations, research institutes, mission-critical organisations – like Defence establishments, the Indian Space Research Organisation (ISRO), and Atomic Research Centres. It has secured sponsorship for 50 research projects to the tune of Rs 100 million. VIT also offers consultancy services worth more than Rs 2.2 million to the Defence Research and Development Laboratory.
III. Rankings & Recognition
In addition to being an Institute of Eminence, VIT is frequently spotted at the top of all rankings – worldwide and in India. VIT recently crossed yet another milestone by securing the highest grade of A++ and the highest score of 3.66 from NAAC, in the 4th cycle of accreditation. This is the highest secured by any Indian institution!
The National Assessment and Accreditation Council (NAAC) is a government organization in India that assesses and accredits Higher Education Institutions in the country.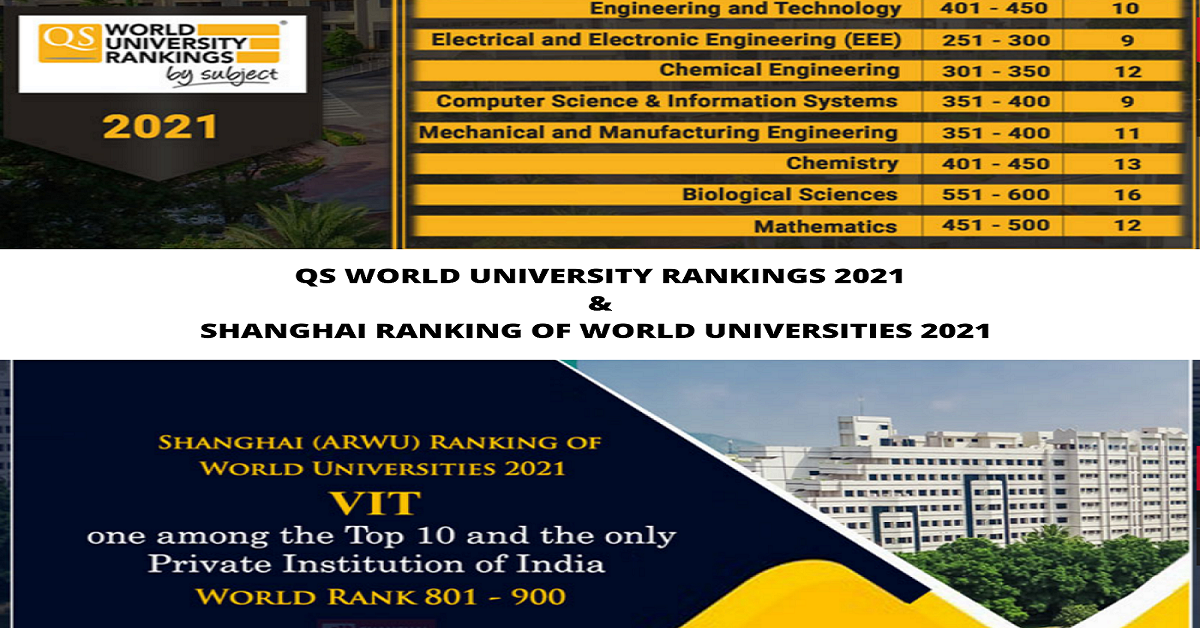 These top rankings of VIT help the university in continuous improvement and reaching out better to students across the world and in India. It has consistently retained its top position for 4-5 years – consecutively! 
This has also helped the university attract the best faculty and student talent. And maintain its high standards of quality.
Find out everything you want know about life at VIT, here.
Students Grow With VIT
The future at VIT gets more and more exciting as they continue to offer the best and the most contemporary in higher education; and strives towards ensuring that VIT is ranked among the top 500 Universities of the world in the next five years and among the top 200 in the next ten years. 
How can all of these help students grow? To start with, the international exposure and research opportunities at VIT add value to a student's resume and help them network with researchers, faculty, and peers from across the globe.
These opportunities also help students learn about the different educational opportunities available abroad. In addition to these, they also get to know about the latest and cutting-edge technologies. More than anything else, students gain a broader perspective and better outlook towards life – as a student and as an individual, too. Choose your VIT programs today.
In case you need guidance on the most relevant and suitable courses at VIT; or want to know how to prepare for them, then talk to one of our experts right away.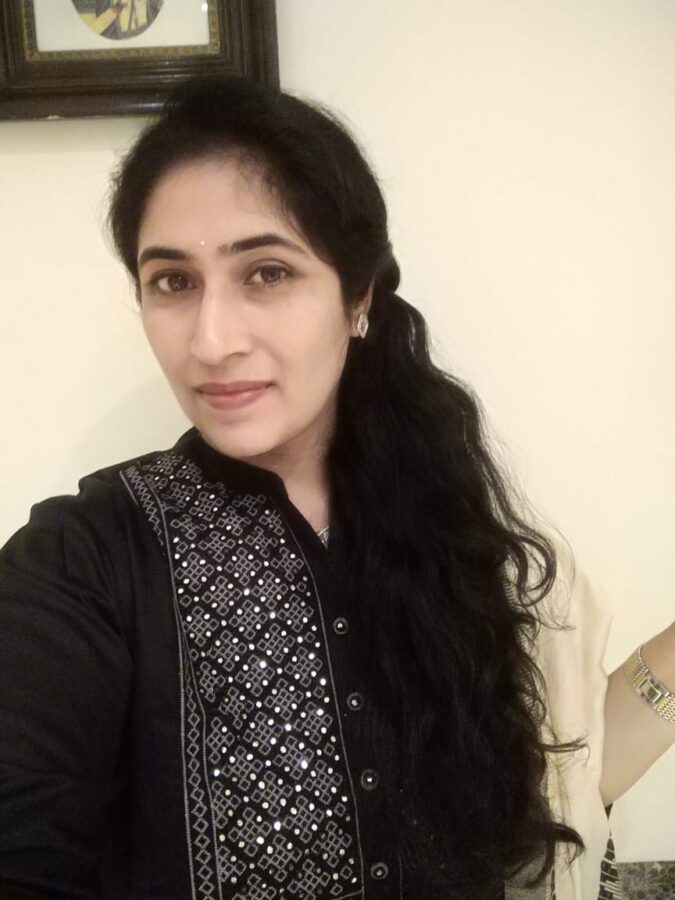 Nisha is an ex-banker, who has also worked in the IT industry. Being a 'chai ke saath book' lover, she decided to take forward her love for writing through blogs. When she's not making her own DIY cosmetics and jewellery, she tries growing her own veggies at home and experiments with new ways to reuse trash. An avid yoga enthusiast, she is also a trained instructor.