It is quite common for many schools to market themselves and frame their admission campaigns purely based on the campus, classrooms, and other facilities that they provide. But are these aspects the outcomes or the value that the schools deliver? Well, not really. The key to engaging with parents better and experiencing higher admission numbers lies in a school's marketing and communication strategy. That is why schools must showcase their outcomes – and not the inputs they provide!
So, is showcasing outcomes on top of your school's priority? Is your school living the new definition of success? All the answers lie in the way you communicate the right message, through the right channels to your target group.
No matter how great your institution is, unless this is communicated to the prospective parents and students, it would not do justice to your school. 
Showcasing School Outcomes The Indigo Airlines Way
Let's take the marketing strategy of a leader in another industry – Indigo Airlines. Their marketing communication stands out from the rest. Instead of highlighting its aircraft fleet, air crew, experienced pilots, or only destinations, they are known for crisp and clear outcomes – like being 'Always on time'. It emphasises and focuses on what they deliver. Schools can take a leaf out of their outcome driven approach and make the school brand stand out from the rest.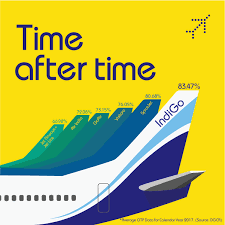 Understanding 'Outcomes'
Schools of this century must focus on and showcase their outcomes in addition to other things. Children who stepped into your school a few years ago are not the same when they leave your school to pursue their careers. The many student transformations and successes that have emerged from your school is your success story too! Hence, your school definitely needs to capitalize on them.
School outcomes mean what they have delivered and the value they have added in the lives of their students – across the growth spectrum. The output your school should be measuring should be diverse and span across batches. But, to be able to showcase your outcomes, you would first need to identify and measure them.
Identifying Your Output
You will be excited to know that this is the easiest part! Not only can your school showcase their past outcomes well, but they would have a continuous stream of successes to share. These are the successful outcomes and journeys that are a must-use in your marketing communication; including academic and all non-academic excellence journeys. Here are a few pointers that may help your school identify its outcomes:
Find out the past and recent achievements of your alumni. After all, schools lay the primary foundation in students – much before the universities or colleges that they study at.

Proactively keep track of top universities and colleges in which your students have secured admissions.

Highlight the top and prestigious college and other scholarships that your students may have received. 

There would be many school alumni who have taken their extracurricular interests and passion ahead. Go ahead and highlight them!

Support and encourage your students and alumni who have made a special mark in the world – be it through science projects or cultural festivals.

In addition to the above, your school must showcase any commendable contribution made by them to the community.
YOUR SCHOOL'S OUTCOMES = YOUR STUDENT SUCCESSES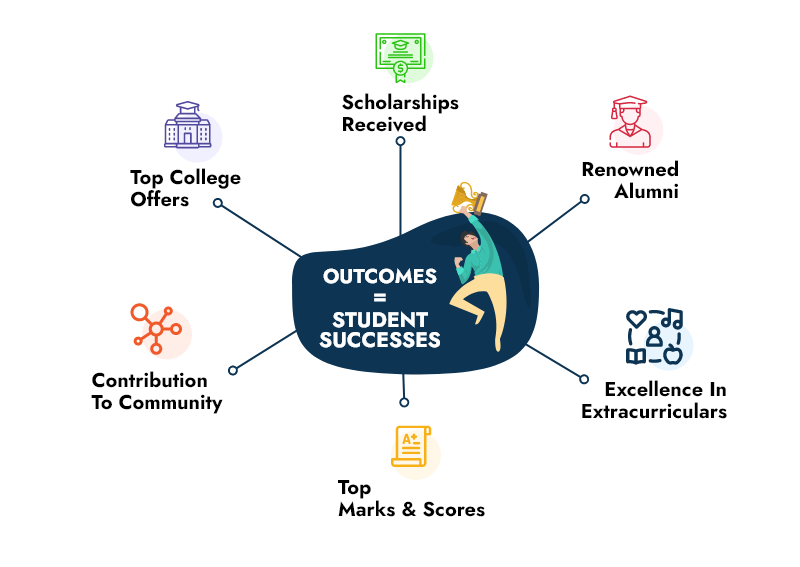 Measuring The Outcomes
Once your school adopts the outcome-based approach, the next need would be to measure your outcomes. Unless there is a way of measuring them, you would not be able to highlight them to others. Schools can gauge the success of its outcome-based approach through the below parameters:
Prospective parents can relate to your school's values and contributions through the alumni success journeys. Hence, your school can measure the impact through an increase in the number (and percentage) of new admission conversions. 

By showcasing your school's outputs and alumni successes, present students and their parents would have more confidence in your school. This would encourage more students to continue their schooling after 10th grade in your school- meaning a higher student retention for your school!

Focusing on outcomes also means that there would also be indirect benefits, through better online ratings and reviews for your school.
Your School's Marketing Communication
A school's website provides maximum information for students and parents. Needless to say, you must highlight your outcomes on your web pages. There must be a healthy mix of alumni success in academics, sports, extracurricular activities, and their contribution to the community. Besides this, your school must also align the other channels of school marketing to this approach, especially through:
The School's Front Desk

Brochures

Flyers

Emails

Advertisements

Testimonials 

Recommendations
Is Your School Ready For the Future?
There is a distinct difference between what you provide – and what you have created and delivered. The stories and success of the young children who grew to become confident alumni of your school would have maximum impact on prospective parents and students. This shift in your school's marketing approach is also the best way to build your long term brand value and get quality admissions – year after year! After all, these are the outcomes that have emerged from the environment, facilities, and holistic education your school has provided!
Talk to us to find out how schools that have successfully adopted this approach, here.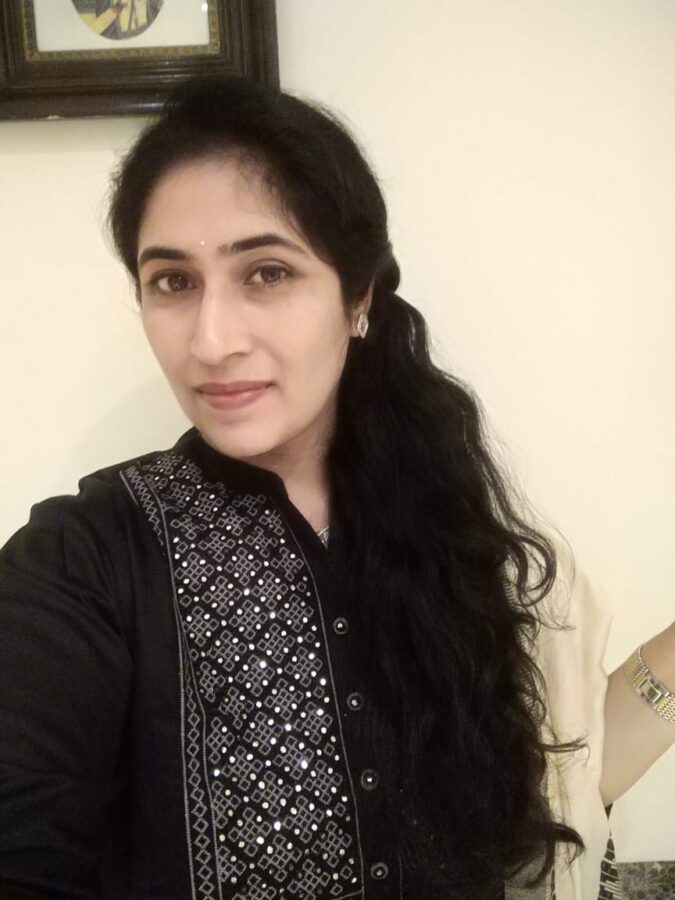 Nisha is an ex-banker, who has also worked in the IT industry. Being a 'chai ke saath book' lover, she decided to take forward her love for writing through blogs. When she's not making her own DIY cosmetics and jewellery, she tries growing her own veggies at home and experiments with new ways to reuse trash. An avid yoga enthusiast, she is also a trained instructor.